Councils will have to consider all viable alternatives to closure under new rules to support rural schools.
Education Secretary Kirsty Williams is making changes to the School Organisation Code, which guides council decisions on the future of schools.
It includes a presumption against the closure of rural schools.
Ms Williams said not all would stay open, but a more rigorous consultation process would mean councils would have to look at all feasible options.
Alternatives include linking up with other schools, known as federation.
A new £2.5m rural and small schools grant will be created to support closer working together.
Small and rural schools will also be encouraged to use the fund to boost the use of technology.
The grant – available from April 2017 – will also be available to increase community use of school buildings.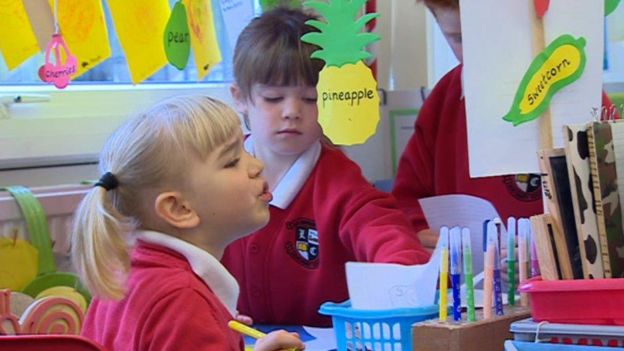 Ms Williams said: "Pupils in rural schools deserve the same opportunities as children in other areas of Wales.
"However, they face particular challenges including small pupil numbers, budget and resource pressures and greater difficulty in recruiting head teachers and teaching staff.
"Let me be clear – this isn't simply about keeping all schools open.
"This is about raising standards in all of our schools, no matter where they are based, and ensuring all schools get a fair hearing when their future is being considered."
She said the changes set out a presumption against closing rural schools and new incentives for rural schools to work together.
"I want to see rural schools working more formally together and across the country, forming federations and looking into the possibility of sharing buildings with other services to ensure school buildings remain viable."
Speaking in the Senedd later on Tuesday, Ms Williams admitted to Conservative education spokesman Darren Millar that Welsh ministers had not yet agreed a definition of a rural or small school.
"This is part of the problem and we will be working on exactly how we can get a robust definition," she told AMs.
The announcement comes at a time of concern for parents at rural schools in Ceredigion and Carmarthenshire where closures have been tabled by councils.
A review into education in Ceredigion could mean an uncertain future for Cilcennin, Cilau Parc, Diehwyd and Felinfach schools while the future for Bancffosfelen, Llanedi and Tremoilet schools in Carmarthenshire remains unclear.
Over the past decade small schools have closed across Wales and children have been sent to larger area schools with more facilities and better resources, but campaigners say their closure has a huge impact on rural communities.
Sherri Davies, head teacher of Llanvihangel Crucorney County Primary School in Pandy near Abergavenny welcomed the announcement.
With just 56 children, it is the smallest school in Monmouthshire.
Mrs Davies said. "It's reassuring because rural schools are a vital part of the community."
She rejected concerns that small rural schools lacked the resources of bigger schools and might not be able to provide a 21st Century education for their pupils.
"We work extremely hard here to ensure we give our children the best learning experiences that we can have," she said.
"We don't have as much funding for resources as other schools but we work collaboratively with local schools who support us by lending us resources if there are resources that we need that we haven't got."
The Welsh Local Government Association (WLGA) welcomed the amendments, including the increased emphasis on consultation and support to form federations where appropriate.
It added: "The distribution of rural schools across Welsh authorities varies considerably, so the proposed inclusion of a presumption against the closure of rural schools in the revised code will impact on each authority's approach to school organisation in different ways.
"The WLGA will therefore need to discuss this proposal further with member authorities and will consider the experiences of England where a similar policy applies."
Mr Millar said: "Too many good schools have been forced to close after miserly settlements from the Welsh Government, and this issue has been most profound in rural areas – causing disruption for pupils, parents, and teachers.
"Whilst we would welcome any additional money to protect rural schools, it is vital that this funding reaches the classroom and that it isn't absorbed by bureaucrats."
[Source:- BBC]