First Christmas and now with just few days left to step into 2017, you must be excited to celebrate the New Year leaving your old baggage and worries behind. Adding more to your joy we have Amazon New Year Sale coming up, where you can grab some amazing deals on your favorite products. Start creating your wish list, so that you can grab the items before they get out of stock.
In the upcoming New Year sale by Amazon, thehighlight will be huge discounts and offers on electronics. You can get heavy discount plus buy-back offers for your old and used mobile phones. Get greatest discounts on many more than just mobile phones like cameras, telephones, televisions, laptops, tablets, electronic appliances, and other electronic accessories. Amazon offers up to INR 2000 off on the Moto G4 range. You can get additional 10% cashback, if you make the payment through Standard Chartered credit or debit card.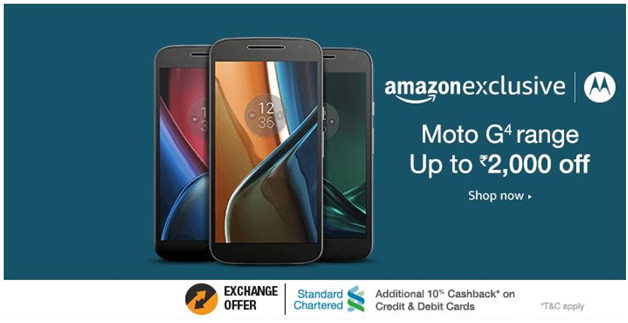 Other than this you can get minimum 55% off on the whole range of electronics available on Amazon. Be it laptops, smart phones, cameras, printers, tablets, computer accessories and other electronic products. Choose your favorite brand like Apple, HP, Lenovo, Karbonn, Samsung and others.

You can easily get styled for New Year by shopping from Amazon. You can find 60% off on selected range of clothing, accessories, and footwear. Apart from up to 60% off you can also get additional 20% off. In order to get additional 20% off, all you need to do is apply the code "DAZZLE20". So, find your choice of tees, shirts, sarees, tops, maxi dresses, jewellery, watches, bags or anything and just apply the given code before you transact and save some extra bucks.

With New Year around the corner and Amazon knowing what people actually want and wish for, is offering heavy discount on Grocery shopping as well. Going to a grocery store and shopping according to your needs takes a lot of time. The better option these days is to shop online for your most needed grocery items. Instead of bargaining you can get cashback from Amazon. When you shop for100 rupees or more, you can get a cashback of 10% on total cart amount. The maximum cashback you can get from here is of 450 bucks. One thing you have to remember is that the offer is valid only on payments made through Amazon Pay balance.

Amazon Pay balance has been recently launched. It is a kind of Amazon online wallet only, through which you can pay from your amazon balance. No need of cash and you get extra cashback also when you use Amazon Pay balance to make the payments. Because shopping online and getting a cashback for the same feels amazing! That's exactly what Amazon offer its customers. All Amazon prime customers can get 15% of the total amount when they spend Rs 100 or more on their shopping. All non-prime customers can get 10% cashback on their shopping amount. The minimum order amount should be INR 100 or more. So, load your Amazon pay balance now and make the most of this amazing offer.
Along with all this, Amazon New Year Sale includes great offers on laptops and computers, and exchange offers on your old laptops and old computers at great buy-back prices. Offers on different screen sizes, fastest processors, RAMs, and other factors will get you glued to this sale for hours on end. You can find offers separately only on processors, USB cables, scanners, speakers, hard disks, graphics cards, monitors, chargers, laptop batteries, and other electronic accessories. You can even find some great offers on amazing health bands which are amazon exclusive.

It's not the end of the list. Don't you love tablets? These extended versions of phone and miniature versions of laptops put together are trendy as well as useful. But what is the need to purchase them now? The answer to this is Amazon's Great New Year sale.You can find huge discounts waiting for you like up to 15% off on Apple iPads.
So, with all these mind blowing offers served to you in New Year sale by Amazon, get all your favorite products delivered to your doorstep without any worries and hassle.