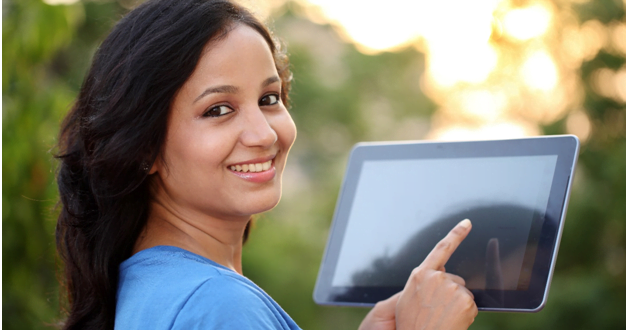 In today's time and age, young children and teenagers are more familiar with the latest trends in technology as compared to many adults. Technology and gadgets have made a huge impression in all aspects of our daily life. Whatever a child sees and experiences in his or her immediate environment imbibes very quickly. Therefore, when it comes to the use of the technological gadgets, kids and adolescents of this generation are already quite familiar with it.
Having stated that, digital literacy is a different ball game altogether. It does not entail the use of technology, internet and smartphones for entertainment and leisurely purposes, but demands the use of thedigital platform for skill enhancement.
From schools, colleges and even coaching academies rely on digital learning to impart quality instructions to the students. Take the example of Aakash iTutor, which in some ways is like an IIT JEE coaching app facilitating students to pursue quality learning in the remotest part of the country. Students do not need aninternet connection to access rich content material, which is a very useful feature of this platform.
The onslaught of technology is real and unrelenting. Parents must retrieve from the stance of debarring their children from the use of technology.  Instead, they should try inculcating digital literacy from a young age so that children can learn how to use technology in the optimum manners. Here are some suggestions in that direction –
Install a Computer in the Living Room
In the age of compact computing, buying a personal computer maybe seen as an obsolete. However, if you want your child to be familiar with using acomputer, this is a great investment. Several web applications can be used to prepare exciting projects and assignment. Similarly, if your child is fond of reading and writing, the computer will become the canvas for his or her work.
Download Learning Apps on Your Phone/Tab
It is easy to shape the interest of a child attending preschool or elementary school. So, instead of downloading video games apps on your phone, install interactive learning apps that are built to enhance vocabulary and language. If a child spends his or her time using a learning app, it will be easy to encourage learning in them through digital platforms at a later stage.
Get a Printer
Buying a printer is yet another investment that you will not regret. Today, children are required to submit school reports, holiday homework and assignments in print format. Therefore, having a hardware device like aprinter at home will be quite handy. Besides taking aprintout of school work, your child can also use it to take print of his or her personal work that would include artwork, cards and stories.
Buy Books as Soft Copies
If you want your child to develop a reading habit, it is not a bad idea to buy soft copies of various books. Buying soft copies of abook is very convenient, and your child will get familiarly with accessing digital study material. In the future, if he or she aspires to crack JEE exam, studying for IIT JEE coaching app that also offers asoft copy of the study material will be comfortable and convenient.
Teach them to usethe Internet is a Responsible way
This is a very pertinent point. As a parent, it is your duty to teach your child on how to use the internet is a responsible way.  The internet is flooded with much valuable information which will be very useful for your child. However, at the same time, you will not want your child to be exposed to the risk of the internet. Monitor your child's internet activity. At the same time, talk to them and tell them about the risks to access wrong information on the web.
As a parent of a young child, the onus of preparing them for the digital age is on you. Therefore, you must make sure that it's done in the right and responsible way.