The "Big Chicken" video showing a giant chicken emerging from its coop has taken the Internet by storm Monday March 20, 2017. This picture is not of that particular chicken. (Pixabay image) (Pixabay image)
There are chickens. And then there is "Big Chicken."
CNN reports video of a giant rooster squeezing out of his far-too-modest coop is taking the Internet by storm, ruffling the feathers of those who prefer their poultry pint-sized. Is the monster fowl the real deal or, as some conjecture, a large child in a chicken suit?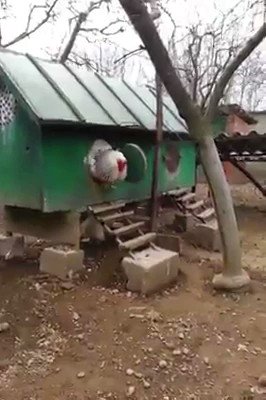 LifesBook_Ceo

@LifesBook_Ceo

Am I the only person wondering why this chicken is so damn big

37,01337,013 Retweets

50,67750,677 likes
The report says the chicken in the video is not a fake — it is a breed known as Brahma chicken that was bred in the U.S. to feed a growing demand for poultry. (For real, though. How many Popeyes Family Meals do you think you can get out of this thing?)
The result is a chicken that has Twitter and Facebook users either gaping in wonder or cowering in fear at the pre-historic looking beast.
Which side are you on?
Read the full CNN report.
New low-cost animal hospital open on Washington Avenue
 ["Source-nola"]