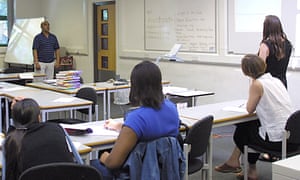 The government is taking teachers' leaders to court in an attempt to head off a strike over "inadequate" sixth form funding.
The National Union of Teachers announced a one-day national strike will take place next Tuesday by its sixth form college members, who are in dispute over the what the NUT describes as the "detrimental" impact of current funding levels on terms and conditions for staff.
The Department for Education (DfE) has said it will challenge the action in the high court in London on Monday, where the NUT is promising to "robustly defend its right to strike to protect jobs and conditions".
The union has warned that sixth form colleges are in danger of disappearing if the government fails to address a "severe funding crisis" affecting 16-19 education. In a ballot of members, 86% voted in favour of a one-day strike, with a 44% turnout.
Union leaders say the government's decision to take them to court is as much an attack on the right to strike as the trade union bill that is going through parliament.
A DfE spokesperson accused the NUT of seeking to disrupt the education of thousands of students through "an unlawful dispute", which was based on political grounds rather than a trade dispute about the terms and conditions of its members.
"We therefore intend to challenge this through the courts," the spokesperson said. "We recognise the importance of investing in education which is why, thanks to the difficult decisions we have taken elsewhere, we have been able to protect core 16-to-19 funding.
"At the same time we have ended the unfair difference between post-16 schools and colleges by funding them per student to ensure that all young people leave education with the skills they need to thrive in modern Britain."
Kevin Courtney, the NUT's deputy general secretary, said: "We regret that the government has chosen this route rather than seeking to resolve the dispute through negotiations about adequate funding for the sector, which could protect teachers' conditions of service and students' conditions of learning.
"Sixth form colleges provide a vital service that is in danger of all but disappearing if government does not listen and reverse and remedy the severe funding crisis in colleges.
"It seems as though the government is doing anything it can to avoid parents knowing about the funding crisis facing 16-19 education. This court case is every bit as much an attack on the right to strike as the trade union bill currently going through Parliament. We hope to defeat this cynical legal challenge on Monday."
[Source:- Theguardian]