Lenovo is one of the leading brands of electronics and there is no doubt in this. Currently they have launched a series of laptop under the Lenovo 510 Yoga 510 convertible laptops and the latest one at the MWC 2016. If you are wondering to get more details about this series of laptops then you can get all those right here on this page. Here are the things that you would like to know about this laptop.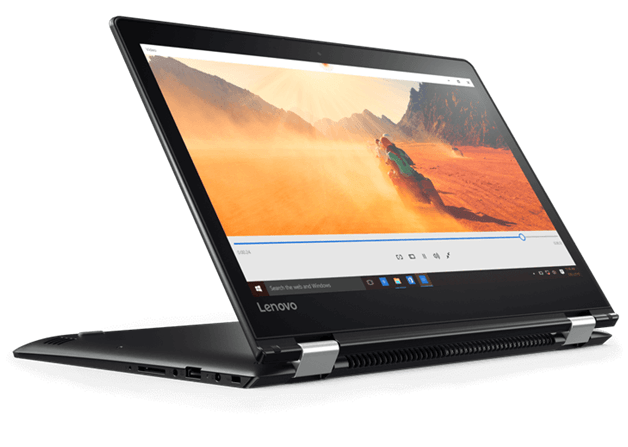 Overview of the Lenovo Yoga 510 Laptop
The Yoga 510 series has the 14 inch and the 15 inch laptops. While the 14inch model was available from April of this year with higher specs and features, its price tag is also cheaper than the 15 inch and if purchased availing the laptop offers on SnapDeal you can get it at a much lesser price. You can get the 15 inch Yoga 510 for 600 while the 14 inch for 479.
Like its previous families, the Yoga 510 can flip the screen at 360 degrees enabling you to use them as laptop, tablet, display or as a tent. Here are the reviews of both the models of the Yoga 510 family.
The Lenovo Yoga 510- 14 Inch Laptop
Model– This has a processor of Inter core i5- 7200U and an OS of Windows 10. It is black with a screen of 14inches and a slim touch feature, a ram of 4GB and 1 year warranty.
Specs– It has a memory of 8GB, graphics of ADM Radeon R5 M430 2GB and a battery of 52.5 WHr.
Features– This model has a diamond cut palm which is light & comes in color options of pearl white & ebony black. The storage has been doubled and it recharges 40% faster than its earlier models. This model can also be flipped, stood, folded or tilted.
The Lenovo Toga 510- 15ISK Laptop
Model– This model as an Intel Core i5- 6200U processor of 2.3 GHz & a main board of Intel Skylake- U Premium PCH. Being convertible, four different models are possible and it has metal cum plastic cum with a silver touchpad. This model lacks a rubber lip.
Specs– It has graphics of AMD Radeon R7 M460- 2048 MB, a memory of 8192 MB with a single channel and one slot option. It has an Os of windows 10 64- bit and has no maintenance hatch.
Features– In case of connectivity, the post layout has been changed with USB 3.0 ports and can be connected to monitor through HDMI. This model that can be bought using coupons from CouponMama.co.in has a wide viewing angle for display making the convertible mode easy and IPs display as well. It offers a warranty of two years.
Therefore, the newer family model seems to be a better choice if you are buying. However, the 15 inch also has its own qualities. So, choose the model as per your requirement and enjoy the benefits that this series of laptop offers to the users.