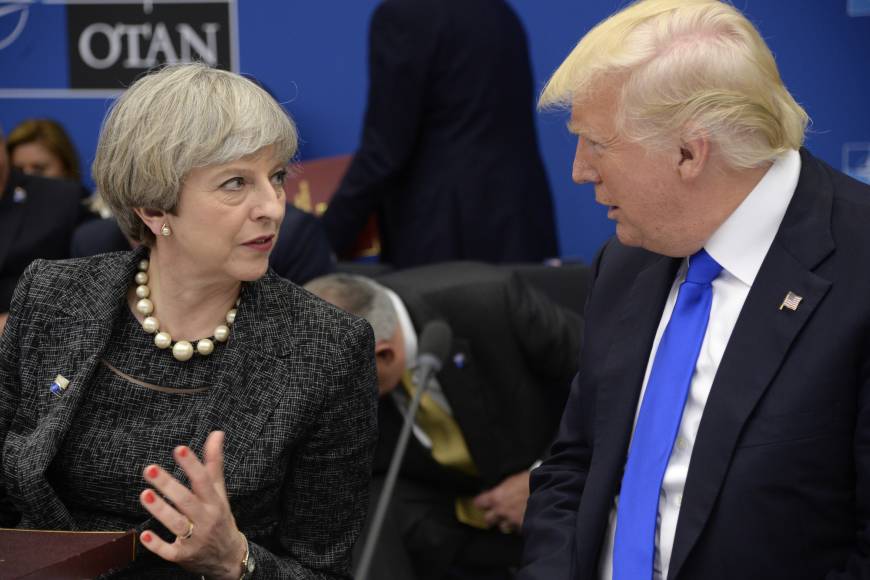 U.S. President Donald Trump speaks with British Prime Minister Theresa May as they participate in a working dinner meeting, during the NATO summit of heads of state and government, at the NATO headquarters in Brussels on Thursday. | THIERRY CHARLIER / POOL PHOTO / VIA AP
BRUSSELS – British Prime Minister Theresa May will urge internet companies to do more to remove extremist content Friday as she makes a shortened visit to the G-7 summit following the Manchester attack.
As British authorities hunt accomplices of the bomber who killed 22 people at a concert on Monday, May will use a meeting with world leaders in Italy to emphasize the importance of tackling the spread of terror online.
"The threat we face is evolving, rather than disappearing, as Daesh (the Islamic State jihadi group) loses ground in Iraq and Syria," a senior government source said.
"The fight is moving from the battlefield to the internet."
May cut short her trip to the Group of Seven meeting in Taormina in Sicily after authorities raised Britain's national threat level to maximum, just weeks before the June 8 general election.
May will attend Friday's session and lead a discussion on security and counter-terrorism, but miss the program on Saturday.
Her call at a NATO summit in Brussels on Thursday for more global coordination on tackling terror was undermined by a row with the United States, Britain's leading intelligence partner, over repeated leaks of shared material from the Manchester attack probe.
U.S. President Donald Trump, who met May in Brussels and will also attend the G-7 meeting, promised to find those responsible for the "deeply troubling" security breach.
The G-7 summit, also involving the leaders of Canada, Germany, France, Japan and Italy, is May's first since taking office after last year's referendum vote to leave the European Union.
The former interior minister has long warned against the spread of extremist ideology online and the issue forms part of her Conservative party's manifesto for next month's vote.
Technology firms have a "social responsibility to do more to remove harmful content," including extremist propaganda and bomb-making guides from their networks, the government source said.
May wants internet companies to develop tools to automatically identify and remove harmful material, based on what it contains and who posted it.
She would also like to see companies block users who post extremist content, and alert authorities when they identify content that could be harmful.
While her proposals are unlikely to result in anything concrete from the summit, the prime minister is hoping to push the debate at a time when extremism is back at the top of the global agenda.
"If we all take action and send a message to the internet companies, that message will hopefully be heard loud and clear," the source said.
["Source-ndtv"]