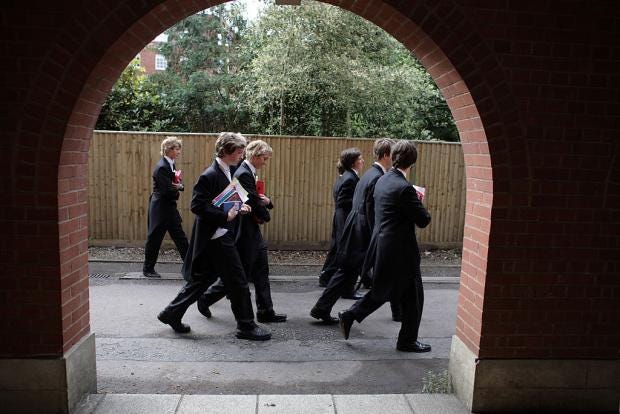 Men are much more likely to benefit from a private education than women regardless of their qualifications, a new report suggests, thanks to long-standing "old boys" networks putting men ahead for top jobs and higher salaries.
A longitudinal study led by the UCL Institution of Education,following more than 7,000 people over more than four decades, found that by middle age, those who had received the best educations were in the best jobs.
Men who attended private schools were twice as likely to be in the top income bracket by the time they reached 42 than those who went to a comprehensive, even when they had gained similar exam results.
There was no private school advantage for women, however, even when they achieved the same results from the same kind of schools.
Professor Alice Sullivan, the study's lead author, said the findings may show that the "old boys network" was still helping push men above women for top job opportunities.
"The difference we found was that for men had a direct advantage in their outcomes in terms of income," she told The Independent, "even when taking into consideration the improved communication qualifications that they had."
"While both men and women who attended private schools had an advantage, for example when applying to university, men were still found to earn more – even when controlling that aspect of the data.
Ms Sullivan highlighted that the majority of male public schools – not just the most elite schools such as Eton and St Pau's – have a strong tradition of getting pupils into top jobs via shared connections.
Women's private schools, however, had different ambitions for their pupils, who were more likely to pursue lower paid industries or "marry well".
She added: "It may well be different for students coming out of school now – I think the focus of many private schools has changed.
"It might be the case that girls are getting now accessing some more of the same advantages boys have always had. But some of the problems still exist, for example men still dominate the very highly paid industries such as banking.
"A lot of these schools now have mixed sixth forms which begs the question – are the girls now getting the same push up as the boys or is there still something advantageous about being a man in that network."
While those surveyed who had enjoyed the best educations were found to end up in the best, well-paid jobs, simply having a degree did not guarantee a large salary, the study found.
Children's individual social origins – ie, their parents' professions, income and education – had far more of an impact on their earnings in adult life far than their own qualifications earned.
Those who were brought up by high-earning parents had a distinct edge in reaching the highest income bracket, with an average salary of £85,000 per year for men and £76,000 for women.
[Source:- independent]