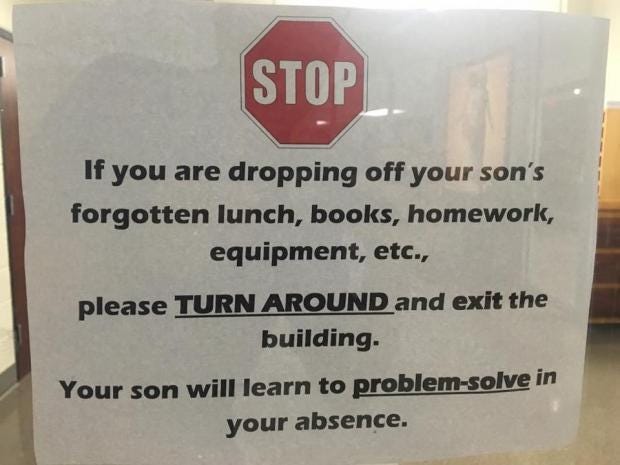 A school in Arkansas has had enough of its pupils being mollycoddled by doting parents and has come up with a tongue-in-cheek response.
A photograph of a sign fixed to the front door of Little Rock's Catholic High School for Boys proposing a tough-love approach has gone viral.
It reads: "If you are dropping off your son's forgotten lunch, books, homework, equipment etc, please turn around and exit the building.
"Your son will learn to problem-solve in your absence."
The image has been shared more than 100,000 times since being posted a week ago.
Steve Straessle, the principal, said the idea was straightforward.
"It's simply to help boys avoid the default switch of calling mum and dad when things don't go right to bail them out," he told KARK TV.
The pupils are sanguine about the notice.
Less so the parents, many of whom have bombarded the school's Facebook page with concerns that children will starve if they have forgotten their lunch, for example.
One raised concerns about diabetic pupils.
"Of course I'm sure you're not talking about diabetic or other needs, like mine who's type 1. Because just so you know, I'd hurt any one of you that stood in the way of me getting my son's medicine to him."
[Source:- independent]