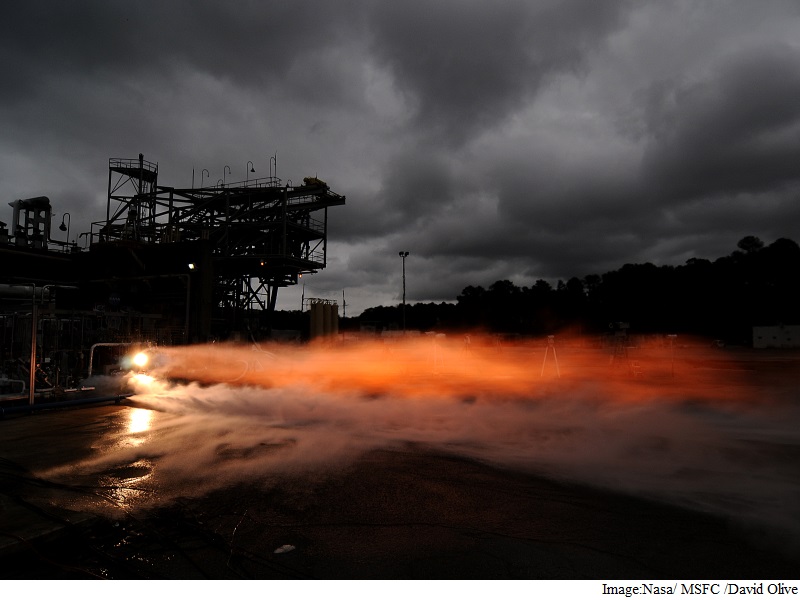 A team of Nasa engineers has inched closer to building a completely 3D printed, high performance rocket engine by manufacturing complex engine parts and test firing them together with cryogenic liquid hydrogen and oxygen to produce 20,000 pounds of thrust.
The team from Nasa's Marshall Space Flight Centre in Huntsville, Alabama tested 3D printed rocket engine parts connected together in the same fashion that they would work in a rocket engine.
The parts performance rivalled that of traditionally manufactured engine parts. During six separate tests, the engine generated up to 20,000 pounds of thrust.
"We manufactured and then tested about 75 percent of the parts needed to build a 3D printed rocket engine," said Elizabeth Robertson, project manager at Nasa.
"By testing the turbo pumps, injectors and valves together, we've shown that it would be possible to build a 3D printed engine for multiple purposes such as landers, in-space propulsion or rocket engine upper stages," Robertson explained in a statement.
To test them together, they connected the parts so that they work the same as they do in a real engine.
"In engineering language, this is called a breadboard engine," explained Nick Case, testing lead for the effort.
Seven tests were performed with the longest tests lasting 10 seconds.
During the tests, the 3D printed demonstrator engine experienced all the extreme environments inside a flight rocket engine where fuel is burned at greater than 3,315 degrees Celsius to produce thrust.
"These Nasa tests drive down the costs and risks associated with using additive manufacturing, which is a relatively new process for making aerospace quality parts," Robertson noted.
"This new manufacturing process has opened the design space and allowed for part geometries that would be impossible with traditional machining or casting methods," added David Eddleman, one of Marshall's propulsion designers.
Additive manufacturing or 3D printing is a key technology for enhancing space vehicle designs and manufacturing and enabling more affordable exploration missions.
Over the last three years, the Marshall team has been working with various vendors to make 3D printed parts, such as turbo pumps and injectors, and test them individually.