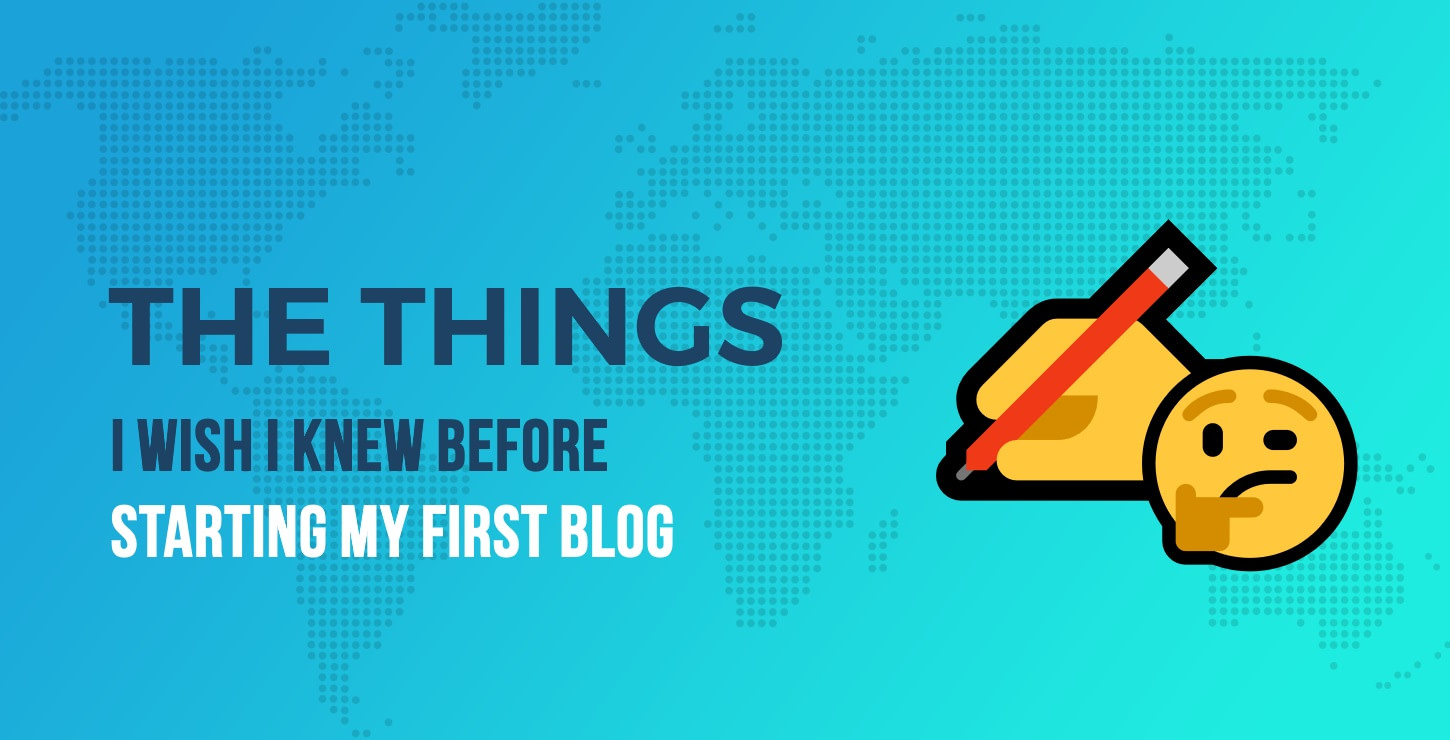 Starting a blog for the first time is an amazing, yet intimidating experience.
Thinking that people are actually going to read – and even share – something you wrote. It's unlike any other feeling I can describe.
But it's not all rainbows and butterflies. Starting a blog is hard work, and there are a lot of pitfalls along the way. Especially if you're a newbie.
So many pitfalls, in fact, that we've come up with this tutorial. It's a full list of 45 things we wish we knew before starting our first blogs. That way, you don't have to make these mistakes yourself!
How to start a blog the right way
But who are "we" exactly, right? Well, this post is a group effort. It features three bloggers chipping in and sharing their best advice on how to start a blog, and not only that, but how to start a successful blog and make money from it as well.
So grab a coffee and get cozy, we're about to review everything we've learned in the past 8+ years. Enjoy!
1. Use SEO to drive tens of thousands of visitors every month
SEO, or search engine optimization, is the art of optimizing your content in order to rank for certain keywords on search results like Google.
SEO is an umbrella term including keyword research, link building (the process of acquiring links to your site from other sites to improve your search rankings), and a whole slew of other actions needed for best performance.
But more on that later in this guide. For now, while it may sound intimidating, it's actually a simple process that should be considered when starting a blog. It works like this:
I. Find keywords with a fairly low ranking difficulty around your niche.
You can use a tool like Ahrefs, Moz, or SEMrush to see keyword search volume and difficulty. Here's how using Ahrefs for keyword research looks:
II. Create content that's the best on the web for the topic and keyword you've chosen.
There are two steps here:
First, pick the keywords that you want to target when starting a blog. But don't just guess. This goes deeper.
You should only pick the keywords that are both popular with people and ones that you're also able to rank for. There's a different degree of difficulty with keywords, and some will unfortunately be above what you can target in your first couple of years blogging.
Here's a guide to keyword research done right for WordPress websites.
Okay, so that's step one. Step two is to create content for (or rather about) those keywords.
Look on Google to see what's ranking in the top 10 results, then do everything you can to make a better post. That could mean better images, more in-depth explanations, linking to more resources, or all of the above together.
III. Spend just as much time promoting that content as you did creating it. Maybe more.
That doesn't just mean sharing it on social media, either. You should do email outreach to influencers, write guest blog posts (some strategies), and even consider paid promotion like Facebook ads or Quuu Promote.
Here's an example of Quuu's ROI on $10 spent:
And that's for a very small niche – RVing and campervans. It's way more impactful with bigger niches, like any kind of business, marketing, or travel.
Oh, and in case you come across it, I highly recommend white hat SEO (valid tactics according to Google's terms of service) over black hat SEO (tactics that work, but are against Google's policies and can penalize your site).
Now, obviously, there's a lot more to SEO than I can explain in 250 words. But this gives you the basics, which really aren't difficult.
To learn more, here's a practical SEO guide from Alex. It's in-depth and gets you through all the important stages of developing an SEO strategy and executing on it which is very important when starting a blog.
2. Build links to boost your rankings
I put link building right after SEO because it's really just an extension of SEO. Backlinks to your website are one of Google's strongest indicators for ranking a site higher.
It's a lot of work, but isn't necessarily difficult or complicated. It's just a matter of networking, building strong relationships, and targeting your content to the people who can provide links.
Here's a quick and dirty overview to link building:
First, you need high-quality content. No one is going to link to garbage, and it doesn't matter if you're just starting a blog or have been around for a while.
Brian Dean actually recommends creating content specifically for the people you want links from, rather than focusing on keywords first. It's worked for me.
Once you have quality content, reach out to anyone you linked to in your article. These people are the most likely to share and link to it, since they have a stake in it.
(Hint: The better you make people look, the higher the chance they'll link to you.)
For example, here's an email I sent out to all 30+ people who contributed to the last post on my blog:
If you want to automate this process, you can use an email outreach tool like MailShake.
This isn't the only way to get backlinks, though.
There are tons of other backlink building techniques you can use, like resource page link building, broken link building, and getting links from people who write roundups, to name a few.
For a more in-depth overview of link building when starting a blog, check out Ryan Stewart's strategies for bloggers.
3. Go for quality over quantity (underrated by most people learning how to start a blog for free)
This is a lesson I've learned in my study of SEO, and in how to create a blog in general. Quality always beats quantity when it comes to blog posts.
Pushing out daily or even weekly posts simply isn't necessary. If you do things right, once a month is plenty. That gives you the whole month to spend on promotion.
Google used to give some merit to sites with fresh content.
Then sites started abusing that and pushing out a dozen crappy articles a day. It worked for a little bit, but then Google laid down the ban hammer. Now those sites are extinct.
Besides, would you rather have ten OK posts on your blog, or two really great ones? I'd rather have the two great ones. Especially because, as those high-quality articles gather backlinks, they have more authority and increase the value of internal links (which I'll talk about next).
If you want to learn how to create truly amazing content, check out this guide.
4. Use internal linking to help Google (and people) navigate your site
Internal links are especially important when you're starting a blog. They're simply links from one page on your site to another page on your site. (Where external linking is a link from a page on your site to a page on another person's site.)
Internal linking is important for SEO, but it's also important to help your readers get around your blog. It's also a great way to get new readers to read old content.
Plus, when you learn how to start a blog and have a post that ranks highly in search engines and got a lot of backlinks, any internal links from that page to your other pages helps boost those pages' rankings.
Here's a visual to help explain that:
I hope that helps you understand it. For more info, Andy Crestodina from Orbit Media Studios wrote an excellent guide to internal linking. Give that a read if you want to learn more.
5. Guest blog for more traffic, better SEO, and brand awareness
Guest blogging is a strategy for getting backlinks and traffic to your site. You're essentially borrowing (stealing?) another authoritative blog's traffic.
You've probably seen or heard of this before. It works like this:
First, you have to find a blog you'd like to write for. (If you've been blogging for awhile, you probably already have some in mind.) Look for the people who are industry leaders in your niche or a very related niche.
For example, I'm a content marketer. So I read blogs about content marketing, like Content Marketing Institute, who has over 100,000 email subscribers and a domain authority (DA) of 85.
(Note: Domain authority is a rank on a scale of 1-100 that shows how authoritative a site is. It's based on their link profile, age, and a ton of other factors. Higher is better because it gives you a bigger SEO boost.)
I wanted to write a post on their blog to increase my brand awareness. It's like a badge of honor, almost – and it would help me land clients by getting there, since it's so well-known in my industry.
To do that, I reached out to my network to see if anyone had a contact there with an editor. Turns out, they did! That got me an in. Here's my post:
Speaking of how to add new attractive blog posts, we'll actually talk about formatting later in this guide. But for now…
What if you don't have a network when starting a blog? What if you're just starting from scratch?
My good friend Aaron Orendorff talks about that exact problem during his interview on the Rebel Growth podcast. It's worth a listen!
6. Use social media to drive thousands of converting traffic
Social media and blogging are two peas in a pod. You can't really have one without the other.
But, there's nothing more frustrating when you're trying to learn how to create a blog and spending four hours writing a blog post, only to see zero engagement. No comments, no shares, and your one like is from grandma.
That's because most people do social media all wrong. They use it as a publishing platform where they just push out their blog posts. Social media isn't an RSS feed!
So, how do you use social media the right way?
By networking and being social. (You'll start to notice that almost everything in blogging revolves around networking.)
Let me give you a perfect example: I have a Facebook page for my RV travel blog. Whenever I add new posts, they almost always get less than 5 likes, no comments, and no shares. But then I implemented this simple strategy…
I created a high-quality post that involved over 30 other RVers – many of whom have lots of social media followers themselves.
Then, I wrote a Facebook post and tagged all of them in it.
Look at this engagement:
As you can see, 1,840 people were reached organically, with 11 shares and 21 likes. (Note: The 769 paid results are from a $5 test I spent just to see how well paid promotion does. I'll talk about that later.)
But it gets better. I also posted the link in a relevant niche Facebook group. That post got over 56 likes, 10 comments, and drove nearly 600 in traffic to our blog!
And all that to a new Facebook page with fewer than 100 likes.
Moral of the story? To get social engagement, engage with other social people. Tag everyone, be present in Facebook groups and build solid relationships. That way, even when just starting a blog, you can still get a ton of engagement.
Pro Tip: While you shouldn't automate everything on social media (since people will be able to tell), you can use automation to build a real, engaged following. For example, you can use a tool like Narrow to interact with Twitter users that are talking about subjects relevant to the audience you want to attract. Or, use a free tool like Revive Old Post to get more eyeballs on your archive content.
7. Create amazing images to increase shares, backlinks, and subscribers
Creating high-quality images is not only easy, it's also affordable and fast. And it's a must-have in today's highly competitive world.
If you look at the top blogs in your industry, do they use a lot of quality images? I think we both know the answer.
Images make it easier for people to read your content, keep them on your page longer, and help readers digest the information you're giving them.
So how do you create awesome images?
Here are all the tools you need:
Canva – A design tool for non-designers. Free, with some paid icons. Also has a $10/month version with added functionality, like instant image resizing.
Relay That – An amazing image creation tool that creates images for you! Unlike Canva, you don't even need to design it yourself. Get everything you need at the click of a button.You can get a free version or pay $16/month for the basic package.
Unsplash – A directory of free, high-quality stock photos.
MyStock Photos – Similar to Unsplash, with even more photos.
Iconfinder – Get high-quality icons for just a dollar or two.
["source=codeinwp"]