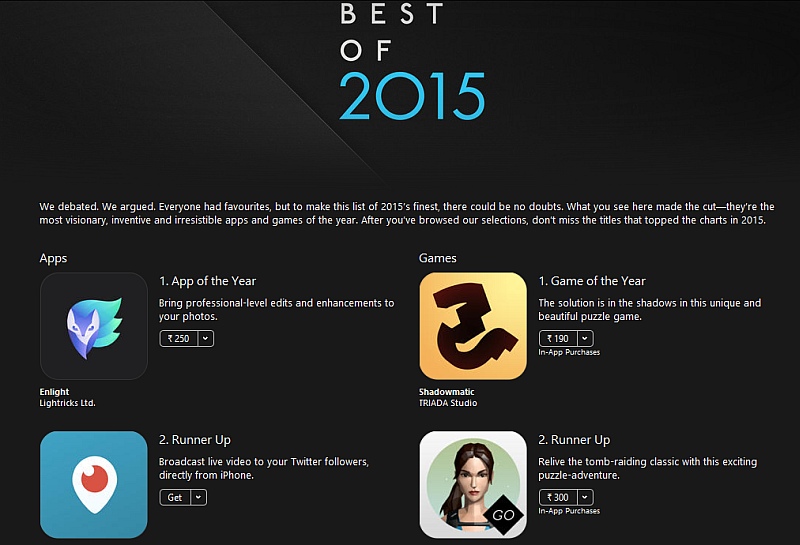 Enlight, an app that allows users to edit their photos and add enhancements to them, is the best app of the year in the eyes of Apple (India). The company on late Wednesday announced a collection of apps and games that were the "most visionary, inventive, and irresistible" in 2015. Apple has published lists of top apps for other countries as well.
The Apple App Store in India showcases Enlight, a Rs. 250 app, as the App of the Year. The review section of the app unsurprisingly houses a number of happy customers. The runner-up for first place isPeriscope, the Twitter-owned app that lets users broadcast live video to their Twitter followers. The next runner up is Pacemaker, an app that lets users create soundtracks.
Workflow app, which is available for Rs. 190, has earned the crown for being the Most Innovative app. ReBoard, an app that lets users schedule tasks, has earned the top spot for the Best of India: App. Darkroom, a photo editor app, Moleskine Timepage, a Rs. 300 calendar app for iCloud, PAUSE, Procreate Pocket, and Timeline are among the best 10 apps list.
Following them, in descending order, are Tandem, Spark, ProCam 3, Shopo, Pixelmator, Paper, Hooks, Grofers, Hydra, Yousician Piano & Guitar, Streaks, Chillr, Lybrate, PICSPLAY 2, and Adobe Comp CC.
In the games section, Shadowmatic, a puzzle title has been crowned as the Game of the Year. Lara Croft GO, and Mr Jump are the two immediate runner-ups. Apple India has handed the rank for the Most Innovative game to Dark Echo. Real Steel Champions, which is developed by Reliance Big Entertainment, has been declared as the Best of India: Game.
Other top games, in the order of their rank, are PAC-MAN 256, Angry Birds 2, Stick Cricket 2, Need for Speed No Limits, WWE Immortals, FIFA 16 Ultimate, Does not Commute, Alto's Adventure Snowman, Afterpulse, Marvel Contest of Champions, Super Sharp, Blades of Brim, SpellUp, Dead Among Us, Mortal Kombat X, Horizon Chase, King of Thieves, OneMore Run, and UNWYND.
The list is very similar to the apps that topped the charts in the United States App Store. Periscope, Enlight, Robinhood were among the best apps. Lara Craft GO, for instance, is the Game of the Year. On iPad, The Robot Factory is the best app, followed by HBO Now, and Patterning. uMake is the best app for the iPad Pro, according to Apple. HBO Now is the best Apple TV app for 2015, while Dark Sky gets the crown for the best app for the Apple Watch. On the Mac App Store, Affinity Photo is the best app, while Pillars of Eternity is the best game for the OS X powered devices.
["source-gadgets.ndtv"]