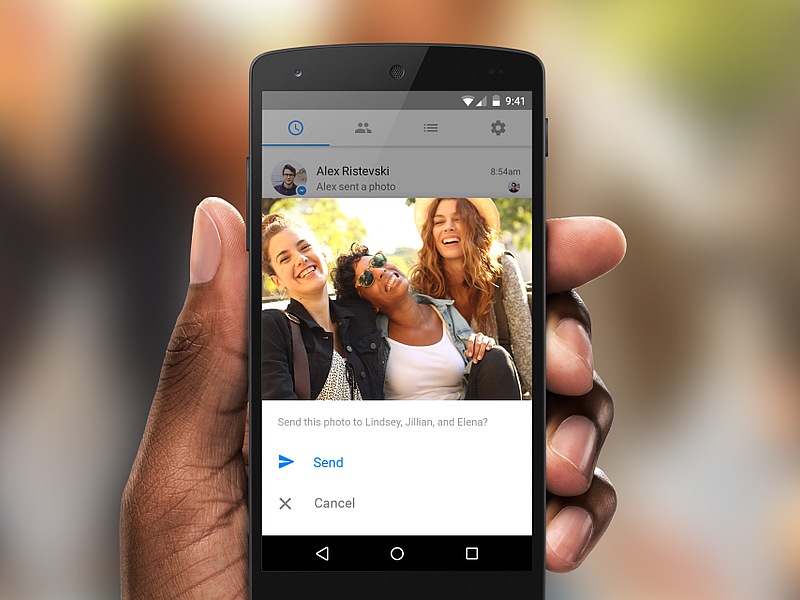 Facebook has been working on packing new features and integrations into its standalone messaging app, Messenger. Following the launch of Uber integration earlier this week, Facebook has begun the wider rollout of the Photo Magic feature it had introduced last month to Australia and then the US. Photo Magic, which makes the process of sharing photos from users' camera rolls easier, is now available to more regions across the world.
As mentioned by Peter Martinazzi, Director of Product Management, and Lexy Franklin, Product Manager at Facebook, Photo Magic had been in testing, and had received positive feedback from testers. "So at a time of the year when more photos are taken than any other (last year Messenger saw hundreds of millions of photo sends on New Year's Eve), we're making it simple for you to share those happy moments," they added in a company blog post.
With facial recognition algorithms, Photo Magic identifies people in photos, and asks users create a group thread to share that particular photo with them. You can then tap either on 'Send' or 'Cancel' to send or discard the image. The feature can be turned off or on at any time by going in to the Messenger settings. Tapping on 'Try it' will also activate the feature whenever prompted. You even get to control if you are being recognised in your other friend's photos in the timeline and tagging section.
The Facebook Messenger update rolling out to users also brings a few other features, including the ability to customise conversations with different people and groups. iOS users will be able to rename their friends and relatives in Messenger to what you actually call them, tap on the names of people at the top of a conversation to change family group thread colour, and even change the emoji response from a thumbs up to something else. For Android, users can tap on the info button at top right for similar features. "Anyone in the conversation can change the colors, nicknames and emojis as many times as they want, and when you make a change, the people you're talking to will see what updates you selected."
It is worth mentioning that Facebook has introduced Events Discovery feature in its app that will let users browse nearby events by categories – Music, Food & Drinks, Nightlife, and more. Searching for events in other cities is also possible. The feature for now is said to be limited to select US states – New York, Los Angeles, Chicago, Washington, DC, Boston, San Francisco, Dallas, Seattle, Miami, and Houston, reported Engadget. The new feature will reach iOS on Friday, with Android and Web versions coming soon.
["source-gadgets.ndtv"]