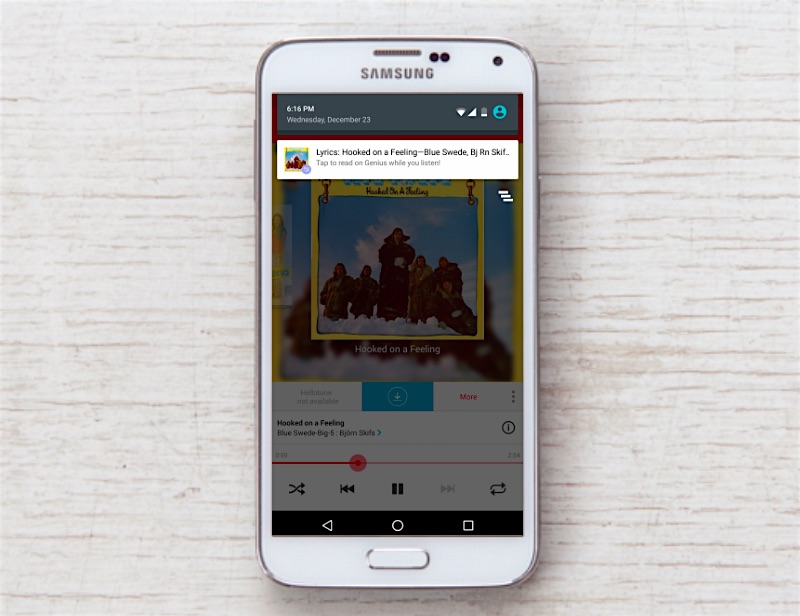 If you ever needed an Android app that could not only recognise the song playing on your phone, but also display its lyrics, you will want to check Genius. The app added the latter feature in a recent update. The feature is not available on Genius' iOS app.
In a Google+ post, Lisa Wray, who works at Genius, laid bare the new feature, adding that it was only possible because of the openness of Android ecosystem. Genius (formerly Rap Genius), the popular service that offers lyrics of soundtracks, is now able to read the notifications of media streaming and player apps that are running audio in the background.
"It's easy to slam the media APIs as an example of what's wrong with Android. We implemented our "song listening" three different ways, to support only back to API 16. At the same time, they show what's right: progress. The newest media APIs can talk to everything from your car to your Chromecast. A true media support library could go a long way toward bridging this gap," Wray wrote.
The feature isn't enabled by default, do note. Once downloaded, go to Settings, and enable Detect currently playing music. This will take you to the Notification access settings page, asking if you want to allow Genius to access your other notifications. The company assures that it will not access or save any of your notifications.
Once you have enabled that, the Genius app will automatically detect the song you're playing on your phone, regardless of the application. It will also give you a quick access to the lyrics. It is worth mentioning that Google's Now on Tap, a feature the company released with Android Marshmallow also offers this capability. However, it requires a few more taps.
["source-gadgets.ndtv"]