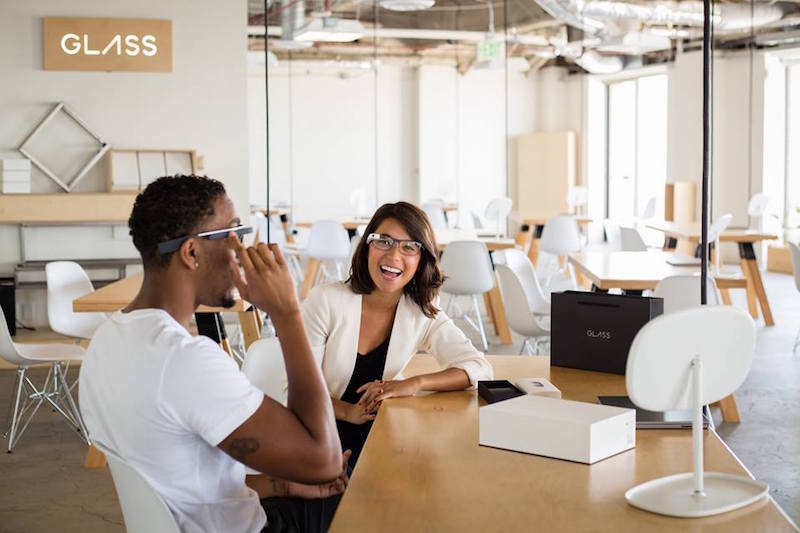 Google's second-generation Glass wearable could be more compact and sleek than the original wearable model. A patent the company was granted this week reveals the schematic diagram of what appears to be the rumoured second-generation Google Glass.
The company may have plans to introduce major changes to the second-generation Glass, it appears. The patent document reveals that the body of the wearable gadget could support touch input, though exactly how the interaction will work is not known as of now.
"The band can define an interior cavity having an interior surface, and circulatory related to the touch-sensitive surface can be displayed within the cavity adjacent to the interior surface. The circuitry can include touch-based input circuitry that is flexible in at least one direction," the document reads. Notably, the patent, granted in November, was applied for back in September 2012, and thus Google may very well have changed its plans since.
A report earlier this month said that Google is working on as many as three Glass variants. One of those Google Glass variants was said to be enterprise-focused, while another was pegged to have no display at all.
As per the report, Google was aiming for the launch of its second-generation Google Glass for 2016. The report said that the company could scrap one of the Google Glass variants and only launch two versions.
The first generation of the Google Glass was released in limited quantities, and its production was stopped by the company early this year, making many people wonder if the project had been cancelled altogether. But the team behind Google Glass, called Project Aura, which is spearheaded by Nest co-founder and chief executive Tony Fadell, insisted that it had just "entered a new phase."
With the wearable space slowly becoming mature, and giants such as Microsoft and Asus working on augmented reality devices, Google would want to stay a frontrunner in the emerging space.
["source-gadgets.ndtv"]