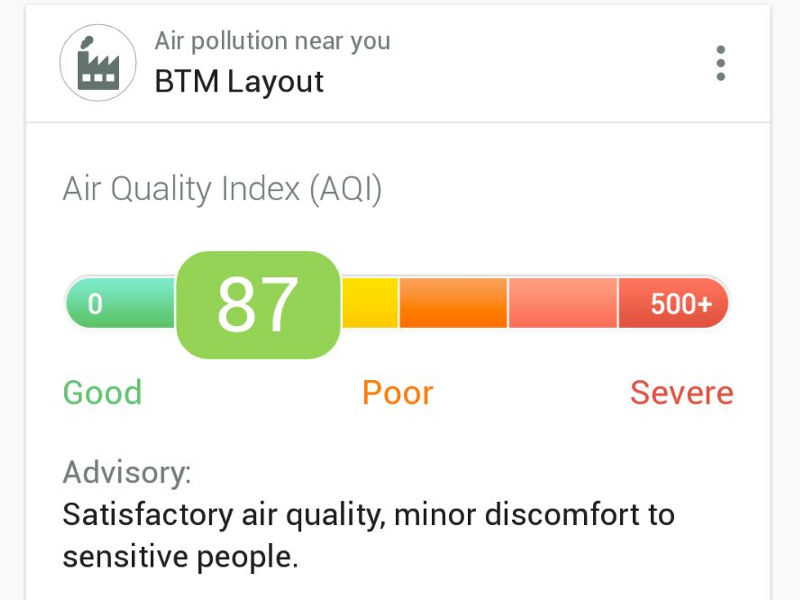 Bengaluru-based personal assistant app Helpchat has launched a new feature on its app that provides alerts ­when the air quality drops below a certain threshold.
The app presents readings of the AQI (Air Quality Index) index, sourced from Central Pollution Control Board (CPCB) as the primary source, and mashes it up with secondary sources, said Vishal Pal Chaudhary, Co-Founder and CTO at Helpchat. "The idea was to highlight the places the user should be avoiding, based on location data," he said.
Helpchat presents air quality data along with deals, movies, and weather updates on the app's home screen. The app uses the Air Quality Index as a key data point, which translates air quality into a number ranging from 0 to 500. The index is colour-graded in six categories from green to red (Good, Satisfactory, Moderately polluted, Poor, Very Poor, Severe). Apart from PM10, PM2.5 particles, the data is also derived by monitoring nitrogen dioxide, sulphur dioxide, carbon monoxide, ozone, ammonia, and lead content in the air.
Helpchat's data points seem to be limited to the number of publicly available air quality monitoring stations. The CPCB provides continuous ambient air quality data in a handful of Indian cities. AQICN.org tracks real-time air pollution data from a total of 58 sources in India, including US Embassies in the country.
Hardware startups are attempting to fix this gap. NIT Rourkela-incubated Phoenix Robotix, which provides a real-time pollution monitoring tool called Aurassure Air, was one of the top 10 teams in the Intel and DST Innovate for Digital India Challenge in November 2015.
Founded in 2010 by Ankur Singla, Vishrut Chalsani, and Vishal Pal Chaudhary, Sequoia-funded startup Helpchat had laid off over 150 employees in October 2015.
["source-gadgets.ndtv"]