Testing a gaming laptop can be an enjoyable process, but actually owning one is a scary thought. It's not about being cheap either – it's just that if you're investing over a lakh on a gaming machine, then you would want it to remain usable as a gaming machine for at least a couple of years. Unfortunately, as most people who have taken the plunge with a gaming laptop can attest, buyers remorse is all too real as technology quickly outpaces your expensive hardware.
Lack of upgradability is one of the major reasons to avoid gaming laptops. You need to be very certain of the configuration you pick because you'll be stuck with it until you decide to upgrade to a new laptop. It's a far cry from putting together a gaming desktop that costs a lot less, and can be easily upgraded.
With a laptop, you'll be able to upgrade the RAM and hard drive or maybe even add an SSD, but you won't be able to change the components that really matter – the CPU and the graphics card (or GPU). It's usually one of these two components that becomes a bottleneck over time as games get more graphically demanding.
And of course, a gaming laptop does not come cheap. Most of the high-end SKUs which actually manage to do a decent job of rendering the games you want with all the bells and whistles turned on will cost you more than a lakh. Spend the same amount on a desktop and you'll end up with a much more powerful machine.
And then there's the question of what games you're going to be playing. If you're into online multi-player games like Dota 2 or Counter-Strike: Global Offensive and you frequent LAN parties, then a decently powerful mid-range laptop is all you really need. Nvidia's GTX 850M is a very capable GPU which can be found in may laptops priced under Rs. 70,000. These laptops will easily handle DOTA 2 at full-HD, with all the settings turned up.
If you need more power, why not build yourself a small form factor PC? The small form factor segment is evolving rapidly and thanks to the increasing number of mini-ITX motherboards and the recentlyannounced AMD R9 Nano, one can actually build a seriously powerful PC in a portable form factor.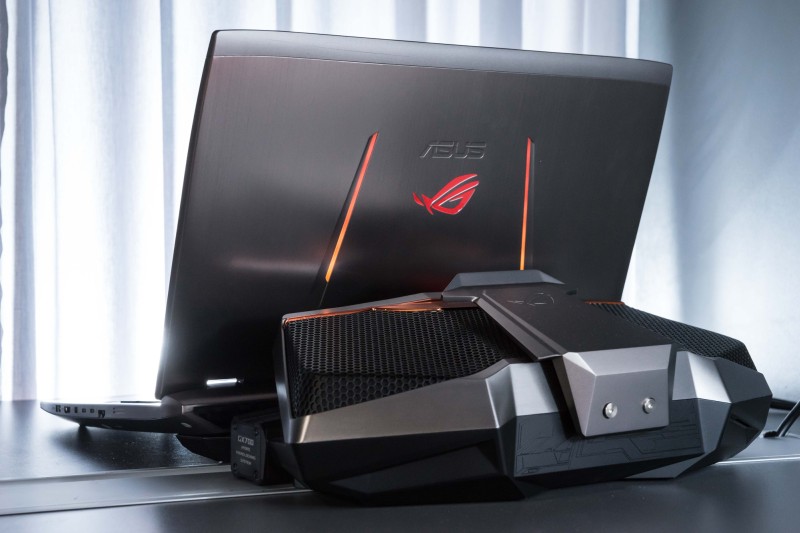 Gaming laptops can catch up to desktops in terms of power, but it comes at the cost of portability. At this year's IFA, Asus showed off its upcoming ROG GX700 – the world's first water-cooled gaming laptop. This will also be one of the first gaming laptops to feature Nvidia's 990M GPU, which essentially is a full-blown, desktop-grade GTX 980, in a laptop. It's a brilliant feat of engineering for sure, but the size and weight of the laptop, combined with the additional bulk, mean that this is not really a portable computer anymore. At which point, why not just build a more powerful desktop for less?
What's even more amusing is when laptop manufacturers appear to think that gamers will pay a premium for a laptop just because it has flashing lights, instead of focusing on performance. It's not their fault since most of these product managers probably aren't gamers, so the concept of "serious gaming" is quite often lost to them.
["source-gadgets.ndtv"]