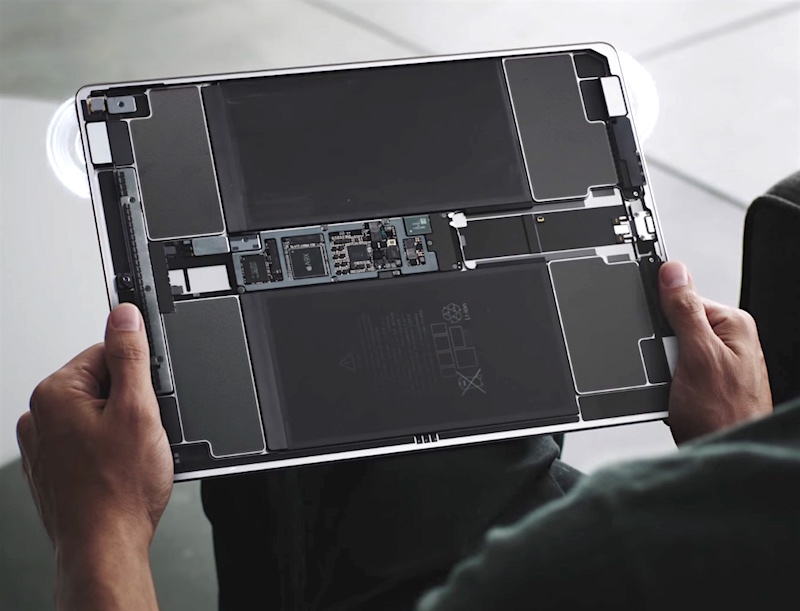 Apple doesn't hesitate to compare its products to its rivals' offerings, but the company almost always keeps a tight lip about the nature of the components that drive these devices. Which is what makes the recent comprehensive detailing of the A9X SoC, which powers the iPad Pro, so interesting.
Chipworks, a firm known for reverse engineering and analysing the circuits and structure of semiconductors and electronic systems, (via AnandTech has torn down the A9X SoC to share useful insights about the SoC along side a die shot. For processors, the die is a block of semiconducting material upon which a given functional circuit is fabricated.
Starting with the GPU, the team says it is the Imagination Technologies PowerVR Series 7XT design – specifically, the PVR 12 Cluster Series7. What's interesting is that it has 12 cores. To put things in perspective, iPhone 6s and iPhone 6s Plus boast an A9 processor that uses a hexa-core version of the same GPU. The dual-core A9X CPU clocks at 2.26GHz (compared to 1.85GHz as in A9), and offers 51.2GB/sec memory bandwidth, which is twice as fast as seen in A9, and A8X.
The A9X processor is about 40 times larger than the A9 processor. To put that in perspective, some of the 6th-gen Intel Core 'Skylake' processors aren't as bulky. The assessment also reveals that the A9X SoC uses a 16nm FinFET process and is manufactured by TSMC. Furthermore, the A9X die is larger than the dies used in the A8X (20nm) and A9 (16nm by TSMC and 14nm by Samsung).
The team said that the process used to manufacture the chip make it competitive with Intel. It is worth noting that benchmarking tool Geekbench has found the processing power of the A9X as good as a previous generation Intel Core i5.
The A9X design weirdly also doesn't come with an L3 cache, the memory bank built onto the motherboard or within the CPU module. By nature, L3 cache feeds are typically slower than the L2 memory, but faster than main memory. The team speculates that a larger L2 cache and faster LPDDR4 memory alongside a wider 128-bit memory bus may still manage to speed things up. To recall, the iPad Pro sports 4GB of LPDDR4 RAM, as revealed by an earlier teardown. The A9 and A8X sport 4MB of L3 cache.
["source-gadgets.ndtv"]