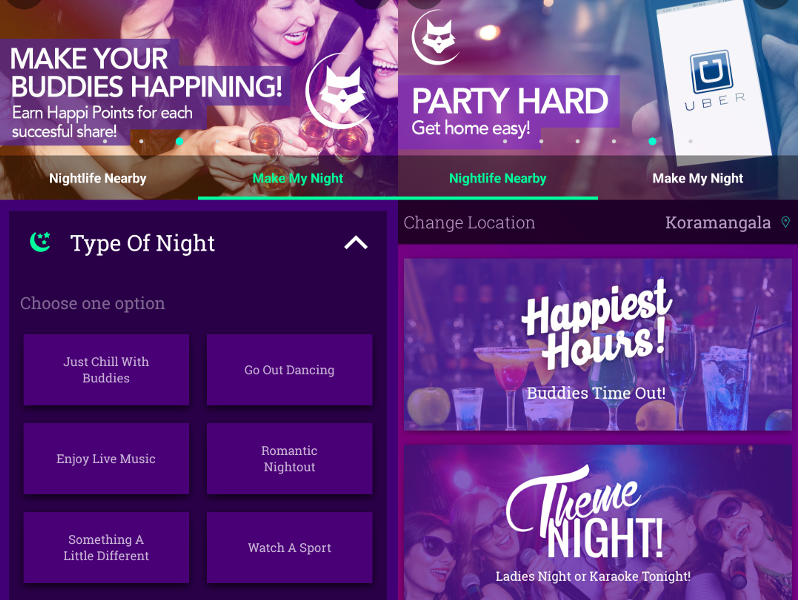 If you wanted to check out the best happy hours deal in your neighbourhood, there's now an app that curates over 8,000 nightspots in more than 700 localities across 15 cities in India.
Happitoo, an Airbnb-like app that helps you explore the local nightlife, launched on Google Play on August 21. The hyperlocal app lets you explore food, drinks, dance, music, live events, theme nights, and real time offers.
Hemant Jain, Co-Founder and Director at FNB City Media Pvt. Ltd, told NDTV Gadgets that there are about 80 different theme nights to choose from in India on average, spread across fifteen cities, and that his app curates the largest collection of theme nights.
Jain said that the Indian market didn't have a single app that can tell you about all the live gigs in a particular city, with information on cover price, location, etc.
"Once we spend the time getting all the data in place, we try to define how the consumer experience should be." he said. "We have built the product the way a user wants to consume it. Most nightlife experiences are designed around the companions who are part of the experience – a place where you want to chill out and have conversations would be different from places where you want to take your girlfriend out. If you're looking to take your colleagues out, you're looking for happy hours or special offers." Jain said.
The Make My Night tab helps plan your nightlife in six steps, whether it's happy hours or theme nights or romantic locations. Happitoo lets users choose from nearby options based on type of nightlife experiences available – from casual dining, microbreweries, pubs, and clubs, and choose an experience based on budget, distance, offers, and basic amenities, such as table reservation, valet parking and smoking zone.
Jain said that the app initially started out as Happy Hours India, an iPhone app which provided real-time happy hour listings and buffet offers available in over 2500+ restaurants across 13 cities. Happitoo is currently being run by a team of 12 members, not counting the data collection team, he said.
"We realised the restaurants and venues had much more to offer and the patrons had much more to look forward to. We considered this as a big opportunity as there was no app dedicated to search and discovery of great nightlife experiences pan-India." Jain said.
An upcoming feature for the app would be built around pub-hopping, with an itinerary that can be shared with friends.
Happitoo currently lists night spots in 15 Indian cities – Mumbai, Delhi, Gurgaon, Noida, Pune, Bangalore, Kolkata, Hyderabad, Nagpur, Jaipur, Ludhiana, Faridabad, Chandigarh, Indore, and Chennai.
According to data provided by startup data tracker Tracxn, some of the other local players in the nightlife and events space include, Mumbai-based wheretoday.info, Delhi-based events discovery platform hap9.in, Bengaluru-based Happnin and Oyeparty.
["source-gadgets.ndtv"]