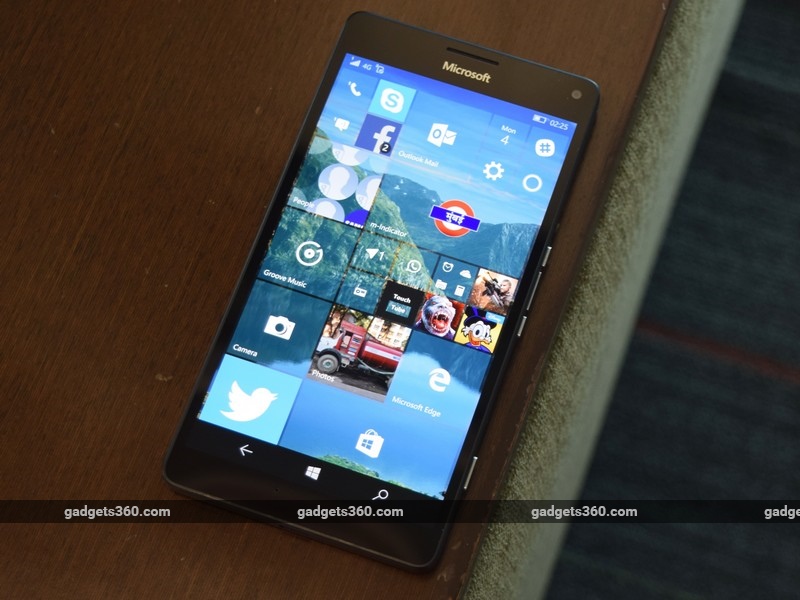 Microsoft debuted its Windows 10 Mobile OS with the launch of two Lumia devices in India late last month. The company is going with a top-down approach by first introducing the best it has to offer with the Lumia 950 XL Dual SIM and Lumia 950 Dual SIM and follow that up with more affordable variants across different price segments.
More than the devices though, Microsoft's real aim is to showcase its newest Windows 10 Mobile OS, which it hopes will resonate with consumers who are (hopefully) already using Windows 10 on their desktops and ultimately, coax developers into making more universal apps for the platform.
Today, we'll be taking a closer look at how this platform as evolved in its third attempt with the Lumia 950 XL Dual SIM. This phone is the Nexus 6P (Review | Pictures) or the iPhone 6S Plus of the Windows world and serves as a template for hardware partners to model their own creations on. Priced at par with the top-end Android offerings, let's see if Microsoft's finally able to crack the balance between top-of-the-line hardware and functional software.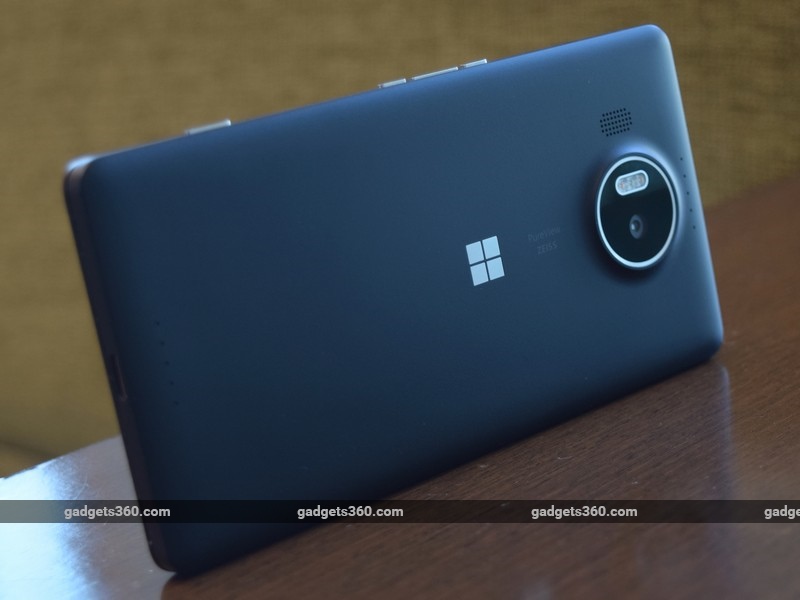 Look and feel
There's been a lot of criticism about the plastic body of Microsoft's new smartphone and truth be told, it is quite unbecoming for a flagship of 2015. However, given enough time and a healthy price drop, it really won't matter. Build quality is good although the fit of the rear cover could have been snugger, as the bottom portion creaks a bit when pressed. The matte finish offers decent grip and the button placement is quite ergonomic when held. The buttons themselves feel a bit tacky although tactile feedback is good. We're not a fan of the button cluster either as we would have preferred a more traditional layout with volume and power buttons placed further apart or on either sides of the phone.
There's a 5.7-inch Quad HD AMOLED display with Nokia's iconic ClearBlack technology for better sunlight legibility. Microsoft has also added Corning Gorilla Glass 4 for added durability. The display is absolutely stunning, producing neutral colours and high brightness levels for almost any lighting conditions. Our test unit seemed to produce a bluish tinge on if you tilted the phone vertically or horizontally. This is easily noticeable on white backgrounds but not so much on other colours. We checked this with a couple of other units as well and noticed the same problem.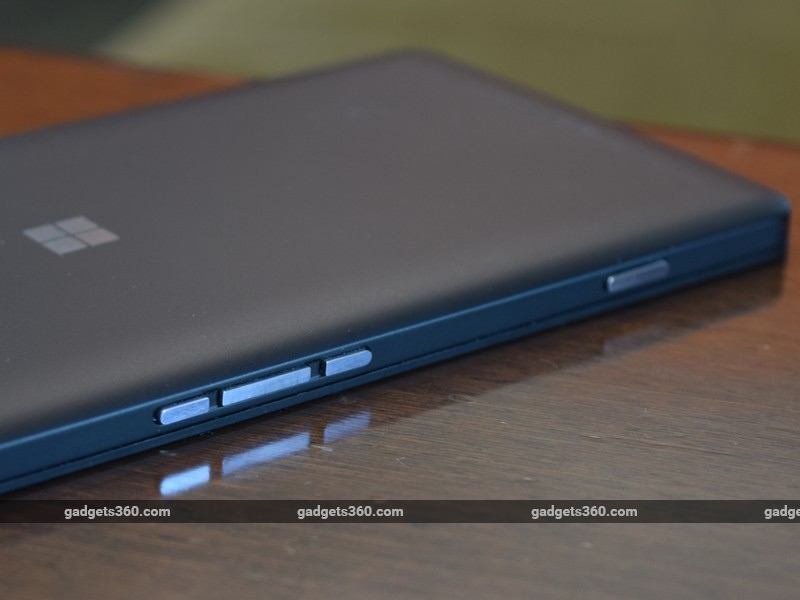 All the buttons are placed on the right, including the camera shutter button, while the headphone socket and USB Type-C charging ports are placed on the top and bottom respectively. Around the back, we have the 20-megapixel PureView camera, a triple-LED dual-tone flash and the speaker grille. The camera cluster bulges out very slightly so the speaker isn't muffled when placed on a flat surface. You shouldn't worry too much about scratches to the lens either as the glass cover is slightly recessed so it doesn't actually make direct contact with the surface. The rear cover is removable and so is the 3340mAh battery. You'll also find two slots for Nano-SIM cards and a microSD card slot.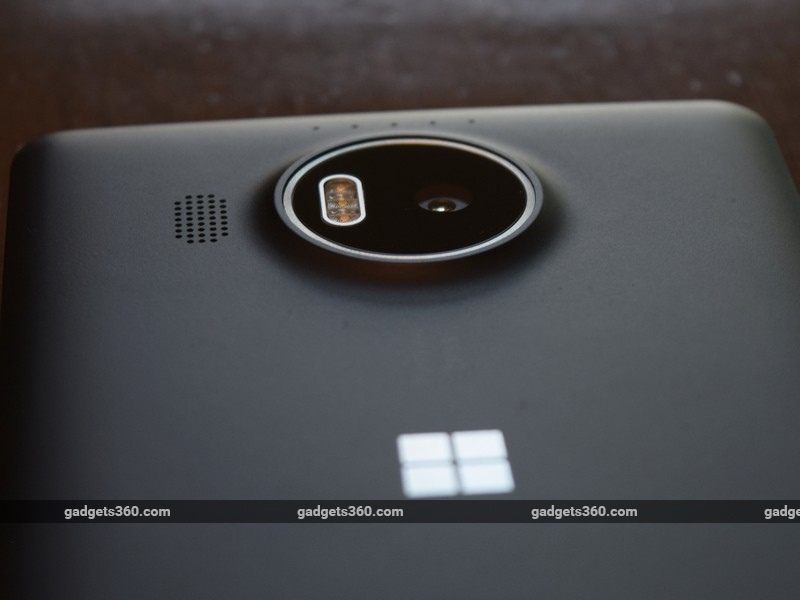 The Lumia 950 XL might not look as glamorous as some of the other flagships but it's well built and feels quite durable. The design does feel a bit bland however and not as exciting as past Lumia devices. The phone comes bundled with a charger with a fixed cable, USB data cable, headset and a couple of instruction booklets. The quality of the accessories is very good and they feel durable enough to last.
Specifications and software
Microsoft hasn't skimped on the specifications as this flagship Lumia can easily go toe-to-toe with best in the business. At its core, we have an octa-core Qualcomm Snapdragon 810 SoC, 3GB of RAM, and 32GB of onboard storage. You also get dual-band Wi-Fi b/g/n/ac, Bluetooth 4.1, USB OTG, NFC, Qi wireless charging, FM radio, GPS, A-BeiDou and GLONASS. The phone also packs in an iris scanner in the front for the Windows Hello security feature.
Windows 10 Mobile and Continuum
We now come to the most important aspect of the Lumia 950 XL – its OS. After all, what good is all this hardware if you don't have functional software to back it up.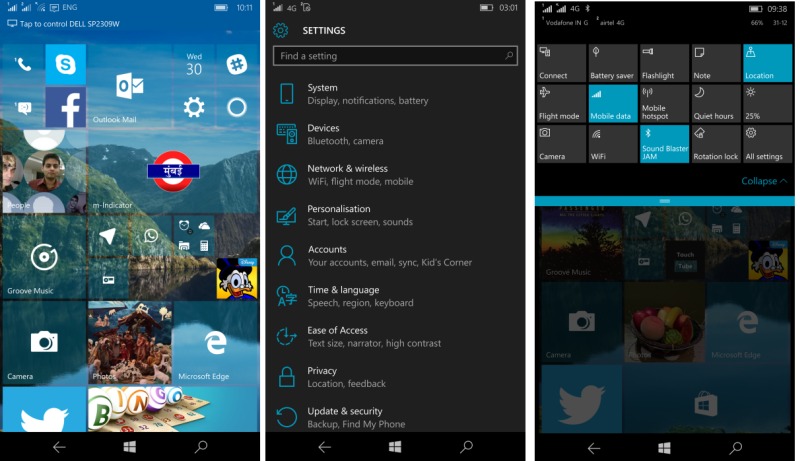 Little has changed cosmetically in Windows 10 Mobile and we think that was done deliberately so that existing Windows Phone users would feel at home once they upgraded. Google contacts and calendars now sync correctly (something that was a problem with earlier versions of Windows Phone) and most of the stock apps are more functional and look a bit more refined. Microsoft has also paid attention to little details, like the ability to reply to an SMS inline without opening the app or Cortana informing you of an incoming message when you're streaming music over Bluetooth and asking if you want it read out to you. We also appreciate how the typical black background and navigation icons seamlessly invert colours automatically in order to make text more readable under direct sunlight. You can also switch to one-handed mode by holding down the home button, which shrinks the screen down to half.
However, we're not a big fan of the settings app, which despite its improved categorisation, continues to be haystack of options. Also, some settings like Glance screen and Equaliser, which typically should have been under Display and Sound sub-menus respectively, are in fact placed under Extras for some odd reason. We also faced a couple of minor software glitches like live tiles not updating correctly or disruptions in Bluetooth streaming with the Groove music app. These little bugs can be quickly fixed after a reboot, but we hope these are ironed out permanently in the next build.The phone comes with a bunch of pre-installed apps like Audible, Cleartrip, Facebook, Jet Airways, Lumia Creative Studio, Microsoft Office suite, Ola and Zomato.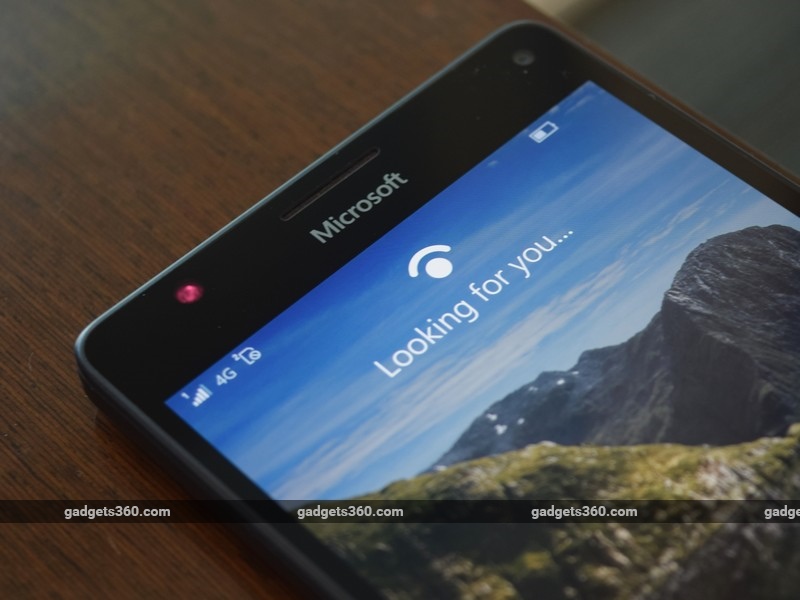 Windows Hello is Microsoft's iris recognition security feature and even though the app is still in beta, it works surprisingly well. Setting it up is as simple as letting it scan your eyes and saving your iris pattern. You can redo this process under different lighting conditions to make the sensor more effective. It takes just a second or two to identify you under good light and a bit longer in low-light. It will even work under complete darkness with just the light from the screen illuminating your eyes, although you'll have to hold the phone a bit closer to your face.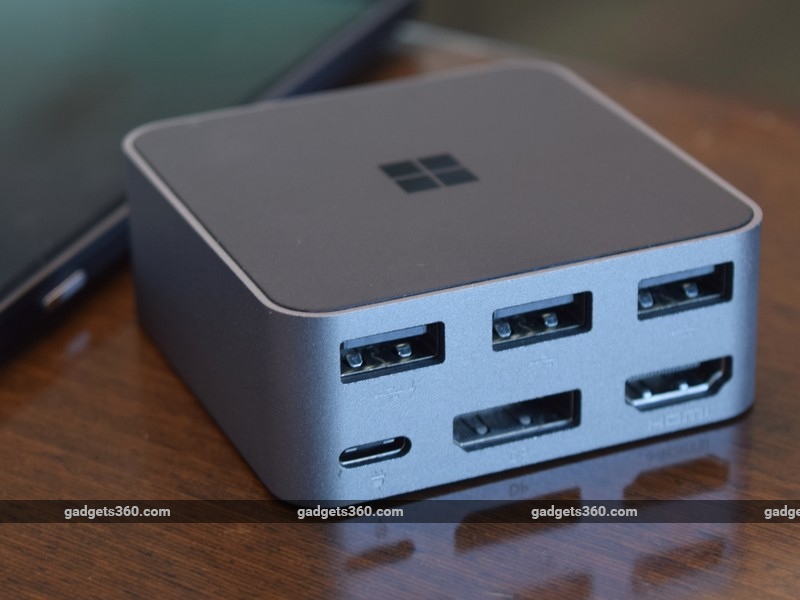 We now come to another highly advertised feature called Continuum. For those who don't know, it lets you extend your phone's display to a monitor or TV so you can be more productive with work apps. Before you can do any of that though, you'll have to buy Microsoft's Display Dock which retails for Rs. 5,999. The dock is weighted with a rubber base, so it doesn't move about on your desk. You'll have to invest in a HDMI or DisplayPort cable separately as that's not included in the box.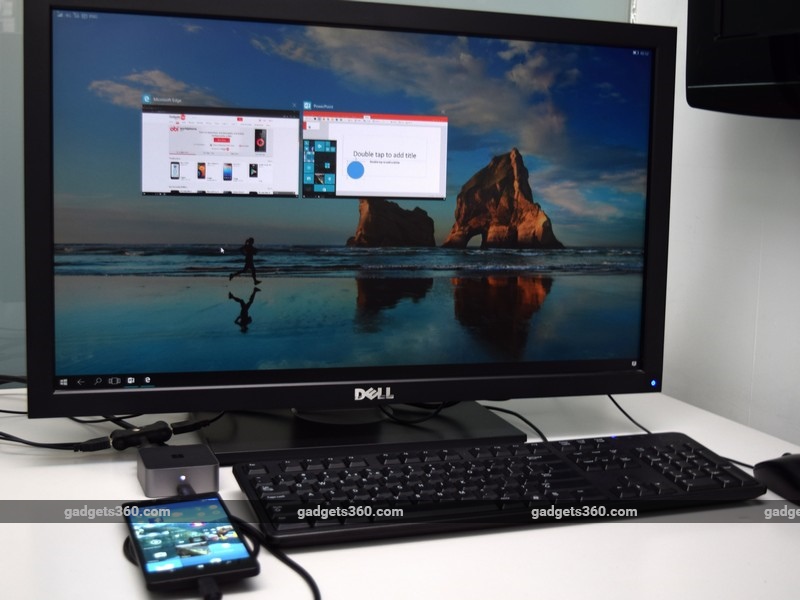 Once plugged in, the extension of your phone's display takes the form of a Windows 10 desktop. You can plug in additional USB accessories to the dock and use a keyboard and mouse if you like or simply use the phone's display as a trackpad. You can access all your apps from the start menu, which is a replica of all the tiles on your phone. Multiple apps can be opened and you can Alt-Tab between them but naturally only one instance is allowed at a time. Apps from Microsoft and some third-party developers can run in extended mode but many can't, not yet at least. The beauty of Continuum is that you can run different apps on your phone and the big screen, at the same time. So for instance, you could be showing off calculations in an Excel file on the big screen while you refer to your private notes in OneNote on your phone.
We wish there was a way to resize apps so we could have a true multi-window desktop experience. Also, your phone's display is constantly on and is charging the whole time when you're using Continuum, which is not a big deal if you're using it for a short while but extended usage could have an impact on the battery's charge cycles in the long run.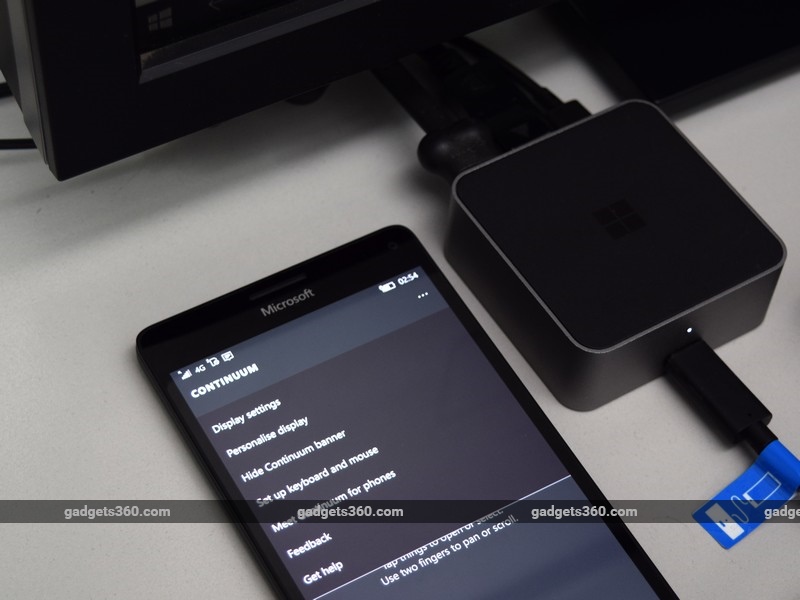 Besides extending your display, you can even choose to clone it. The most useful application of Continuum currently is working on Office apps which offer you desktop-like functionality to your existing Windows 10 Mobile apps. Commonly used commands like 'Ctrl C' and 'Alt F4' all work in this mode. Microsoft and other partners will soon offer a wireless dock as well, which will be more useful for sharing content from your phone with others.
If you mostly use your PC for surfing the Web, watching movies, or working on that occasional Word or Excel document, you could possibly get away with only using Continuum on your Windows 10 Mobile device. However, most cannot expect to ditch their PC just yet though as currently not many third-party apps scale to the big screen. But with time, if developers port their apps to the Windows Store and make them universal, you could realistically do away with a PC altogether. Of course, Microsoft would also have to add more desktop-like functionality as we mentioned earlier in order to broaden the feature's appeal.
Performance
The Lumia 950 XL takes a little time to fully finish syncing with all the signed in services, during which you'll have few slow-downs and unresponsiveness. However, give it a couple of hours and it just flies after that. It's worth pointing out that we faced this because we signed into all our accounts like Microsoft and Google at the same time and there was a lot of data to sync from the cloud in our case. If you sign into your Microsoft account and there isn't much to sync, you are unlikely to face this problem.
Native app performance and interface animations are fluid and quick as they have always been on Windows Phone. 4G works on either SIM slot depending on the one you choose for data. The phone does heat up, but thankfully, it cools down just as fast due to the heat-pipe (or liquid cooling) and the plastic body.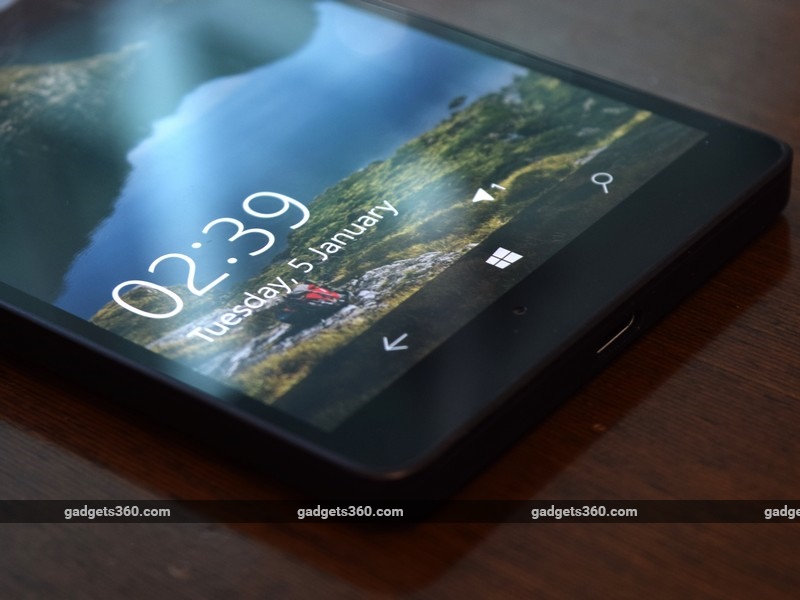 The app store on Windows 10 Mobile isn't as flush with choices when compared to iOS or Android but it's not as bad as it was a couple of years ago. Yes, many multi-platform apps like Whatsapp or Telegram don't particularly look or function as well as they do on other platforms, but at least they're present and work as they should. Microsoft's native apps and some third-party apps like Zomato or Twitter are designed very well but most of the others lack polish. Official Google apps are not present but Microsoft's own Outlook Mail and Bing Maps are decent alternatives. The apps scene could very well change a year down the line, now that the Windows Store on the desktop and mobile is the same. This means, if you buy a game from the store on your PC, you can install that same copy on the phone as well, provided you're signed into the same account.
Microsoft's new Edge browser is speedy and does a good job at rendering heavy webpages. In browser benchmarks, we got high score of 46.6 points in JetStream 1.1 and 7180 in Octane.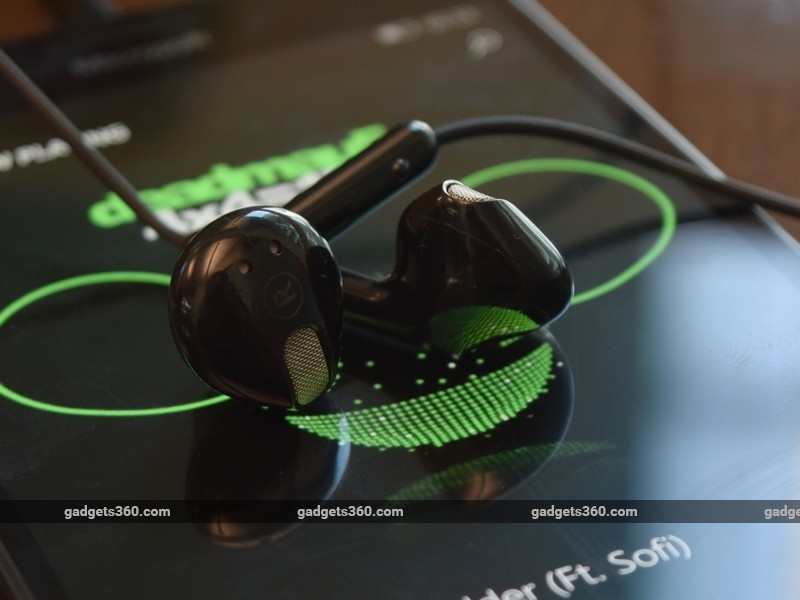 The Groove music player isn't the best stock audio player but gets the job done. We just wish there was an easier way to access the equaliser settings from within the app. The rear speaker is just mono but the audio quality is loud and distinct. The earbuds on the bundled headset aren't in-ear and don't have a good fit. The good news is that there's native support for FLAC audio format now. The Films and TV stock video player is also quite barebones but thankfully, MX Player is present in the store. 4K video plays back without any hassle too.
When it comes to the camera, the Lumia 950 XL is easily one of the best out there. The two-step shutter button lets you activate the camera app instantly and saving a picture is very quick. The Carl Zeiss optics boasts of an f/1.9 aperture for the sensor and Optical Image Stabilisation. All of this comes together, thanks to excellent camera app, resulting in some truly stunning images and videos.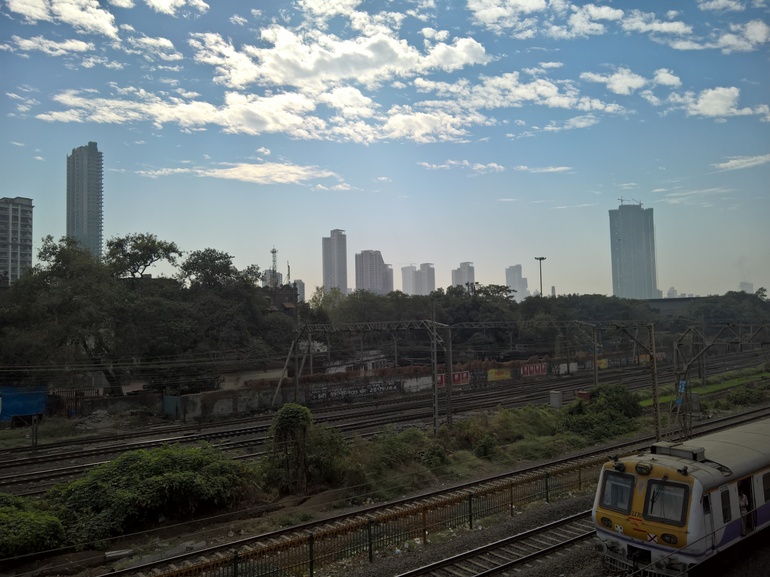 (Tap for full-sized images)Landscapes and macros are very well detailed with near-accurate colours in daylight. Indoor and low-light images are pretty spot on as well with very little noise and good detail. You can manually adjust all the settings too to get more artistic shots.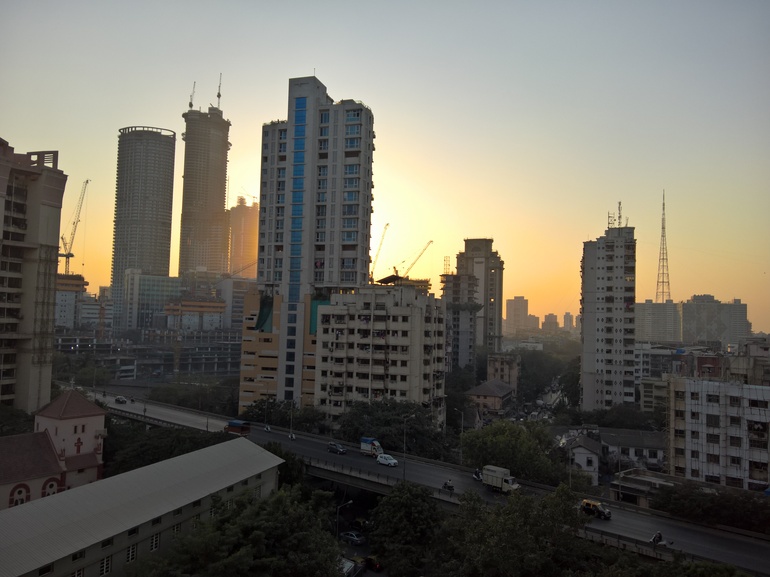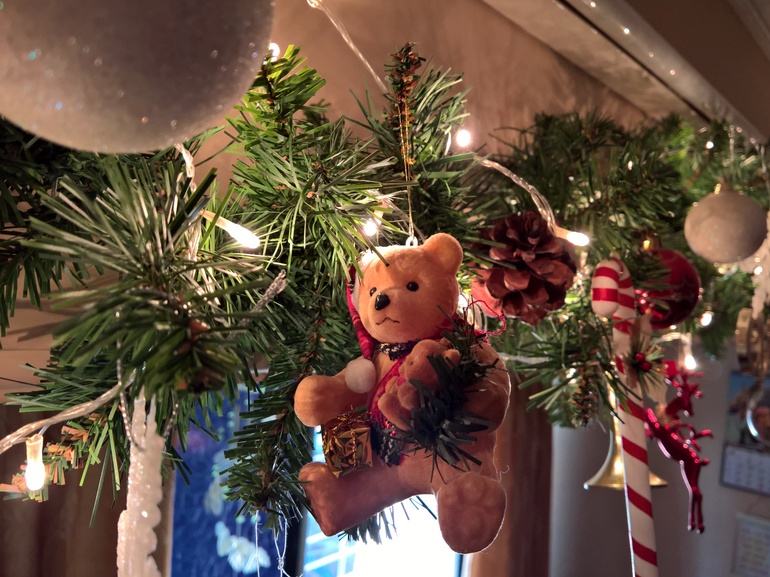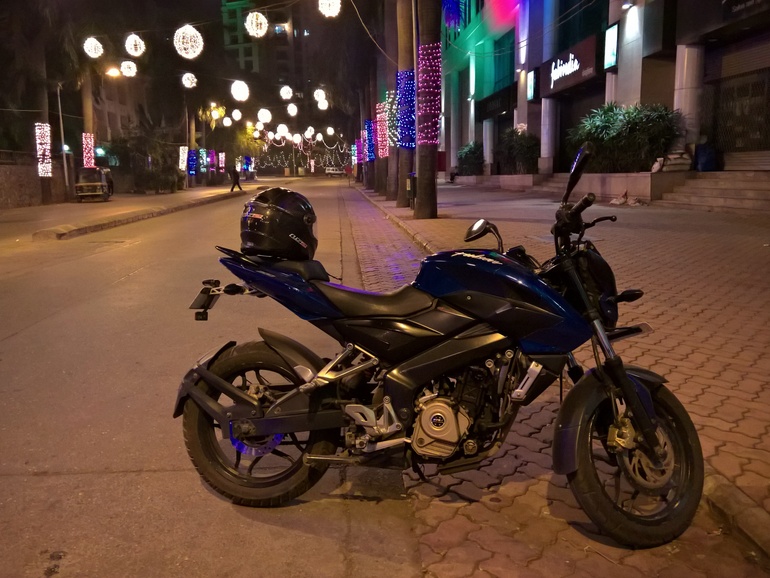 (Tap for full-sized images)Video recording goes up to 4K at 30fps but you can switch to various combinations of resolutions and frame rates. Quality of the recorded video is very good, even in low-light. You can add more shooting modes by downloading additional 'lenses' from the store. The front-facing camera is also quite good for selfies. The triple-LED flash is powerful and evenly lights you your subject, provided they are within reasonable distance.
The phone put on a good show in our video loop test, lasting us 12 hours and 37 minutes. However, under regular, we noticed the battery tends to drain a lot quicker and just about manages a full day's worth of usage. The phone comes with fast-charging support and we could go from empty to 47 percent charge in just 30 minutes.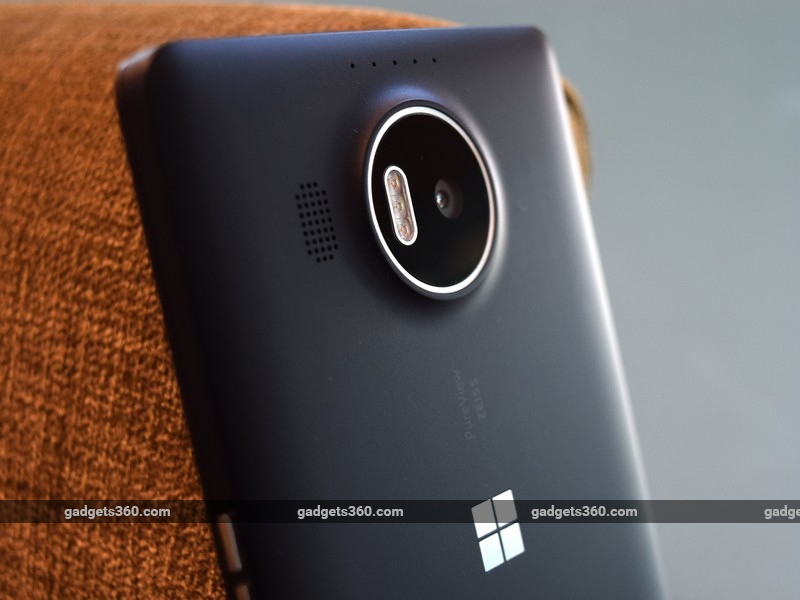 Verdict
It's been a little more than five years since Microsoft launched its mobile version of Windows and we finally have a platform with serious potential. Windows 10 Mobile is still rough around the edges but with timely updates, we could be looking at a real force to be reckoned with in time. App functionality has improved greatly but we're still missing variety that other platforms offer. Hopefully, developers will have more incentive to port their apps over, now that Windows Store is common across desktop and mobile platforms.
Take away these teething software niggles and the Lumia 950 XL Dual SIM is a rather excellent smartphone that does everything you ask of it, and more. The design and build could have better considering its premium price but other than that, it has a very good display, a superb camera, good battery life, fast charging and all the other hardware specs one would expect from a flagship. In addition, you also get an iris scanner for better security and support for Windows Continuum. The latter is a cool feature to have but it's not something most would end up using on a daily basis.
At Rs 49,399, the Lumia 950 XL Dual SIM feels quite expensive and will most like be the reason potential customers would look elsewhere. If Microsoft is serious about taking back some market share in India, then this doesn't seem like a logical way to go about it. There needs to be a healthy price drop soon in order to make it more tempting, else it will be a tough sell.
["source-gadgets.ndtv"]