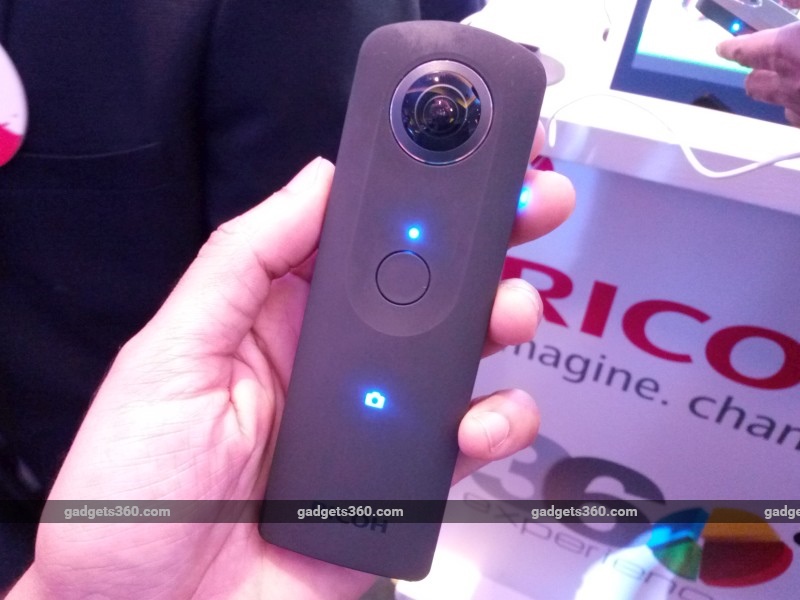 Ricoh India just launched its latest 360-degree camera called the Theta S at a price of Rs. 39,995. The camera is available for a pre-order price of Rs. 7,199 through Ricoh's online store and will begin shipping in December. A note of caution here; the pre-order price can be easily mistaken for the final price when you view the product by category, as the price break-up is only mentioned in the 'View Details' page. Apart from this, there's no mention about the remainder amount to be paid anywhere even after checkout, which can be misleading.
The Theta S is the size of your average air-conditioner remote control and is fairly light too, at 125 grams. The entire body has a rubberised coating making it easy to grip. The highlights of the camera are the two 12-megapixel fish-eye lenses placed on either side to give you an instant 360-degree picture or video. The lenses also have a f/2.0 aperture for better low-light performance. The camera can also capture full-HD video at 30fps for 25 minutes on continuous shooting. We were told the reason for capping the time limit was to avoid the Theta being classified as a video camera, which would impose different duties and taxes. There's a single shutter button in the front along with LEDs to indicate the mode you're in (still or video).


On the right, we have the power button, Wi-Fi and shooting mode toggle buttons. The microphone and speaker are placed on the top. At the bottom, we have a Micro-USB, a tripod mount, and a Mini-HDMI port. There's 8GB of onboard memory but no SD card slot on this model to expand it. Stills and video shot from Theta S can be viewed in its intended format using the Theta app for Android, iOS, and PC. It's also officially compatible with Google's Street View app. Apart from this, you can share the 360-degree pictures via theta360.com or compatible social platforms like Facebook, Google and YouTube 360. Ricoh's API for the Theta S is open for developers so its features can be incorporated in third-party apps as well.
The Live View feature of the app lets you use your smartphone as a viewfinder so you can see what your shooting or even place the Ricoh Theta S camera and move out of the frame, if you don't want to be in the shot. You can even live stream the images when connected via USB or take long exposure shots through the app. Battery life is rated at 300 shots but that would vary depending on variables like Wi-Fi usage or shooting video.
It's hard to give any sort of verdict on the image or video quality during our short demo of the camera but we will say this – it is one of the easiest ways to capture 360-degree footage. Being able to interact with your pictures and videos is quite fun. With 360-degree media getting official support on popular social platforms and with virtual-reality gaining popularity, we believe this will open up a whole new category of devices and hopefully with time, things will get a lot more affordable.
["source-gadgets.ndtv"]