No matter how you look at it, Rocket Internet's 2015 report card for its Indian businesses looks far worse than it did a year ago. The German company has seen a lot of attrition at the top levels of its various ventures in India. Its latest hire, at Jabong, took place following bleak speculation of a possible sell-out, and people are asking if the startup factory can sustain its operations in India.
In July, Fabfurnish, Rocket Internet's furniture marketplace, saw a top management reshuffle, as co-founders Vikram Chopra and Mehul Agrawal quit as CEO and Managing Director respectively. In August, Foodpanda co-founder Rohit Chadda stepped down. These are just some of the high profile moves inside Rocket Internet companies, whose investments in India include Tripda, Wimdu, Cuponation, Craftsvilla, and Cartisan, and Vyomo.
What is Rocket Internet?
The Samwer brothers – Marc, Oliver, and Alexander – wanted to help eBay launch in Germany in 1999, but the American firm snubbed them. The Sawmers then launched an eBay clone called Alando. In less than 100 days, this clone was sold back to eBay for $53 million, and the Sawmers became Germany's first Internet millionaires.
The three brothers worked for eBay for a short while after the sale of Alando, but then left. Their subsequent investments in German clones of YouTube, Twitter, and Facebook didn't meet with much success. The brothers were also associated with the promotion 'Crazy Frog' on Jamba, a mobile phone content provider, which was more successful.
The Sawmers themselves did well from the deals, and in 2007, the three brothers started Rocket Internet. One year later, the Sawmers launched Rocket Internet's first clone, Zalando. It was based on the business model of online fashion store Zappos. Zalando is still the company's most successful venture to date, and it went public with an IPO in 2014. Over the last eight years, Rocket Internet has launched over 70 companies so far, of which Delivery Hero, Global Fashion Group, HelloFresh, Lazada, and Home24 have all crossed the billion dollar milestone, according to CBInsights.
Big exits, starting with eBay, but also to others including News Corp, along with investments in Facebook and Zynga, helped the company attain liftoff, but its reputation as a clone factory also grew.
(Also Read: German Brothers to Make Billions from Rocket Internet Empire)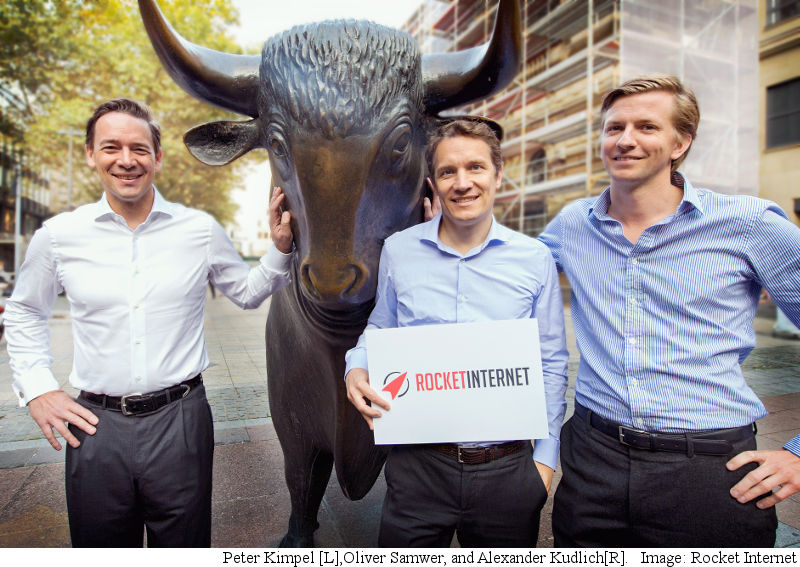 Its business model is quite recognisable. The company is known for finding successful online businesses, and then cloning them in markets with smaller, less established players, gaining a dominant marketshare by capitalising the clones as quickly as possible, and then selling out, often to the company being cloned.
As noted in this profile of the company's operations in Europe, the Sawmer brothers make no claim to being innovators.
"My advantage is never that I'm the first," he [Oliver Sawmer] says. "Never. My advantage is that we just build faster and better in more instances than anyone else." "In the Internet, everyone says this kind of thing is a copy," he says. "But look at the reality. How many car manufacturers are out there? How many washing-machine manufacturers are there? How many Best Buys? Did someone write that Dixons copied Best Buy, or did anyone ever write that Best Buy copied Dixons, or that [German electronics retailer] Media Markt copied Dixons? No, they talk about Media Markt. They talk about Dixons. They talk about Best Buy. What is the difference? Isn't it all the same thing?"
The company factsheet notes that it enters markets with a minimum $1 billion market size and $100 million revenue potential. It highlights its ability to jump start around 10 launches a year on average, taking only 100 days from kick-off to launch.
The company hires high profile industry executives by giving them a stake in its companies and designates them as founder or CEO, even though many believe the founder tag is a tenuous term to describe these executives, considering the turnover rate.
Rocket Internet lists Jabong and Foodpanda as proven winners, but given the senior management churn at both these operations, we had to ask – does Rocket Internet's model work in India? The company did not respond when Gadgets 360 reached out for comment, but we've been able to gather some insights from others in the market that together paint a worrying picture for the group.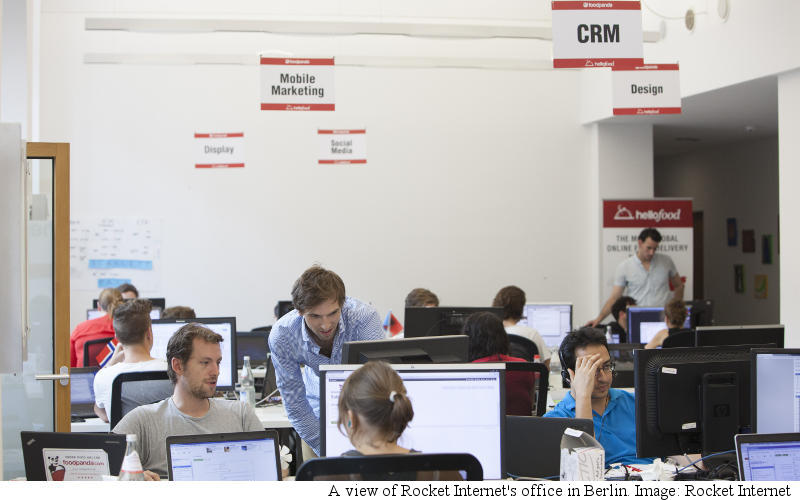 No right or wrong models?
"In this industry, there are no right and wrong models. All models have their pros and cons – and all are different," says Sanjay Swamy, Managing Partner at Prime Venture Partners. "In the Rocket Internet model, the company is a partnership between the Rocket team and the operating team. Rocket Internet's expertise is around replicating businesses that are operationally intensive – and one of their core competencies is putting the operating team together."
But if that's Rocket Internet's core competency then should it be seeing so much churn at the top level of the teams that it is putting together? Founder/ management reshuffles in startups are not very common, and are very disruptive, Swamy says. In his view, the founders are the stars in ventures and the VC's are the supporting cast. "We generally invest in companies where people are the key," Swamy adds.​ "Our role is to help, guide and mentor as much as possible."
Startup founders are evaluated on milestones, keeping a lot of factors in mind, such as the execution of the vision, the product market fit, and more. "Clearly, as gatekeepers of other people's money, we have a responsibility to ensure that the investment we make is being put to good use," he adds. "But that only kicks in after a series of other attempts that have not worked."
In other words, if Rocket Internet is seeing people leaving regularly at the top level, then it's only because the companies themselves are facing big difficulties. If Jabong, Fabfurnish, and Foodpanda were working out with business looking good, then this kind of churn wouldn't be happening.
Proven winners?
So what is really happening with Rocket Internet's companies in India?
With co-founders Praveen Sinha and Arun Chandra Mohan leaving, and an outsider [Sanjeev Mohanty] coming in as CEO, Jabong has its work cut out. Awareness of the brand has dropped considerably based on data presented by Google Trends. According to social media analytics provider Frrole, Jabong only clocked 5180 mentions in September, while Snapdeal, Myntra, Flipkart and Snapdeal were close to the 100,000 mark.
Meanwhile, Fabfurnish is currently helmed by Ankita Dabas and Ashish Garg, who share the co-founder tag, while Nimit Kumar is a recent hire, and joined as CTO at the end of September. The founders, Vikram Chopra and Mehul Agarwal, both stepped down in July, for unspecified reasons.
FabFurnish also reportedly laid off a quarter of its workforce in August, and launched FabDesigns in September, which catalogues products using style editors. FabFurnish pivoted to a marketplace model from an inventory-led model in September, and will reportedly roll out its hyperlocal marketplace model in Bengaluru, Mumbai, and Delhi, after Diwali.
Foodpanda India was started by Rohit Chadda, Amit Kohli and Akhilesh Bali in 2012, and it acquired TastyKhanna in November 2014 and JustEat in January 2015 to increase marketshare.
Following the acquisitions, the TastyKhana brand no longer exists; it redirects to Foodpanda's website instead. Just Eat's app has turned into a clone of Foodpanda and is getting angry reviews from users onGoogle Play.
None of the co-founders of Foodpanda India are still with the company – Kohli quit in November 2013, Chadda stepped down in August this year to pursue new initiatives, while and has gone on to launch another food-tech company, LimeTray, built around food ordering systems for restaurants. Saurabh Kochhar joined the company's operations in February 2015, and is currently the CEO and Chief Business Officer of the company.
Jabong – the other proven winner – just brought in a new CEO, amidst rumours of a fire sale. The company saw two of the original co-founders leave as well. One of them, Lakshmi Potluri is now an angel investor and startup advisor; the other is Manu Jain, who heads the India business of Xiaomi, one of the world's most valuable technology companies.
Failure to launch
A Livemint investigative feature about Foodpanda became a trending topic on Twitter, uncovering several governance issues with the company, such as Excel sheet-based invoicing, with manual inputs. Kochhar admitted in a subsequent interview that the company had faced problems, but insisted that these have been unearthed and solved.
"There were a lot of processes which were broken there. Some parts of their technology, we really liked what they were doing," Sachin Bharadwaj, founder of TastyKhana, told Gadgets 360 in a phone conversation. "From the processes perspective, I would obviously feel our processes were better. Just to kind of justify that claim, we had been around for seven years in India, and we built out entire processes from scratch running on the ground."
"Rocket Internet applied a model which is applicable in 20 countries. Obviously, our processes will be better because we were local to one market and we built it customised to what India needs," he adds. "So our processes and systems were much stronger. Simple things like invoicing, we had automated invoicing for restaurants, which plugged in all the order values and things like that. This was built over a period of time."
Vivek Durai, founder of Chennai-based Termsheet said that most of these companies had failed to build a defensible position. "Very rarely do investors insist that you get 'x' amount of money, or that you build your operations a certain way," he says. "It's the founders who make these decisions. It's about bearing responsibility for the difference in nature of the markets."
"They [Rocket Internet] are building a virtual moat, which is subsidisation, and substituting it for innovation, pretending that if they change mindsets of people, as if that is a permanent thing," Durai adds. "At some point we can withdraw all of that subsidy, and at some point, just the size of the market, and the winner-takes-all event will happen, which will make it all good. That is the crux of the problem. Too many people have drunk that Kool-Aid, and are invested in it."
Escape velocity
A 2014 article on Rocket Internet's debut on the Frankfurt Stock exchange notes that none of its 70 companies were profitable. In its latest results update, the firm reported top line growth of 142 percent in net revenues, and the launch of nine companies in 2015.
In recent news, Home24, the online furniture marketplace merged with Fashion For Home GmbH, to position itself as Europe's biggest online home and living retailer. HelloFresh, the meal recipe kit subscription service pulled plans for an IPO, reportedly due to investor reluctance to back the company at it unicorn valuation and current burn rate.
In Asia, where Rocket Internet operates in 20 countries, it is now stepping up its operations in countries like Bangladesh, Myanmar and Pakistan, with one new launch every quarter. Rocket's latest launch isSparklist in Pakistan, a hyperlocal mobile classifieds platform this month.
Some are wondering if the rocketship has run out of fuel, but the question that needs to be asked is whether its constituent companies will be able to stay in the air, or if they're going to come crashing down.
["source-gadgets.ndtv"]