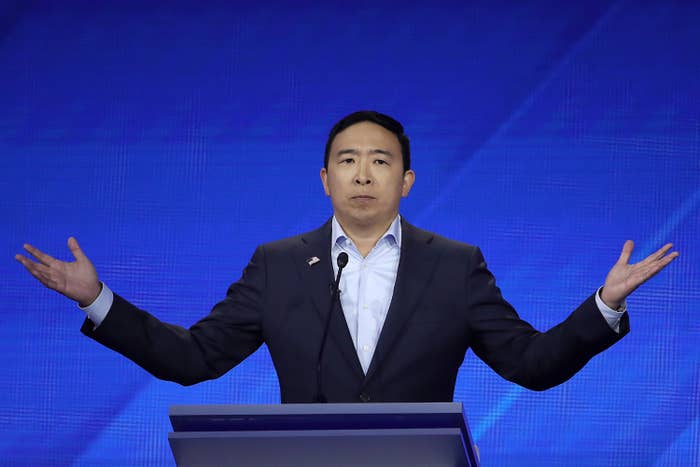 HOUSTON — Andrew Yang kicked off his third appearance at a Democratic debate with a throwback to the Oprah show: promising to give away $120,000 in campaign funds by extending a pilot program of his universal basic income plan to 10 Americans across the country by promising to give them $1,000 a month if they'd just go to his website and register for the chance to randomly win a spot in the program.
"In America today, everything revolves around the almighty dollar," Yang said in his opening statement. "Our schools, our hospitals, our media, even our government. It's why we don't trust our institutions anymore. We have to get our country working for us again instead of the other way around. We have to see ourselves as the owners and shareholders of this democracy, rather than inputs into a giant machine."
"It's time to trust ourselves more than our politicians. That's why I'm going to do something unprecedented tonight. My campaign will now give a freedom dividend of $1,000 a month for an entire year to 10 American families, someone watching this at home right now," Yang said, making his pitch.
But Yang wasn't just talking to a television audience; he was barely talking to them at all. Instead, he was, as he has been since he announced his campaign in 2017, playing for the retweets and the redditors, reinvesting in the extremely online approach that's propelled him into both the September and October debates.
"That's original, I'll give you that," South Bend Mayor Pete Buttigieg told Yang before his opening statement, while other candidates laughed in the background.
Buttigieg's dismissiveness — and reporters' raised eyebrows about campaign finance rules — didn't register on the platforms where Yang is actually running. In the first hour of the debate, "Andrew Yang" was the fourth-most-trending phrase on Twitter, and "#YangsDebateSurprise" was the 11th-most-trending hashtag. Yang's digital director tweeted that over 116,000 people had gone to the campaign's website after the announcement.
Before the debate, a Yang campaign staffer told BuzzFeed News that Yang planned on mapping out the human aspect of a universal basic income rather than a policy idea. Yang tied the plan into answers about education, saying that the answer to spending cuts in school districts is to put money directly into the hands of families and teachers across the country.
"The data clearly shows that 65% to 70% of our students' outcomes are determined outside the school. We're talking about time spent at home with parents, words read to them when they're young, stress levels in the house, income, type of neighborhood," Yang said. "We're saying, you're 100% responsible for educating your kids but you can only control 30%. They all know this. The answer is to put money directly into the families and neighborhoods."
The Yang campaign said it had seen bump in support over the past month and that it had raised more money in the 48 hours around the second debate than the campaign did in the month before. "We feel very confident we're on track to double last quarter," BuzzFeed News was told by a senior Yang adviser, who said they'd incorporated suggestions from Reddit users from an "Ask Me Anything" session he'd done after the first debate.
His supporters have used memes, group chats, and their Twitter accounts to help propel #YangGang and their candidate in post-debate polls, pull small donors into the campaign, and spread Yang's message about UBI.
"Andrew's said it before, but the plan is to 'peak at the right time,' and that's what I think we're on track toward doing," another Yang staffer told BuzzFeed News. "We're going to continue down that path of steady growth."
["source=buzzfeednews"]