So why is this blog important and worthy? Well, stop and ask yourself, what are we without technology these days? From business to personal identity, everything has a base engraved in technology. Don't you think? This is why we have come up with a list of the best tech websites that you should follow in 2021. Have a look!
In absence of certain gadgets, apps, and even the internet, it seems like life would have come to a standstill. For the people who identify as tech-savvy or geeky beings, this is going to be a gold mine! And for people who are here just for the sake of information, I would say, great choice! This is going to be of great help, trust me.
Technology has entirely revolutionized the very manner in which we function. Be it making friends, interacting with them, or even staying in touch. Every morning the news notifies us about groundbreaking innovations in the field of technology. And to be honest, it used to intimidate me at first. I felt like I don't know enough to function in this tech-based era. However, I found my way through it and I will help you find yours.
The large-scale digitization activities along with globalization have enhanced the need and want of technology to new heights. As a result, it is mandatory to stay updated about tech, and what's better than surfing through some of the best tech websites on the internet?
So in order to help you stay updated about the tech industry, we present to you the top 25 best tech websites to follow in 2021! Are you ready? Here we go!
The Best Tech Websites You Must Follow
This section is to help you navigate throughout the blog. So I divided the tech websites according to the following categories. Check this out!
Best websites for tech
1. TheCodeWork (TCW)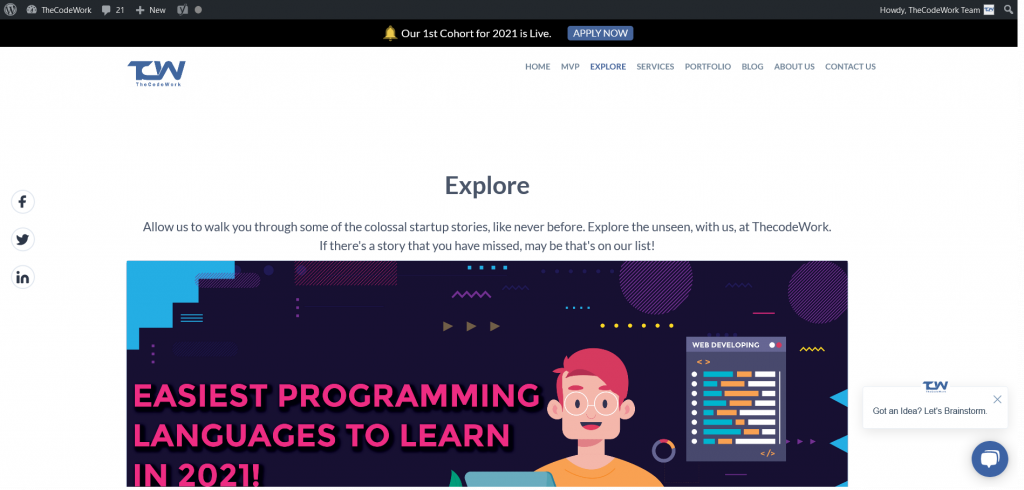 TCW is specifically a business platform that works with early-stage startups. They deliver minimum viable product (MVP) Development programs with a quality product vision.
Besides serving the purpose of the intent of their target audience, TCW reports on news related to businesses and startups on their website.  They have this specific section in their website by the name of "explore" to display content that is relevant to tech, emerging tech trends, startups, finance, case studies of businesses and products.Check Us Out >
How cool is that? Check it out today itself!
2. Gizmodo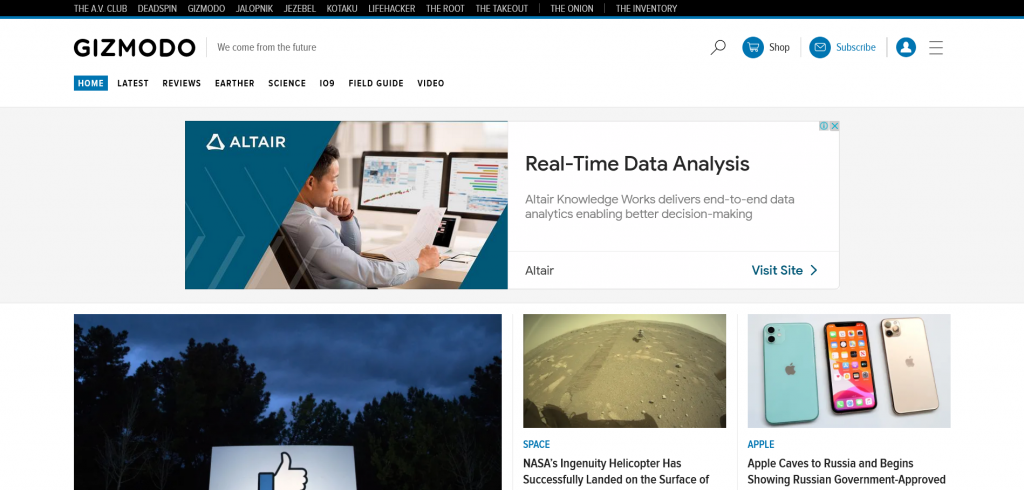 Gizmodo is a technology, science, design, and science fiction website. So many tags, right? Well, that's the whole point! It serves as a one-stop destination for you to check out product reviews and get an overview of various gadgets in the market.
Not just that, Gizmodo is also a sought-after tech news website. It happens to be a great space when it comes to gadget reviews and tech news. And guess what? It's not all serious here. The website also takes part in providing information and entertainment simultaneously. How convenient is that!
The review section of the website delivers interesting product knowledge that includes laptops, smartphones, tablets, tech toys as well as wearables! Their science section is a cool addition providing knowledge and information in the best way possible!
3. Gadget review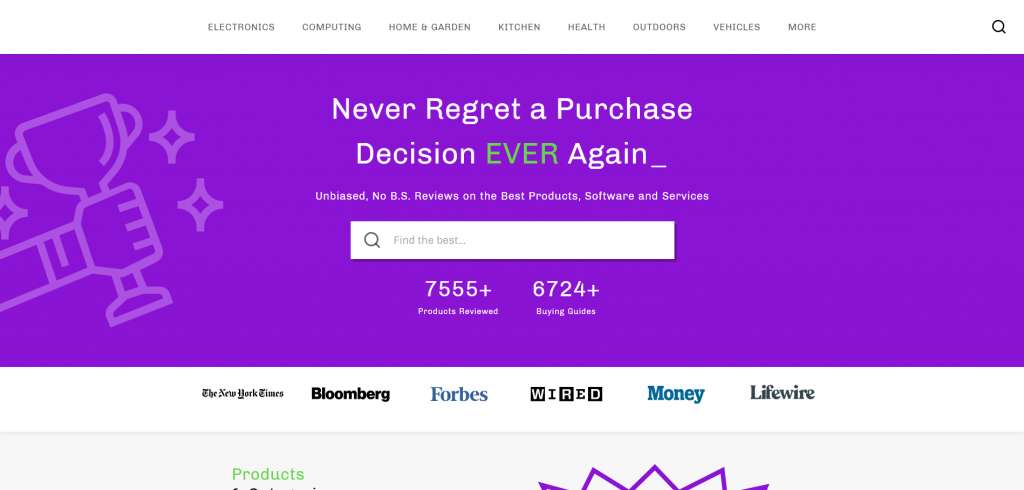 Gadget Review is a site that guides you with the best tech appliances and electronics. The most interesting part is their honest reviews section. You must be wondering why! Well, the honest reviews section guides the consumers rightfully to make the best purchase. Amazing, right? We all need this, admit it!
Want to know the best part? Gadget Review doesn't encourage fancy products that may be light on the value front. They only display and review products that bring value to the customers.  Their two-prong method of comprehensive research, as well as hands-on testing of the products and services, is a treat, I must say!
4. TechRepublic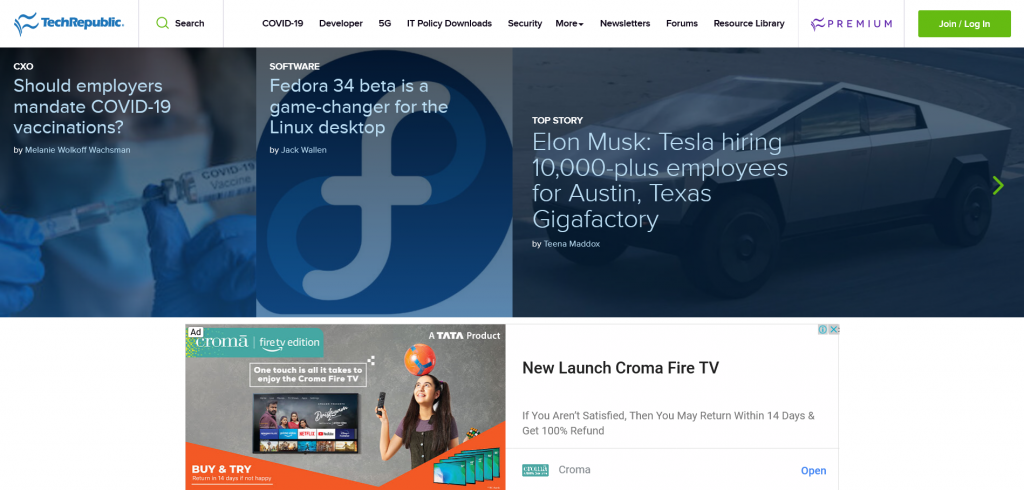 TechRepublic is a celebrated tech website that covers tips and tricks related to the industry, as well as tech news.  Wait, there's more! They also provide worthy advice for tech professionals. How thoughtful is that? They provide experts with an exclusive balance of unique content as well as peer-to-peer guidance from the major IT leaders across the Web.
Here's a bit more! In addition to the above-stated facts, they also help IT decision-makers to implement strategies that further empower employees as well as streamline business practices. Wholesome, right?
5. TechRadar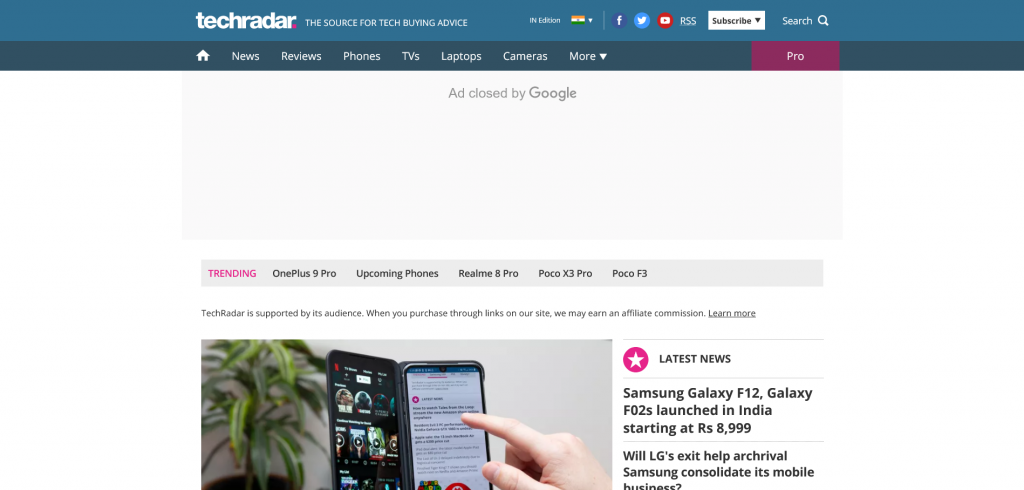 TechRadar is one of the best sites to engage in tech news and gadget reviews. The domains include home entertainment systems, computing, gadgets, and so on. It is an absolute favorite of the geeky, tech-savvy people out there and any tech news website list is incomplete without it.
6. Computerworld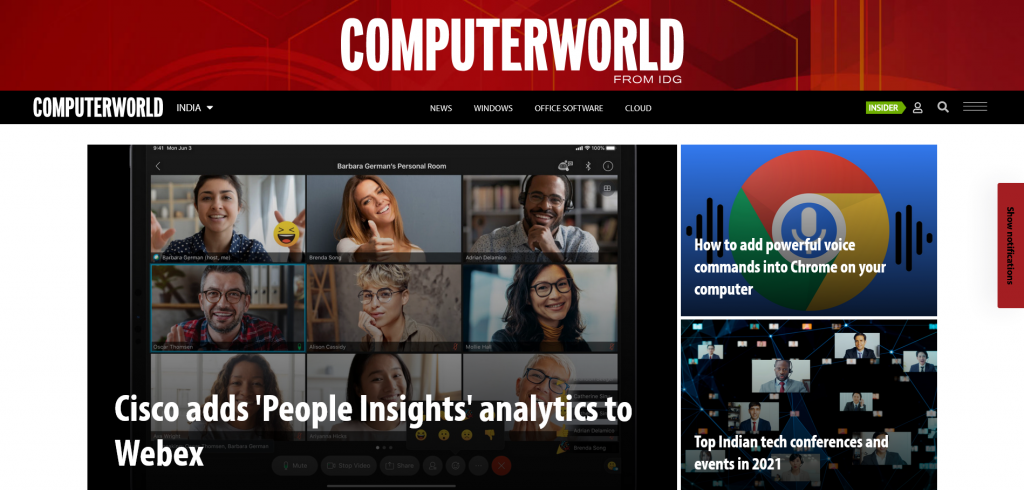 Computerworld entails a variety of topics that solely focus on technology. The highlights include various fundamental sectors of IT for instance Mobile, Windows, Apple, and Office of course.
Hold up, it doesn't end here! The website also contains significant information on collaboration and partnerships, productivity suites, Blockchain, web browsers as well as tech companies including Microsoft, Google, and Apple. Phew! That was a long list there!
7. The information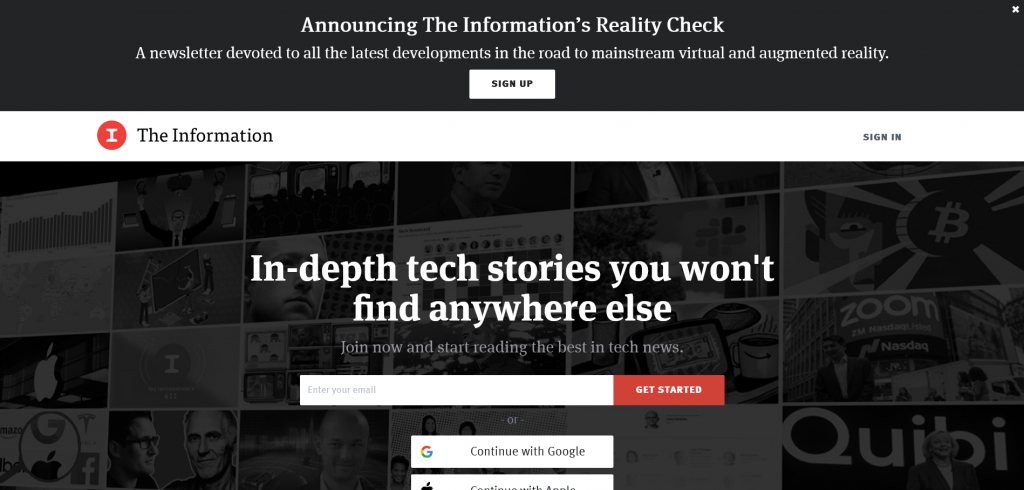 Next, we have – The Information. It is for those who want to go the extra mile! Are you one of those people? Then I am sure you will love this site.
Wait, I will elaborate. The information publishes long-form content. What I am excited about sharing with you, is the fact that this long-form content is written by the journalists who excel in what they do!
The catch here is that the service of this website is not entirely free of cost. However, it is worth it, in order to get some quality news instead of consuming the fluff around it. Don't you think?
8. Engadget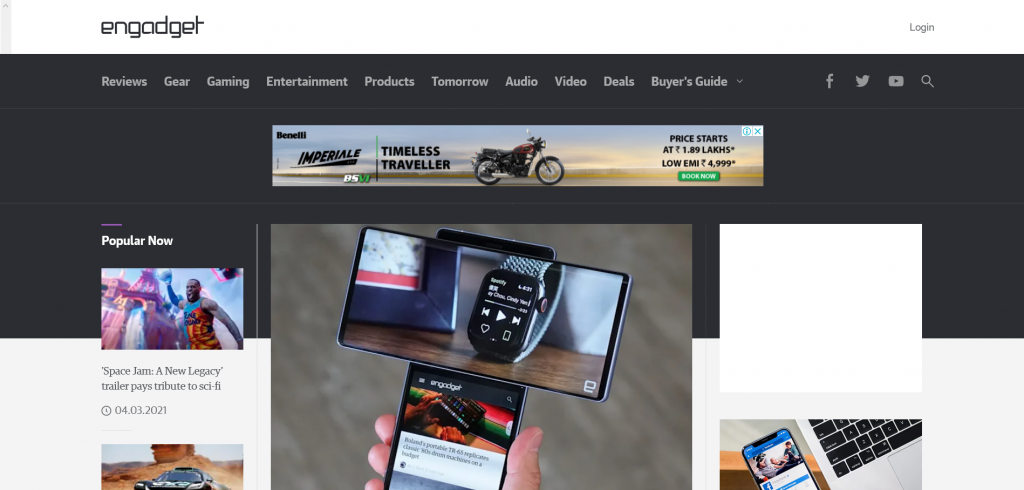 As you may already have guessed through the name, Engadget is a website that emphasizes gadgets and their respective product reviews. But that's not all, it does deliver quality tech news which has made it a part of this list here! Obvious, right?
Apart from all the above-stated goodies, there is this 'Reviews' section on the website. It delivers thorough product reviews which are relevant and precise. You can use this section for your own benefit while buying tech appliances and gadgets. Wholesome, I know!
9. The Next Web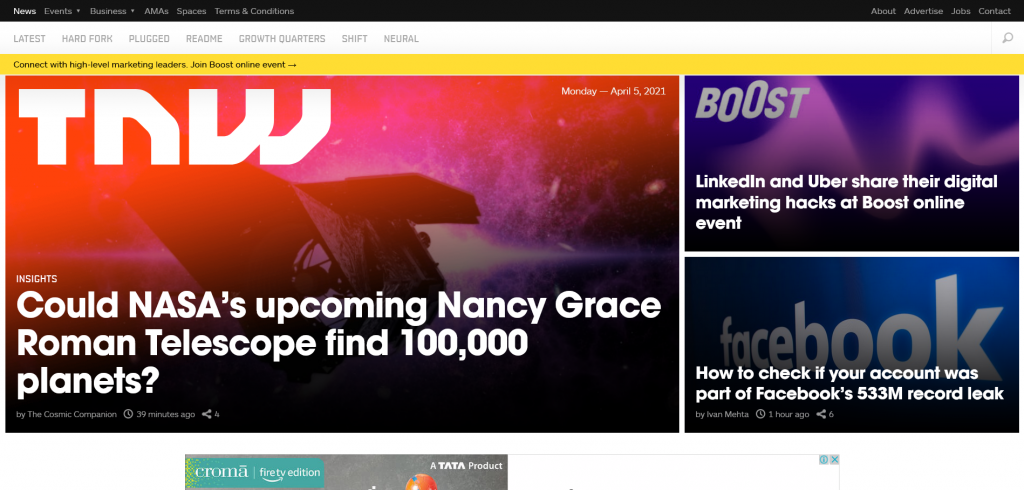 The Next Web happens to be one of the most viewed tech websites globally. They deliver tech news and insightful gadgets and product reviews.
And you know what? They have this list of tech events and conferences that you can join to keep yourself updated. Apart from these, there are some amazing tech deals to help you make the best purchases. Don't you love it already?
Also, they have a market intelligence platform by the name 'Index.io'. It provides a detailed breakdown of startup investment and funding in addition to other announcements.
And talking of startups, if you happen to be one yourself and need to build an MVP for your product, do reach out to us at TheCodeWork, because this is what we do and love to do!
10. Term Sheet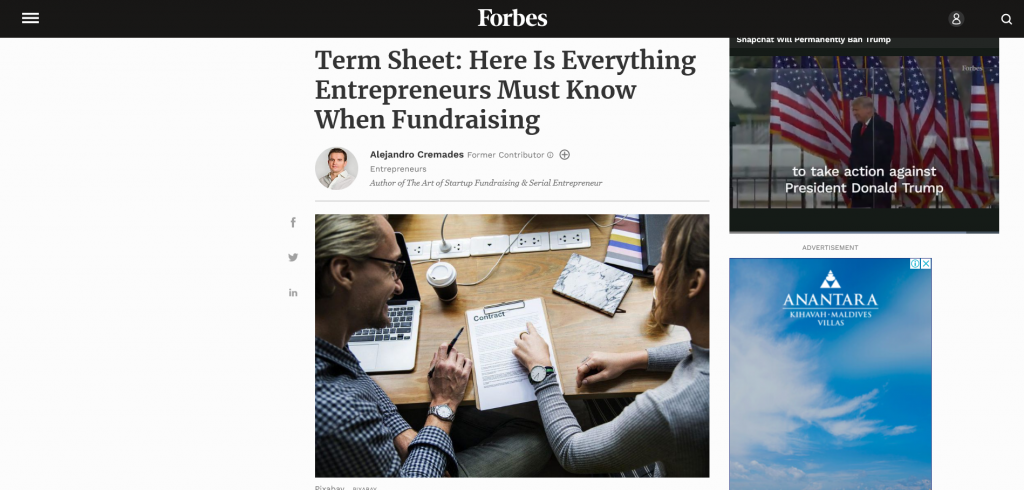 Fortune Magazine has an amazing website by the name Term Sheet. It covers a wide range of topics like politics, finance, entertainment, and of course technology. Duh!
This technological wing of Fortune magazine, called Term Sheet is a decent source for all tech-related news. IPOs, Funding announcements, product launches; you name it, Term Sheet has got your back when it comes to the domain of technology.
Google's Top tech websites
11. Android Central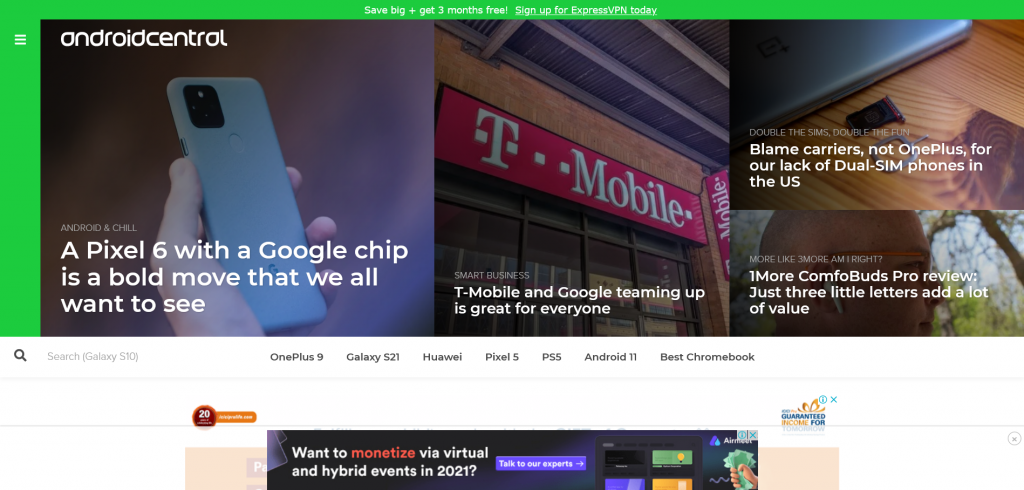 Android Central is an all-inclusive buyer's guide aimed at the best tech deals, news, Android phones, and gadget reviews. This includes smartphones, tablets, watches, Google Home, ChromeOS devices, and all the technical peripherals that we live by.
Android Central delivers detailed buyer guides that you can rely upon as well as detailed assistance guides that you can surely count on!
12. 9to5Google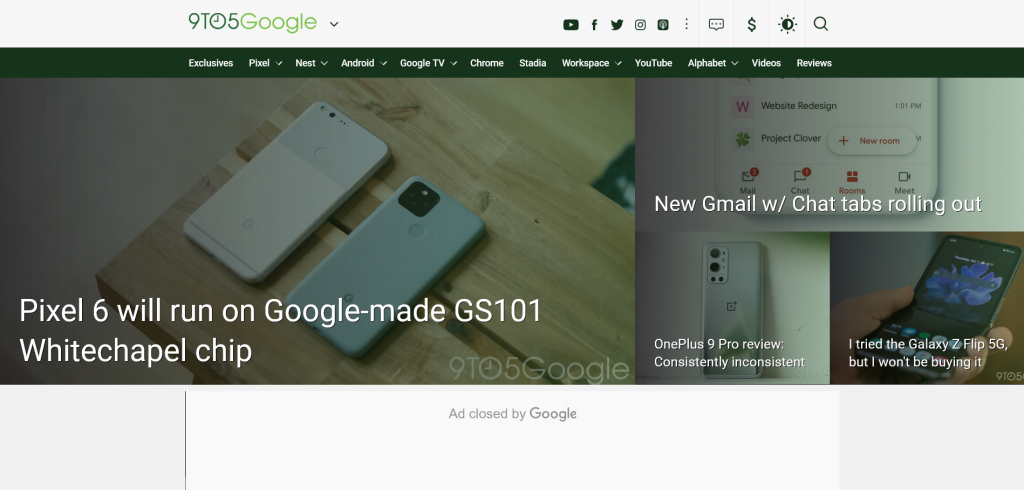 9to5Google publishes trending news related to Google and Android, for instance, stories on YouTube, Google Pixel, Chromebooks, and so on.
9to5 sites top the Techmeme's leader boards. Not just that, these websites cited by publications like the Washington Post, the New York Times, the Wall Street Journal, Bloomberg, the Financial Times, and many more keep publishing articles on 9to5 websites as well. Roars quality, right?
13. Android Authority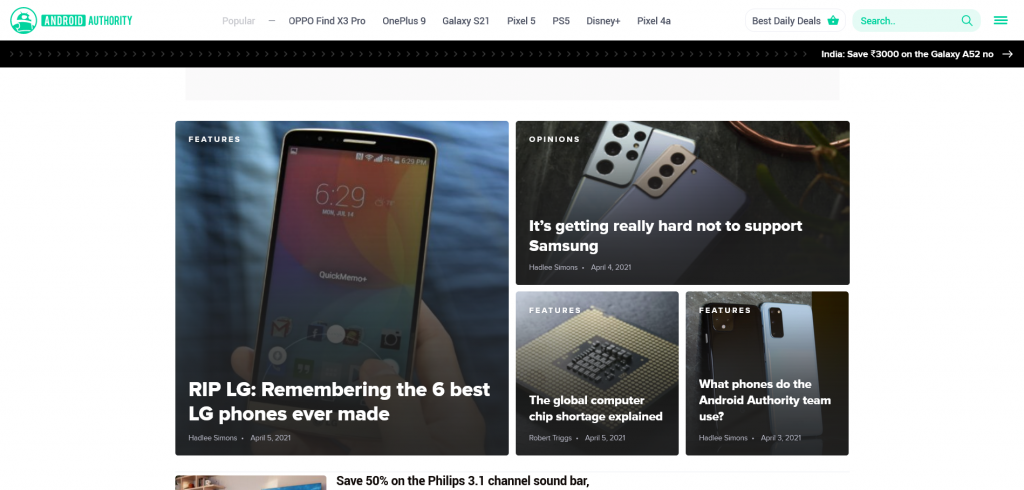 This is a comprehensive Android news blog devoted to delivering news, expert tips, as well as reviews on Android apps and phones. All this comes along with relevant and helpful how-to guides.
Android Authority is also the largest autonomous publication devoted to the most widely used operating system across the globe. You weren't ready for this bit, were you?
14. Android Police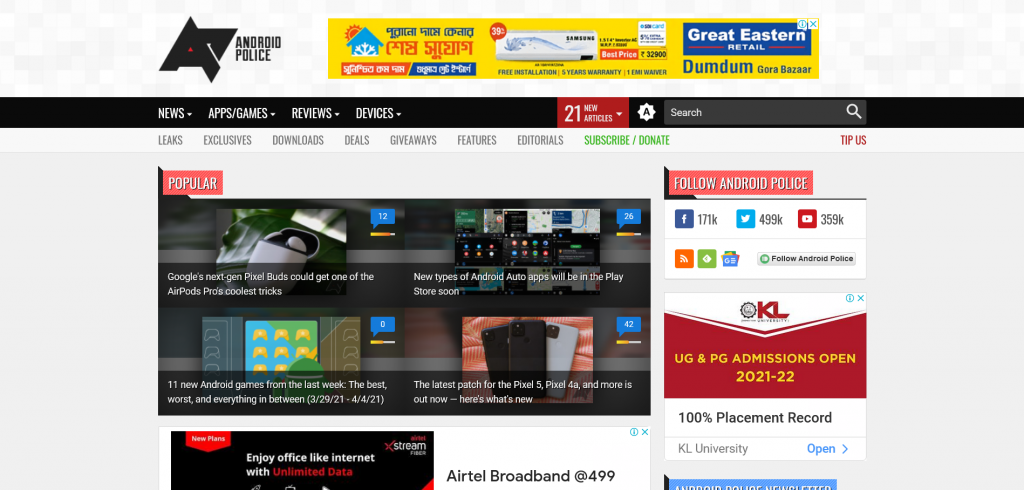 Android Police is an all-inclusive manual on everything related to Android. From apps to devices, and games to news as well as product reviews, it's all in here. So what are you waiting for?
The website updates the followers with the latest Android news, tricks, sharing tips,  tutorials, podcasts, videos, reviews, games, and so on. You got the hang of it, didn't you? Because it's an almost never-ending list here.
Apple's top tech websites
15. 9to5Mac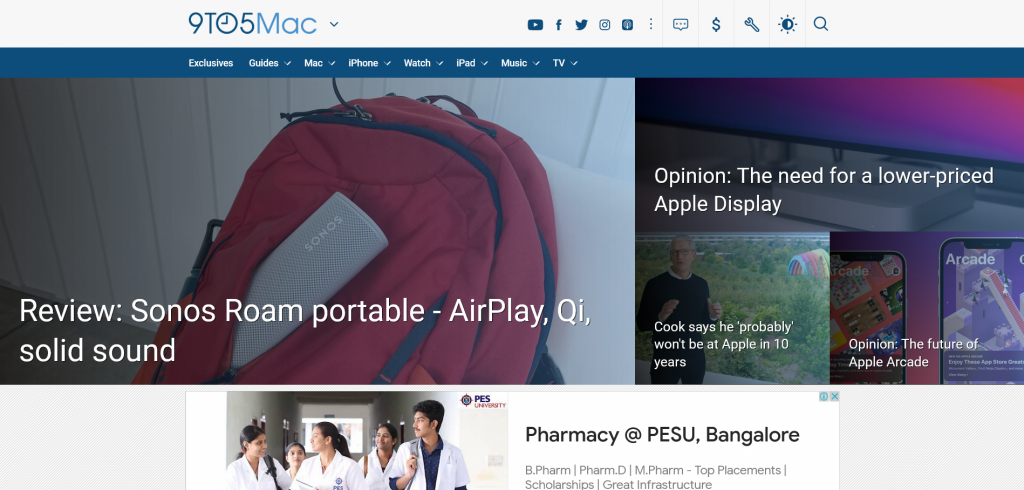 9to5Mac is the most important website when it comes to the Apple News Community. It consistently provides impactful news. This includes coverage for iPhone, iPad, and everything that is Mac under the bright blue sky. This pretty much sums up the content of the 9to5Mac website.
16. iMore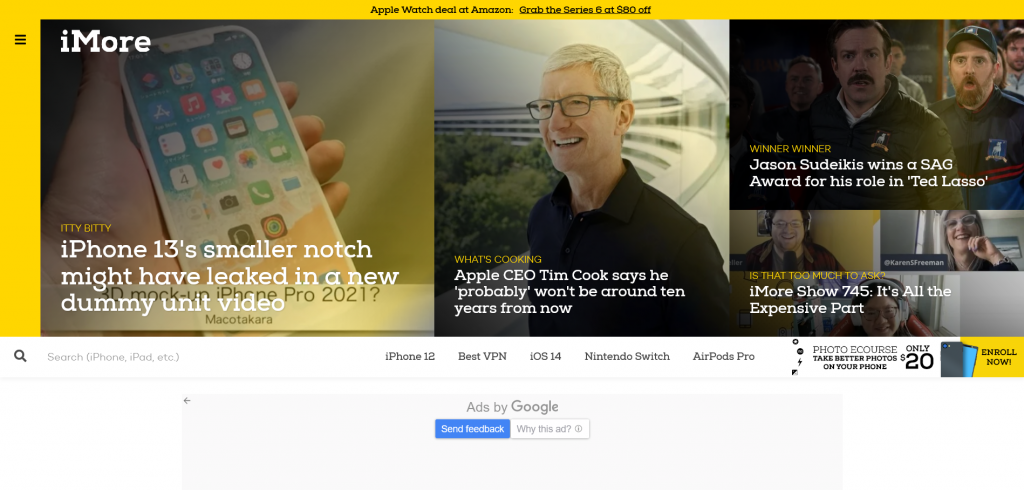 The iMore site displays how to get the best out of Apple's apps, products, and services.  Apart from this obvious part, they provide expert product endorsements, in-depth buyer guides, as well as timely tips when it comes to purchasing.
17. MacRumors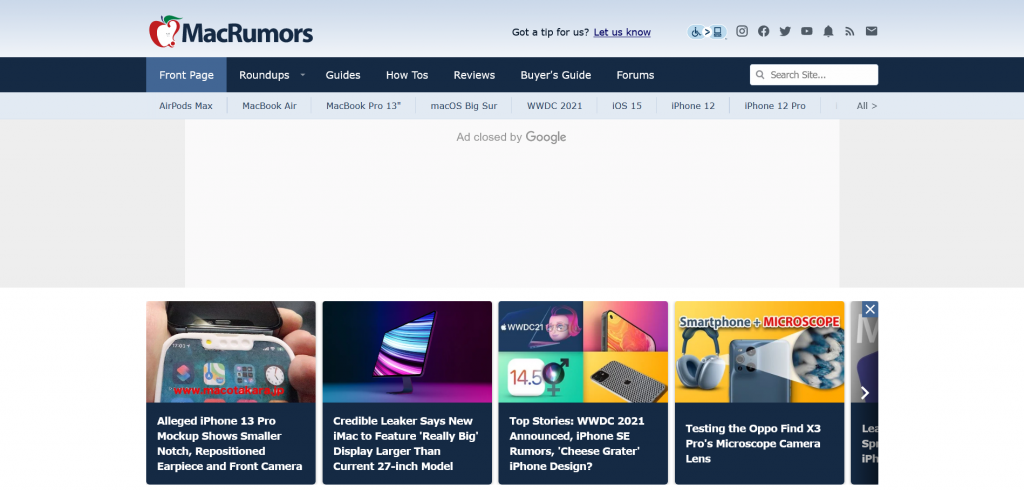 MacRumors appeals to a wide audience that is involved in the newest technologies and products in the market. And guess what? They also flaunt a dynamic community that focuses on technical characteristics of the iPod, iPhone, iPad, as well as all Mac platforms.
18. Cult of Mac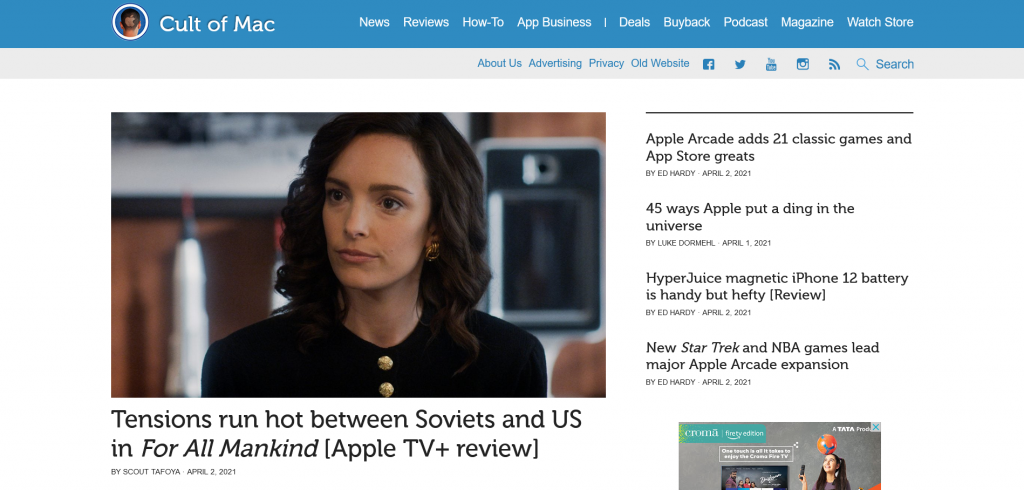 Cult of Mac is a basic daily news website that updates and delivers every Apple-related news, as the name suggests. They provide insightful analysis, timely news, supportive how-to guides, as well as honest product reviews. Do check it out!
19. MacWorld
This one is pretty cool. You must be wondering why! Well, irrespective of you being a newbie or a Mac fan, MacWorld provides you the best scoop on what's best, and most importantly, what's new!
Macworld basically supplies dynamic tips and purchasing advice to passionate users of the celebrated brand.
Top websites for tech and more
20. Laptop Mag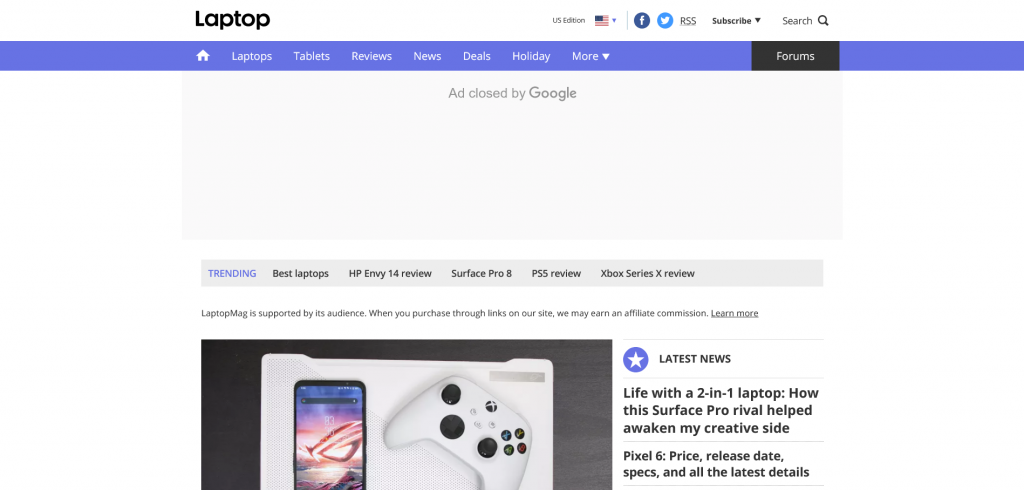 Laptop Mag, as the name suggests, reviews the newest laptops and tablets. They provide you with smart tips that are handy and saves a lot of your time. Don't you agree with me on this?
They aim to make it easier for buyers to buy laptops and similar gadgets. For this reason, they also provide the top pick lists and buyers' guides to help you through messy gadget shopping.
21. Windows Central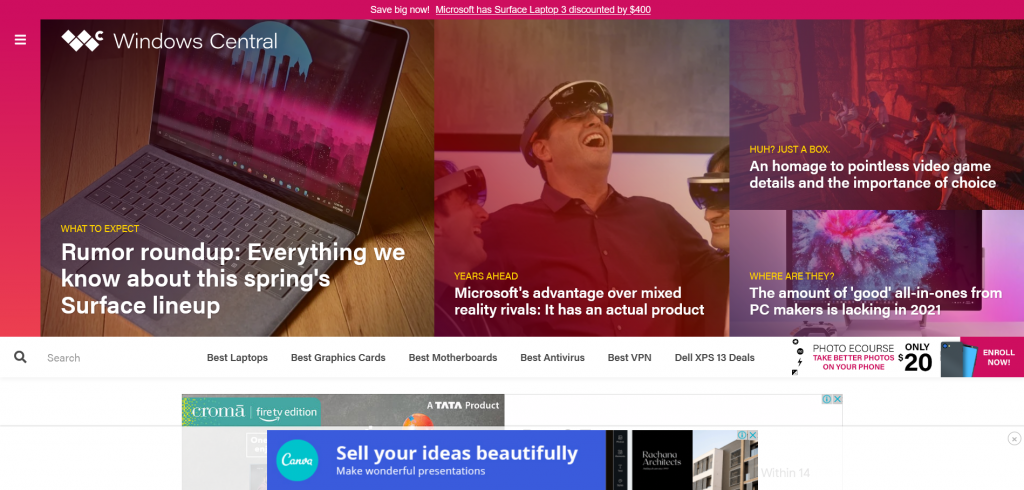 Windows Central is more like the epicenter of the Windows Universe. It provides news, reviews, buyer guides, forums & accessories, tips & tricks. Sounds wholesome, right?
You can stay aware of the latest consoles and Xbox games, once you follow their reviews section regularly. Convenient for gamers, I know!
22. Dummies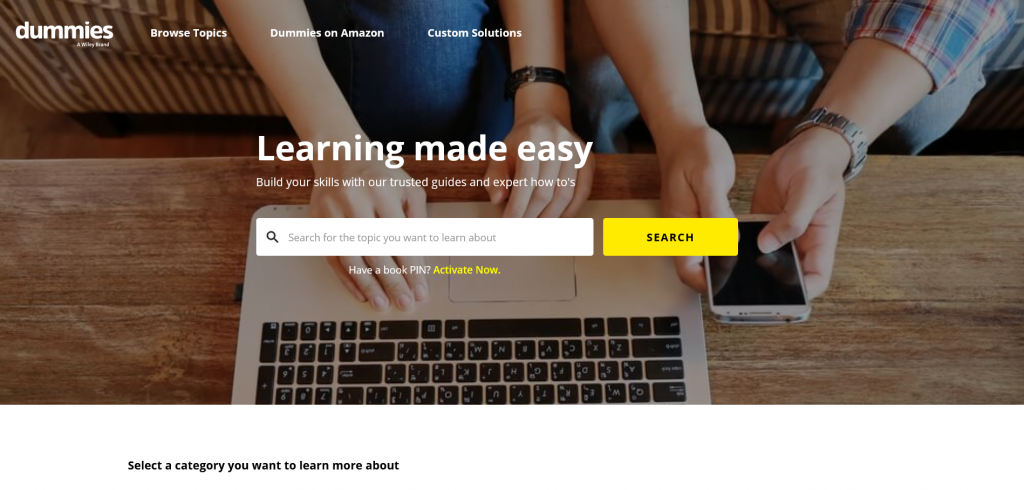 Dummies is a very thoughtful website with an approach to make things easier or as we say, provide information in layman's terms. With the help of skilled editorials, decent experience, and approachable style, they empower beginners to learn and grow. This an integral quality of the Dummies website. Don't you think it's really cool with this learner's approach?
23. Windows Report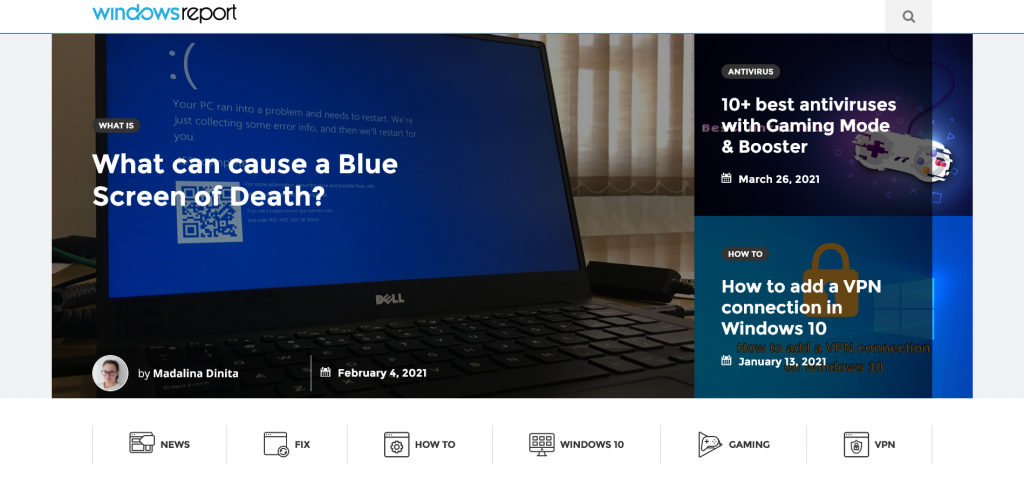 Windows Report distributes information related to the Microsoft Windows platform in addition to the related products and services. They effectively provide significant news, tips & tricks, as well as guidance for PC owners! Sounds good?
24. The Verge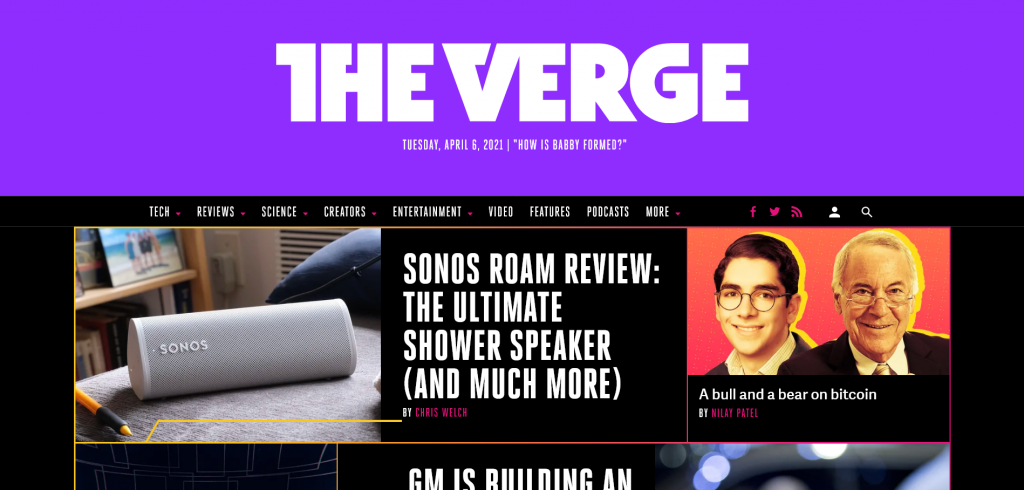 The Verge is a destination for great gadget reviews and tech news. Not just that, they also have a YouTube channel which delivers quality news on tech and other related topics! Cool, right?
The videos of their channel are well-produced as well as aesthetic. Talking of design, even their website is quirky and follows design aesthetics for sure. In addition to all these, they have their website split into various sections, so that it is easier for the users and audience to navigate through!
25. Mashable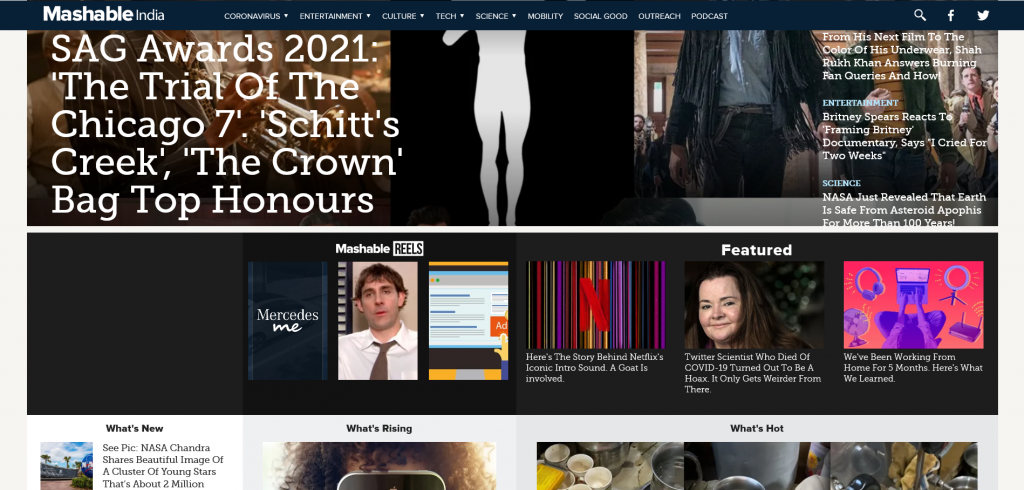 Besides covering the latest tech events, news, and product launches across the globe, Mashable has emerged to be a complete infotainment website. They publish news that includes domains that majorly include politics, entertainment, culture, business, and science. How widespread is that, tell me!
["source=thecodework"]