The UK is one of the most advanced markets for internet usage in the world and has little room for further growth. But uptake among older consumers and a greater number of mobile-only internet users will help drive a slight increase, according to eMarketer's latest report, "UK Digital Users: eMarketer's Updated Estimates for 2017." (Subscribers to eMarketer PRO can access the report here. Nonsubscribers can purchase the report here.)
The UK internet audience will see slow growth this year, climbing just 2.4% to 54.8 million people, or 82.6% of the country's population. But eMarketer has slightly increased its projection for the overall number of UK internet users throughout the forecast period, based on data showing higher-than-expected usage among people ages 45 and older.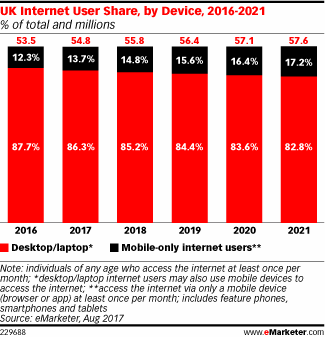 This forecast also includes eMarketer's first estimates for the total number of UK mobile-only internet users. In 2017, roughly 7.5 million people, or 13.7% of UK internet users, will go online using only a mobile device. This represents a 14.1% increase over 2016, mainly due to a shift away from desktop/laptop use among individuals ages 34 and under. This trend is expected to continue: By 2021, 9.9 million people will access the internet exclusively via mobile device.
Among mobile users, smartphones' presence will continue to increase, albeit more modestly than in the past. The UK's smartphone user base will swell 5.2% this year to 42.5 million, but the annual growth rate will dwindle to just 1.5% for 2021. During the forecast period, growth will come primarily from older people upgrading their feature phones, encouraged by affordable models, improved device functionality and larger screens.
Annual growth rates for tablet use will be consistent but even slower—increasing just 3.1% this year and by 1.1% in 2021.
Social networking will be a key activity for UK internet users regardless of device used to go online. More than two-thirds (67.1%) of UK internet users will spend time on a social network this year. Facebook will remain the most widely used platform, but Instagram and Snapchat use will grow at a faster rate.
Instagram's user growth will outpace Snapchat's, increasing by 34.8% to 16.7 million users in 2017, while the latter will jump 20.2% to total 14.0 million.
["Source-emarketer"]