Google has started rolling out API 23 SDK for Android Wear devices, based on Android 6.0 Marshmallow. The company has also confirmed that all previously launched Android Wear wearables will receive an update to Android 6.0 Marshmallow.
The company on Wednesday confirmed that the LG Watch Urbane 2nd Edition is the first watch to run Android 6.0 Marshmallow (API 23) for Android Wear. Adding further, Google revealed that Android Wear-based smartwatches will "in the coming months" receive an OTA update for API 23 based on Marshmallow. It added that currently all other Android Wear watches implement API 22.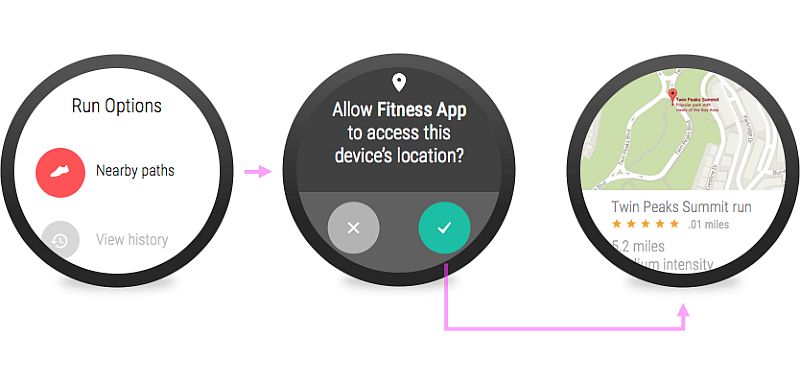 The all-new Android Wear SDK for API 23 comes with features such as new emulators, and support for runtime permission checks. Other features that the new SDK brings include support for external speakers, Intel x86 chip, and the 'round' and 'notround' resource qualifiers, which allow developers to upload exactly-sized images and layouts for all watch types. "API 23 makes it easier to build apps for both round and square Android Wear watches," says Wayne Piekarski, Developer Advocate on Developer blog. For Android Wear developers, they will have to ensure that apps are compatible with both API 23 and API 22 watches.
The new permissions runtime check allows users to pick and choose which apps to grant permission at the time of use. "The LG Watch Urbane 2nd Edition LTE is the first watch to include speaker support, so you can now add sounds to your Wear app," adds Piekarski.
The company confirmed that the recently unveiled Tag Heuer Connected smartwatch is based on Intel x86 processors and added that some more upcoming Android Wear watches will be based on Intel x86 processors.
Google earlier this month officially announced cellular support for Android Wear, enabling mobile data without requiring a smartphone.
["source-gadgets.ndtv"]