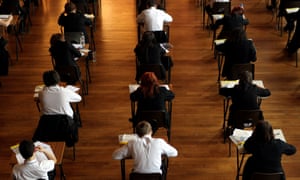 Too many bright children from disadvantaged backgrounds fall by the wayside at secondary school despite achieving top results at primary level, according to analysis commissioned by the Sutton Trust.
The trust said it identified the group of underachieving disadvantaged pupils as "missing talent" and found the group was less likely to take subjects such as sciences or languages that would help them gain places at universities.
The research reveals that a much higher proportion of those on free school meals or from disadvantaged backgrounds are unable to go on and achieve similar results at GCSE level, even for those who were ranked in the highest 10% of results at state primary schools in England.
While it is well established that disadvantaged children tend to achieve lower results at all levels of schooling, the research by Rebecca Allen looked specifically at the most able pupils at primary school and compared their later results at GCSE.
Allen found that one out of three boys eligible for free school meals – usually from households earning £16,000 or less a year or on benefits – who got top marks at key stage 2 failed to gain among the top 25% of grades at GCSE. This was more than double the proportion of boys not on free school meals who got the same marks.
Among girls, the difference in outcome was little better in comparison with their peers. While a quarter of disadvantaged girls were classed as missing talent, just 9% of girls from better-off households saw the same drop-off in their results at the GCSE stage.
Allen, director of the Education Datalab research group, said that focusing on the performance of high attaining pupils gave insight into the poor performance of children from disadvantaged backgrounds, whose schools receive pupil premium funding designed to help overcome the barriers they face.
Advertisement
"The highly able pupil premium children had the school and home support to do really well at primary school, so why do things go so wrong for some of them at secondary school?" Allen said.
"Nobody's looked at how this happens; what sort of qualifications highly able pupil premium children take, or where this missing talent is in the country. Obviously it is in areas that are underperforming generally, but there are also areas with good schools that nevertheless do poorly for highly able children."
Eight out of the 10 worst performing local authorities were in the north of England or the Midlands. But the research picked out areas such as Coventry, Lambeth and Leicester with good secondary school achievement but where highly able children were at risk of falling behind.
Several local authorities could boast that there was little sign of missing talent, meaning little or no gap between the performance of disadvantaged pupils and their peers. Those included Barnet, Ealing and Hackney in London, as well as Reading, Slough and Trafford.
The trust – which campaigns to reduce disadvantage through education – wants the government to test the most effective ways of improving the progress of highly able students in comprehensive schools.
"The trust is concerned that, since the demise of the gifted and talented programme [under the previous Labour government], too many schools lack special provision for the highly able," it said.
A Department for Education spokesperson said that recent reforms placed high expectations at the heart of the school system in England.
"We are determined to ensure that every child, regardless of background is given an education which allows them to realise their potential.
"Alongside our £2.5bn pupil premium, the result of these reforms is that the attainment gap between disadvantaged pupils and their peers is now narrowing at both primary and secondary level," it said.
["source-theguardian"]