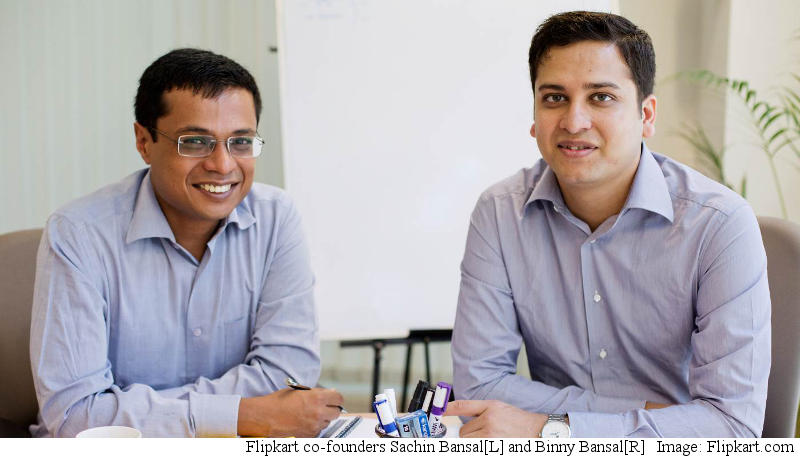 India's biggest e-commerce company Flipkart's chief executive and co-founder, Sachin Bansal, will step down and be succeeded by its other co-founder Binny Bansal, in a move viewed by some as a step towards a stock market listing.
Binny, who was chief operating officer before the rejig, launched Flipkart in 2007 with Sachin, who will now take the role of executive chairman. The Bansals, both former Amazon.com Inc employees, are not related.
The management changes come amid talks that the company is preparing for an initial public offering (IPO) in the United States, with the potential to become one of the biggest listings by an Indian company abroad.
Flipkart's finance chief told Reuters in May last year that it would remain private for at least three years.
However, a banker familiar with the company, said on Monday that the separation of the offices of chairman and CEO will help Flipkart to focus on medium-to-long-term plans, including IPO preparations, while ensuring smooth running of its daily operations.
Flipkart has benefited from the foreign funds that have sloshed into India's growing online retail sector and bankers have expected it to start moving towards a public listing to raise fresh funds and enable some of its early backers to crystalise their investments.
Goods sold through e-commerce are expected to total $220 billion (roughly Rs. 14,71,102 crores) a year by 2025, up from an estimated $11 billion (roughly Rs. 73,555 crores) last year, Bank of America Merrill Lynch said in a recent report.
Flipkart sells everything from cellphones to suitcases and cosmetics, competing with home-grown rivalSnapdeal and Amazon's Indian unit. Current investors include Tiger Global Management and Accel Partners.
In his new role as Flipkart chairman, Sachin will provide strategic direction, mentor the senior leadership, look for new investment opportunities and represent the company in external forums, a company statement said on Monday.
As the new CEO of Flipkart, which is currently valued at about $15 billion (roughly Rs. 1,00,302 crores), Binny will be responsible for all operations and will lead all corporate functions including human resources, finance and legal.
Flipkart is betting on the hundreds of millions of Indians in smaller towns turning to online shopping for products that are not available from local retailers, boosting growth as increasing numbers gain internet access currently available to only 252 million of India's 1.3 billion population.
"Today, we are in a very strong leadership position with over 60 percent market share of the m-commerce market, 50 million customers and clear leadership in smartphones and fashion," Binny said in the company statement.
"The journey ahead is equally exciting and challenging."
["source-gadgets.ndtv"]