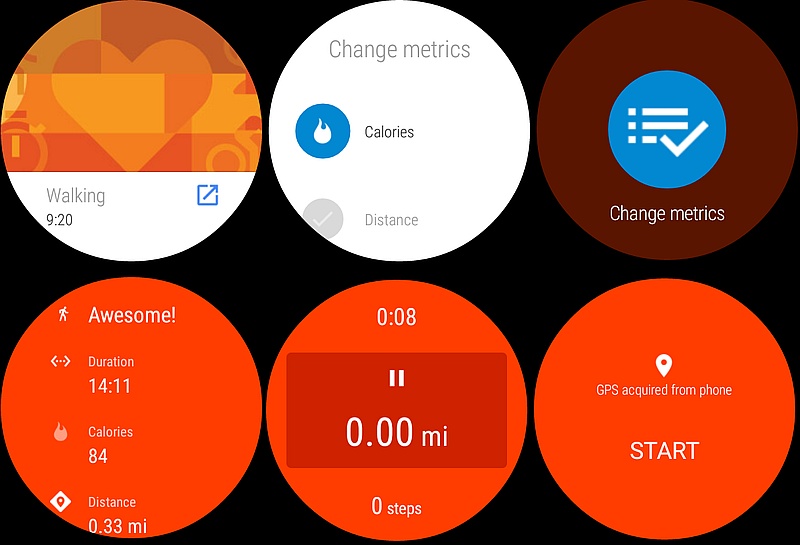 Google has started rolling out an update to its Google Fit health and fitness app with new features. The smartphone app remains untouched, while the Android Wear version has come with some changes.
Android Wear users with Google Fit v1.56 can start and stop activity trackers from the smartwatch itself with a new Activity screen. The "Start Challenge" page has been changed to "Start Activity" page, which can be accessed by swiping to the fifth screen from the left inside the app. The challenges section has been shifted to the bottom of the list and now includes three new options – walking, running and biking.
The countdown timer in the Activities section can be triggered by tapping on the Android Wear smartwatch display. Options to pause and stop the timer are also available. Users can choose up to three options to track their workout, including their calories, duration, distance covered, steps taken, and time of the day.
In the ambient mode, the Activity screen stays lit up and will act as a watchface until the user exits the app, pause or stop the exercise. Once the activity has been finished, Google Fit app will give the summary of the workout. The updated app can also detect when the wearer is doing activities such as push-ups, sit-ups and squats. Integration with nutrition and sleep apps are also included.
The updated app can be downloaded from the Google Play store in India.
In November, the app update introduced a personal trainer app for Android Wear, a home screen widget, apart from new monthly and weekly summary views. A digital interactive watch face for Android Wear smartwatches was introduced as a part of the Google Fit update.
["source-ndtv"]