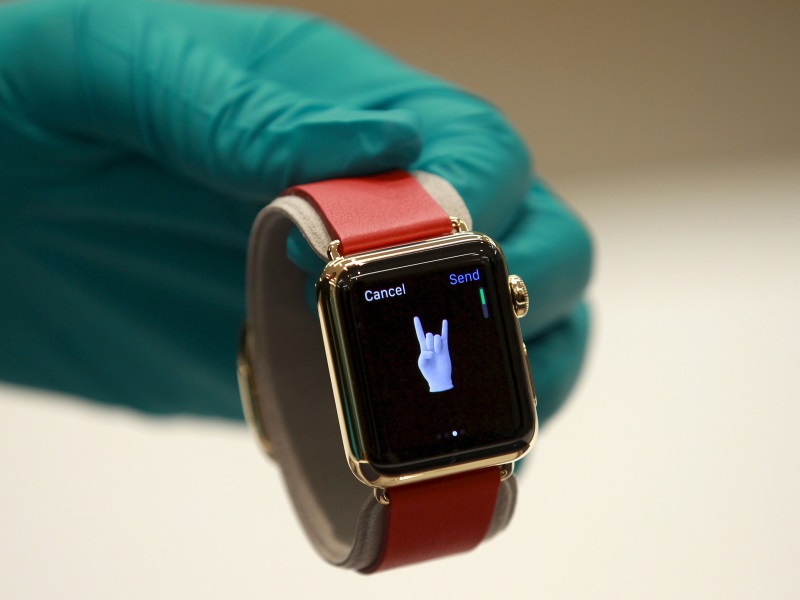 As Apple Watch enters the critical holiday shopping season, it looks likely to get a sales boost from happy customers, almost two-thirds of whom are planning to give one as a gift, a Reuters/Ipsos poll showed on Tuesday.
The poll found that about 7 percent of US adults plan to give the Watch as a gift this holiday season, including current owners. That could translate to sales of up to 16 million watches over the holidays, based on 2014 US Census projections and excluding younger teens.
If even a fraction of consumers follow through, Apple would be well-positioned to meet or beat Wall Street's 2015 sales forecasts, which generally range from 10 million to 12 million watches, said FBR Capital Markets analyst Daniel Ives, who expects about 12 million sold worldwide.
Cupertino, California-based Apple appears to be benefiting from its loyal fan base with its first new device since the iPad. Sixty-two percent of US adults who already have an Apple Watch plan to give the gadget as a holiday gift, according to the Reuters/Ipsos poll.
Holiday sales of the product will be scrutinized as a barometer of how much promise it holds for the company.
After an April debut marred by supply constraints and lukewarm demand, Apple must reassure investors of the watch's potential, said Ives.
Apple has not provided any sales figures for the watch, which has a starting price of $349 (roughly Rs. 23,000), and an Apple spokesman declined to comment on the poll.
The Reuters/Ipsos poll also found that watch owners were sticking with the device, with most using it at least as much as when they bought it, but no one feature dominated.
(Also see:  Apple Watch Review: The Smartwatch You Want, Not the One You Need)
Previous Reuters/Ipsos polls have shown about 6 percent of US adults planned to buy the watch, with men about twice as likely as women. Six percent of respondents in the latest poll said they had it.
No killer app
Apple has touted the watch's fitness-tracking and communication features.
But none of the functions, which also include playing games and telling time, were mentioned by more than 50 percent of owners asked about their main uses for the watch.
"It suggests users are not really clear on what (the watch) is for and what it's supposed to do," TECHnalysis Research analyst O'Donnell said.
Nevertheless, the poll showed high engagement, with 63 percent of owners wearing the watch daily. The poll also showed 91 percent of owners used it as much as or more than when they purchased it, while only 5 percent had given up.
Ipsos polled 15,595 US adults online between October 21 and December 4 about the watch. Of that sample, 179 responded to the question comparing their use of the watch with the day they first got it. The credibility interval, a measure of accuracy, for that question is about 9 percent.
The engagement numbers are impressive for wearables, which users often abandon, said Carolina Milanesi, head of US business at consumer research firm Kantar Worldpanel ComTech.
"There's a lot of people that fall out of love after the honeymoon period," she said.
That has not been a problem for website developer Jason Jennings of Rutherfordton, North Carolina. Jennings, 38, said he had been wearing his Apple Watch every day, using it to listen to music and play games.
Fellow owner Joe Aniceto, 29, has been recommending the watch to his friends and plans to give one or two over the holidays. The Boston-based management consultant said he would dole out more if not for the steep price.
"It's definitely not a stocking stuffer," he said. "That's for sure."
["source-gadgets.ndtv"]