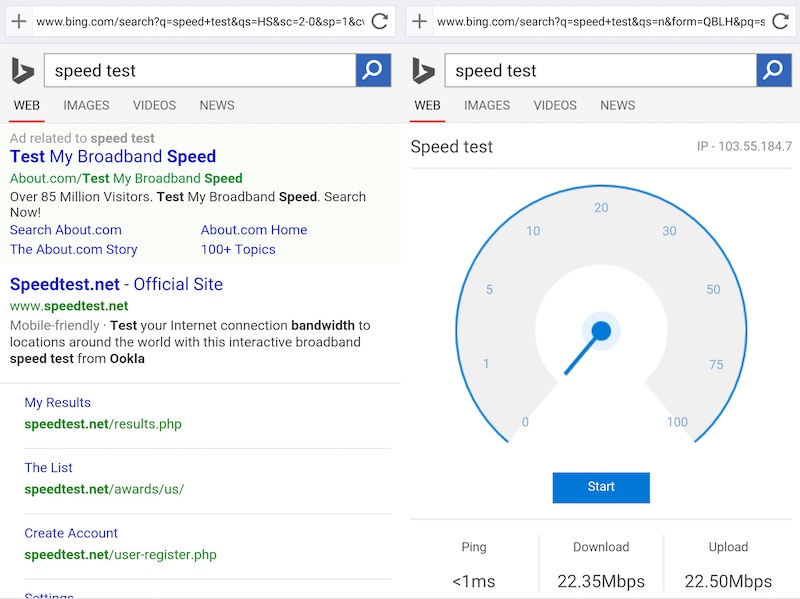 You may no longer need to download SpeedTest app on your smartphone to assess how good your Internet connection is. Microsoft has embedded what appears to be similar technology into its Bingsearch engine, and is allowing users to initiate the feature by simply searching for "speedtest" or "speed test."
Discovered by user Kabir Cheema on Twitter (via WindowsCentral), users can trigger the speed test feature right on the search results on Bing. Kabir added that the feature works on both Web and mobile. After failed attempts on Chrome for Web, Safari for Web, and Chrome for Android, Gadgets 360 was able to replicate it on Opera for Android. The feature also shows one's IP address. It is needless to mention that at the time of writing, the feature doesn't work on all Web browsers, or for all users.
Microsoft is yet to officially acknowledge the feature, which could mean that the company is merely testing it. To recall, Ookla, the maker of Speedtest, announced last month that it was dropping resource-intensive Flash technology from its feature and is switching to HTML5. Perhaps this made it possible to have the feature good enough to be embeddable right on the search engine. At this point, it is unclear whether Microsoft is using Ookla's technology or utilising its own network features.
Microsoft's Bing search engine already offers a range of contextual information when a user looks up for certain things such as movie titles, lyrics of a song, or simple calculation. The contextual search feature is similar to Google's Knowledge Graph. At this point, Google doesn't have any feature to let you know about your network speeds. It, however, can tell you if the surface is level.
["source-ndtv"]