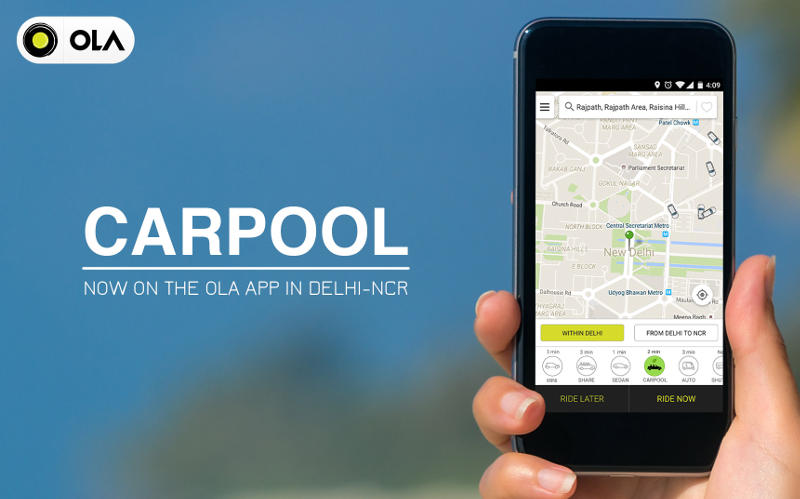 Taxi aggregator Ola has announced the launch of its 'CarPool' feature in Delhi NCR, which will allow Delhi citizens to pool rides using their private cars through Ola's mobile app.
The CarPool feature is voluntary and free of cost for hosts and their fellow passengers, and has been rolled out for the first time ever by Ola, to help citizens comply with the Delhi's implementation of the odd-even formula for private cars starting January 1, 2016.
CarPool uses route matching algorithms to pool rides in their car with fellow passengers looking to travel in the same route, and also allows users to create a Friend List, by adding friends with their mobile phone numbers.
Ishan Gupta, Category Head, Shared Mobility at Ola said that the company had launched sustainable initiatives like CarPool, Ola Share and Ola Shuttle in cognizance of the fact that vehicular pollution was a major contributor to air pollution in India. "This has potential to unlock massive idle transportation inventory in our cities, with the ease of Ola's technology that millions already use," he said.
All of Ola's safety features such as Track your Ride, Share Ride Details, SOS, Emergency Contacts, 24×7 Customer Support and In-trip feedback are available on CarPool as well, the company said. The company had also launched its Ride Sharing feature in Delhi, earlier this month.
Uber had launched its private car pooling service in Delhi earlier this month.
["source-gadgets.ndtv"]