Everyone wants a tension free life whether it may be professional or personal and these lives, data is the essence of any communication. As long as this data remains safe and uncorrupted, the work runs smoothly. However, people might suffer the data loss due to some accidental deletion, virus or malware attack, hard drive corruption etc. This lost data then becomes inaccessible but what can we do to gain it back? It is quite simple, it means hiring some  file recovery software that can help you to protect your essential data or retrieve it back when it has already been deleted.
The following three easy steps can help you recover your data: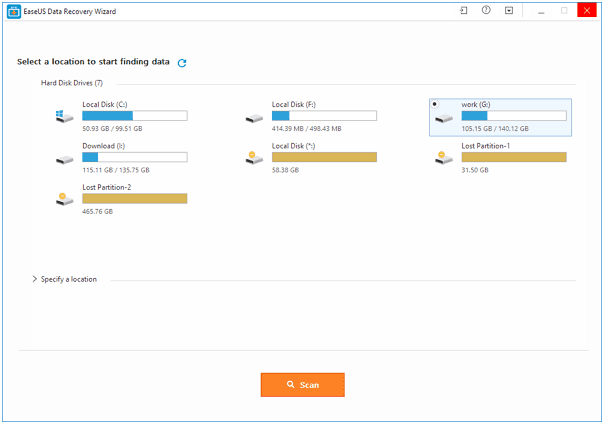 This data recovery software also referred to as the EASEUS data recovery software is very helpful in order to help you to find out your files precisely and then recovery them from your computer, hard drive, SSD, USB, memory card or digital camera devices. This initiates easy recovery for the entire data software. It is a very powerful data recovery software that is available for the windows users free of cost. The lost or deleted files are easily recovered might they be in the form of photos, music, audio, emails or video etc from any of the above listed devices like hard drive, memory card, USB, digital camera and similar other storage media.
Many data recovery softwares are available like PC data recovery wizard that is also a file recovery software. It helps to recover back the deleted files from hard drive, external hard drives and SSD on the PC's, laptops or several other servers. Then is the memory card recovery wizard. This is another important source which helps to recover the lost data from various storage devices like memory cards, memory sticks, SD card, micro and macro cards etc. then comes the USB drive recovery wizard which helps in restoring the data on USB drives, flash drives and other similar removable storage devices like pen drives. It is helpful in the cases such as accidental losses like unintentional deletion , virus attacks and computer hacks etc.
Several other digital device recovery wizards are available which helps in retrieving the lost data from phone, ipod, music and video players etc in case of crash and other accidental deletions. These were some of the points that prove that ease us data recovery software is the best you can opt for. It helps in recovering, restoration and retrieving back of the once deleted files and folders. These can be saved and rescued in case the user downloads or pursues to the recovery softwares of files and folders. Its usage has grown worldwide and it is very efficient and exact to use. There is no long or confusing process that is needed to be understood.
Hence, hard drive recovery plays a very crucial role in preserving your data even when it is lost from the original location. Ease US data recovery can help you use it.