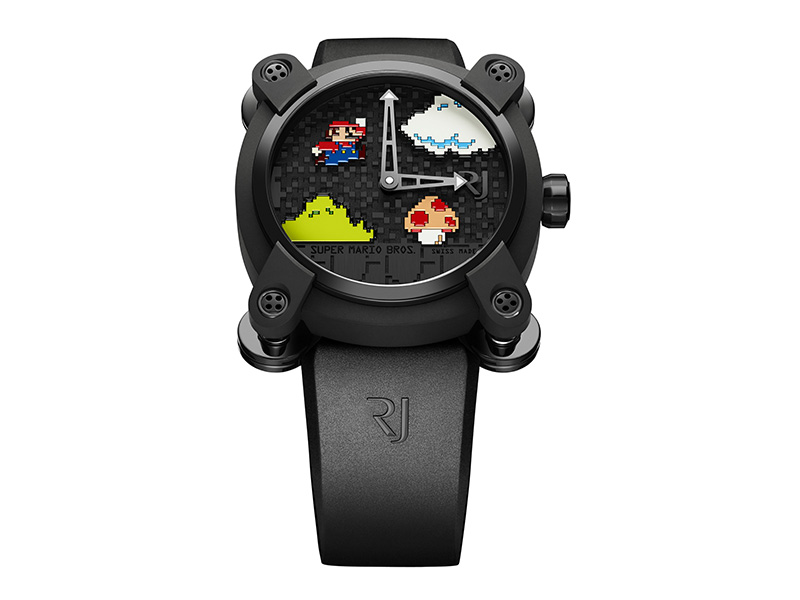 If your idea of luxury is having a plumber in a red shirt and blue overalls on a watch, your dream has come true. Swiss luxury watchmaker Romain Jerome has unveiled its collaboration with Nintendo, a limited edition mechanical watch featuring the titular character of Super Mario Bros, on the 30th anniversary of the original game released for the NES.
This isn't the first time the watchmaker has gone the arcade game route, though. It has previously collaborated with other 8-bit franchises such as Space Invaders, Tetris, and Pac-Man to produce modern watches with retro game characters. The new watch is called RJ Super Mario Bros.
(Also see: Super Mario Bros. 30th Anniversary Google Easter Egg)
The Super Mario Bros-themed watch is the latest timepiece in this tradition, featuring a 46mm wide case carved out of black titanium. The back of the watch has a grainy texture and bears the Super Mario Bros medallion.
As for the front, the Super Mario Bros watch face has been designed in three levels to emphasise the pixelated look of the game, with Mario and the other bits coated in enamel with hand to give it the premium look.
Further driving home the premium nature is the limited production of 85 units, in reference to the game's launch in 1985. On top of that, be ready to shell out EUR 17,500 (Rs. 12,30,000 approximately) in Europe and $18,950 (Rs. 12,60,000 approximately) in the US if you want to get your hands on the most exclusive Mario merchandise out there.
Too bad if you're a fan of Luigi though.
["source-gadgets.ndtv"]