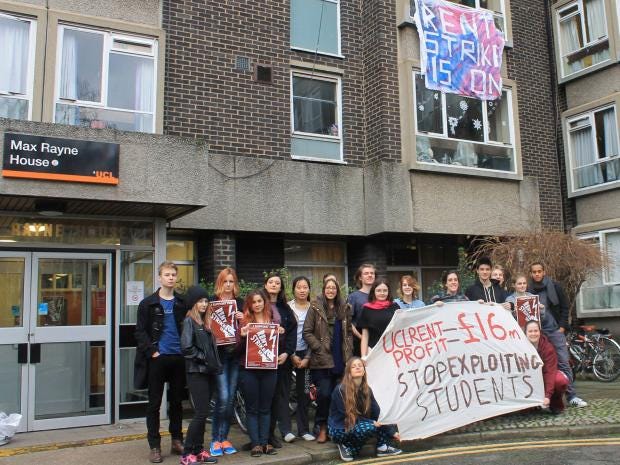 University College London has been accused of bullying after a student journalist was warned she could face dismissal for obtaining classified forecasts showing that the university expected to generate increased income from student accommodation.
The free speech row comes amid an increasingly bitter "rent strike" at the university, as hundreds of students withhold money in protest at rising accommodation fees.
An internal report detailing financial forecasts for the next three years was left openly accessible to university staff and students via a UCL executive's Microsoft Outlook Calendar last month.
It is understood that the document contained forecasts that the university would make an increased cash surplus from its student accommodation this year.
Student-journalist Rebecca Pinnington, one of many UCL students and staff able to access the document, was threatened with disciplinary action – potentially including expulsion or court action – after publishing an article revealing its existence on UCLU news website Pi Media.
No figures from the document were disclosed in the article, but Ms Pinnington told The Independent that she was threatened with repercussions if she published confidential information.
"I felt intimidated, anxious and scared," said Ms Pinnington, 21, who is president of the student-run website. "As a student journalist I felt sad because this was information that was interesting and integral to student life, but it was made very clear that if I were to publish anything more I could lose my degree."
In a meeting set up with UCL Vice Provost Rex Knight, Ms Pinnington was asked to sign an agreement to "immediately deliver up or destroy all copies of the UCL Confidential Information" in her possession.
[Source:- IndependentEducation]