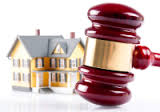 When it comes to dealing with property ownership there cannot be anyone more efficient than real estate lawyers. In the modern scenario it is becoming a trend to make every deal a package, one that comes with its every nook and cranny taken care of and that applies to property handling too. But in some cases, the realtor that takes care of the deal in question may not be able to provide you with adequate solutions. That is exactly where the experts as such as real estate lawyers come in. A regular professional attorney is required to complete a four year degree from a law college after graduating from college and therefore has much more knowledge to bank upon when compared to a realtor with a year of training. The added exposure of an attorney provides him an edge when it comes to advising clients on an array of subjects.
Contracts are some of the most confusing documents a person can come across. The technical language of it being so confusing that a person is likely to miss on several things even while going through it thoroughly.  The language in a realty contract must be inspected with an expert eye. Generally the content is written in legal-language that is followed by legal practitioners with which the hoi polloi is not very familiar. Again when it comes to buying a house, it is not merely a financial transaction.  One of the major decisions in a person's life is finding a suitable home for his family. So when the dream is about to be realised people generally go through an emotional turmoil, which makes the time unsuitable for scrutinising legal documents. Also selling your house may be so huge a burden that you may not even be able to focus on what is going around. For times like these you need a person with a level head, who is not emotionally drained and has profound knowledge and expertise on the subject. Therefore, a property lawyer cuts in.
Again properties are things where the probability of a dispute arising is highly likely. When buying a property there are certain factors to consider which are difficult to go through for a person without legal knowledge. A person residing happily in his dream home may find that another bloke inherited the same from his grand parents. For situations like these one needs a lawyer to establish the chain of the rightful owner. Again cross checking with the land registration office before buying a property and other related things is an absolute must and that is one more reason to keep in touch with a property lawyer.
When  it comes to rents and leases, both the tenant and landlord have various rights over the property which they can exercise. These laws vary from state to state and therefore it is something to be consulted with a lawyer. For example, a tenant has right to privacy in the property he is residing when certain conditions are met. Again the landlord can decree an eviction notice when there are violations to certain arrangements. When it comes to property, the law should be followed to its fibre.
The four year post graduation period a lawyer spends in a law school teaches the budding attorney everything about leases, purchases, and sales of property. He also learns about zoning, eminent domain, mortgages, tenancy agreements etc. The knowledge gathering procedure is not just limited to that. He must also have working experience as an intern working in the courtroom for a certain time period. Therefore when situation demands, it is advisable to go to a person with years of sound knowledge and experience rather than going to someone who hardly has any.