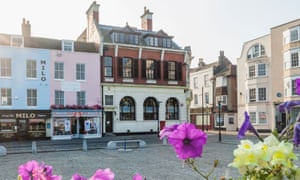 Hundreds of people working with deaf children and young adults have lost their jobs following the immediate closure of a school and college in a seaside town.
Joint administrators to the trust behind the Royal School for Deaf Children Margate and Westgate college, in Margate, Kent, announced their closure on Friday.
Many workers reportedly left a meeting in tears after being told the news. It followed a review of the trusts' financial and operational position after administrators were appointed this month.
About 360 out of 500 staff have been made redundant, with the remaining 140 due to stay on until alternative care arrangements are put in place by late January.
Joint administrator Geoff Rowley, partner at FRP Advisory, said the announcement would have a significant impact on the children and young people at the schools, and their families.
He said: "Since the appointment of administrators, our priority has been assessing the ability of providing ongoing provision of core services and care, and the wellbeing of all of the John Townsend Trust's pupils and residents, and their families.
"The difficult decisions taken to close the Royal School for Deaf Children, Westgate college and associated educational services alongside a managed closure of residential operations over the coming weeks, will all have a significant impact on the many children, young adults, their families and the wider community which these all serve.
"In reaching their conclusions about whether to continue with operations, the joint administrators have to look at the financial position while always ensuring that services only continue where they can be guaranteed to meet the requirements of the Care Quality Commission and Ofsted, aimed ultimately at keeping the right levels of care at the heart of the assessment."
Established in 1792, the Royal School for Deaf Children Margate looked after 55 deaf children, while Westgate college catered for adults aged 19-23.
More than 11,000 people signed a petition on Change.org to try to save the school. Some parents said they feared for the future of their children without the service.
One mother, Nicola Fensome, said: "I am stunned and devastated at this news. My son David has made so much progress at this school. He has such unique needs being both deaf and blind, and the staff are amazing with him, not just at the school but as a residential border."
Another parent, Kimberley Carrara, said: "When Sasha started at the school 18 months ago, she had regressed so much that professionals said that developmental progress would be limited.
"Sasha has now grown into a lovely young lady and is thriving. We moved our family across the country so that Sasha could attend this school. We fear for her future."
["source-theguardian"]