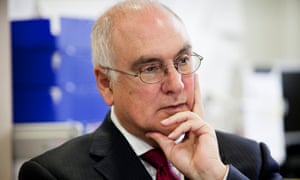 Ofsted has set up a team of inspectors to crack down on unregistered schools, some based around religious faith, with the education watchdog's head calling such establishments a "serious and growing threat" to the welfare of hundreds of children.
In a strongly worded and at times critical letter to Nicky Morgan, the education secretary, Sir Michael Wilshaw, warned that the number of children being educated in such unofficial schools was "far higher than is currently known" by authorities.
It is the second time in a month that the Ofsted chief inspector has written to Morgan to express alarm over the issue. In November, he said inspectors had found 15 unregistered schools educating about 800 children, some featuring squalid conditions or the apparent segregation of genders on religious grounds.
These were discovered after tipoffs and appear to have used loopholes involving home study clubs to avoid regulation. Some had an emphasis on Islamic or Jewish religious study, although some had no obvious religious affiliation.
In his latest letter, sent on Friday, Wilshaw said Ofsted teams had discovered three unregistered schools in Birmingham last month where there were serious fire hazards and, on one site, "unhygienic and filthy conditions". The schools had a "narrow Islamic-focused curriculum", with evidence of misogynistic, homophobic and antisemitic teaching material, Wilshaw said. Staff were not properly checked to work with children.
Wilshaw said he had travelled personally to Birmingham to "insist that every possible action was taken" to close down the schools immediately. However, he added, new inspections on 30 November found all three were still operating.
This appeared to have happened because Department for Education inspectors had given confusing and unhelpful advice to the people running the schools, saying they could apply to register them retrospectively.
"This allowed the proprietors to believe they could continue to operate, without registration, while their respective applications were submitted and considered," Wilshaw wrote.
"This sends out an entirely wrong message of what the DfE perceives to be acceptable practice," he warned Morgan. "Indeed, it could have the unintended consequence of encouraging others to open such schools."
Wilshaw said Ofsted should lead prosecutions against those behind unregistered schools, and he had commissioned an inspection team to focus entirely on identifying and investigating them.
He said such schools were "a serious and growing threat to the safety and wellbeing of hundreds of children in several English regions".
Wilshaw added: "I remain concerned that the number of children being educated in unregistered schools in parts of the country is far higher than is currently known by local authorities or the DfE. Ofsted's work to ensure that all maintained and independent schools promote British values is being seriously undermined by the growth of these settings."
Wilshaw ended the letter by urging Morgan to review policies on tackling unregistered schools and to allow Ofsted to lead prosecutions.
A DfE spokesman said the department was happy for Ofsted to lead any prosecutions. He said: "Since 2010 we have taken robust steps to tackle unregistered schools and improve safeguarding and this includes being completely clear it is a criminal offence to operate an unregistered independent school.
"We agree with Ofsted that more needs to be done and will be strengthening our communications to potential providers. We are also introducing further powers to regulate settings which teach children intensively and to intervene and impose sanctions where there are safety or welfare concerns."
In his earlier letter, Wilshaw accused local authorities of not acting swiftly enough to target the unregistered schools. In one case, Birmingham city council inspectors made five visits to one school, but only gained access when Ofsted became involved, bringing along police.
["source-theguardian"]