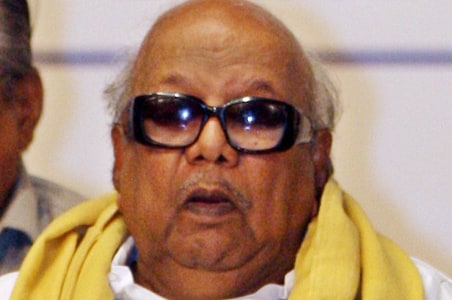 CHENNAI: 
DMK President M Karunanidhi today expressed concern over a WTO pact related to education and urged India to refrain from signing it claiming it would be detrimental to social justice policy of the country.
The pact contained several 'dangerous' provisions and once foreign institution were allowed to operate in India, the laws of the land may not be applicable to them even as education faced the danger of turning into a commodity, he said in a statement in Chennai.
"The BJP government has not heeded demands that India should not sign this General Agreement on Tariffs and Trade (GATT) pact. Reservation and scholarships will be cancelled as a result of a new Education Policy," he alleged.
The DMK chief said students in many African, European and American countries were opposed to this pact, warning their governments against signing and similar concerns had been raised in India, he said.
DMK Rajya Sabha member Tiuchi Siva had raised the issue in the Upper House this week, he said adding that if the pact takes shape, the fruits of "all social justice-based laws" would not remain.
"The (Centre) should not sign this pact, which has so many dangers and is against the society. The ruling BJP should take all efforts to recuse itself from this agreement," he said.
["source-ndtv"]