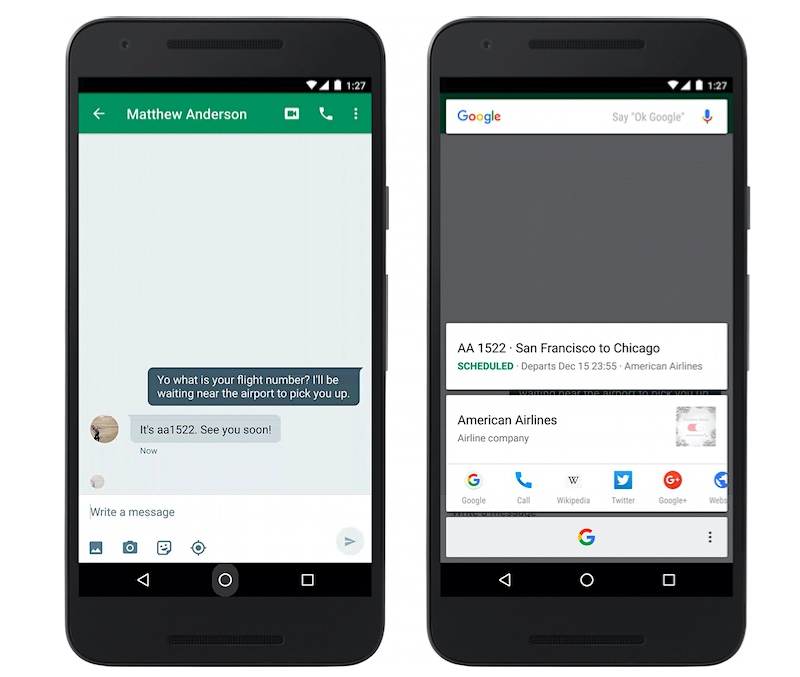 Now on Tap, one of the marquee features of Android 6.0 Marshmallow, is getting a range of new capabilities. It now understands a handful of more languages, and can help you quickly track flight and package status. It now also shows an improved interface for related news articles.
Now on Tap is a Google Search feature that triggers when you hold the home button of your device on devices running Android 6.0 Marshmallow and above, fetches and offers contextual information around the topic mentioned in the page you currently have open. Google announced in a blog post on Tuesday that it is updating Now on Tap to add new features. It now supports six new languages: French, German, Spanish, Italian, Russian, and Korean. The company says that it is working on bringing support for more languages.
The Google Now on Tap update also lets you easily check flight status without initiating a fresh search. If a friend sends you a flight number via email or SMS, Now on Tap will recognise it and display updated flight status information. The update brings similar functionality to tracking packages. The company noted that tapping and holding on your confirmation email will display tracking info for your package.
Prior to the update, Now on Tap provided users with the option to check under the news tab for any topics they searched for. Now, if the user is reading a news article, users will automatically see related news articles. Google in its blog post also detailed the share button that was spotted with the updated Google app recently. All the above features will roll out to users in phases.
Now on Tap is an extension to Google Now. As we noted previously, however, it occasionally fails to fetch any information and sometimes offer results from your previous searches. It is no doubt Now on Tap is still in its infancy phase, but Google is certainly aggressively pushing new features to make it more capable.
["source-gadgets.ndtv"]