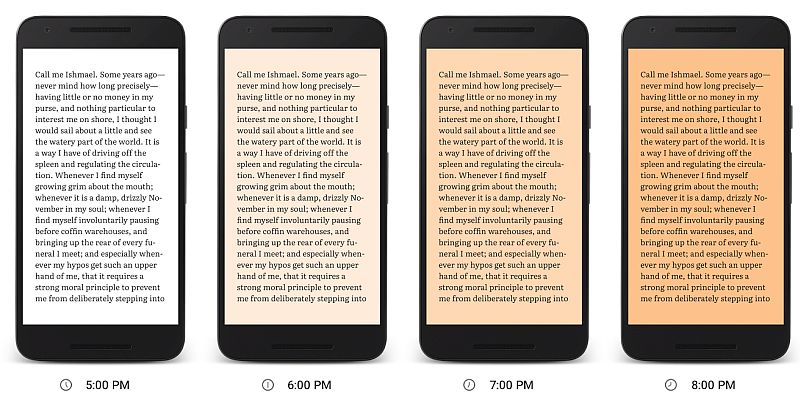 Google has started rolling out an update to its Google Play Books app users making night-time reading "easier on the eyes". The latest update to the Google Play Books app for Android and iOS brings a new Night Light mode.
The feature, when turned on, gradually filters blue light from the screen and replaces it with a warm (amber) light as the sun sets. According to Greg Hartrell, Senior Product Manager, Google Play Books, the new Night Light mode in Google Play Books app will automatically adapt to the amount of natural sunlight available based on the time of day, giving readers just the right brightness.
"The colour adjustment is more comfortable on your eyes and greatly improves low-light night reading," said Hartrell in a blog post. After updating to the latest Google Play Books app, the Night Light mode feature will automatically open with a pop up in the app, notifying users.
The update appears to be rolling out in phases globally, with the Google Play India listing not mentioning the new Night Light mode.Similarly, the App Store listing also doesn't highlight the new mode in its new section.
Amazon, earlier this month, introduced a Reader's Edition of its Fire HD 8 tablet with improved night reading with the Blue Shade display option. Priced at $250 (roughly Rs. 16,500), the Fire HD 8 Reader's Edition is otherwise identical to the fourth-generation Fire HD 8 launched in September.
Google recently introduced the 'Best of 2015' section on Google Play including selections across apps, games, and entertainment. Under the new section, Google listed sub categories namely Best Games of 2015, Best Apps of 2015, 2015 Top-Selling Movies, 2015 Top-Selling Books, and Best of Newsstand 2015.
["source-gadgets.ndtv"]