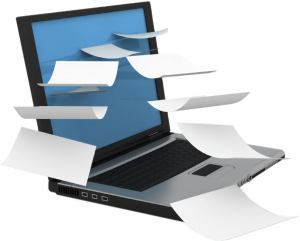 I have a friend who runs a successful janitorial company with over 100 customers and about 25 vehicles on the road.  In addition, he has numerous arrangements with suppliers that he purchases from on credit.  He was extremely reliant on his Contract Administrator who just went on maternity leave for the next year.  To his surprise she had her own filing system he couldn't figure out.
My friend soon learned that he needed a better way to track his contracts.  That was when I told him about the Electronic Document Management System (EDMS) we had recently installed.  The major reason we installed the system was to allow us to immediately look up any contract based on a large number of factors such as name, location, renewal date, and expiry date.  We were not reliant on a single person to do this.  In addition, the system seamlessly integrated with our Microsoft Office software so staff did not have to learn new applications.
I then asked how his managers knew what they were supposed to do at the sites they were responsible for.  He said he sent out paper copies of the contracts and a checklist for each site.  Did he know if the managers read them and did he know if they were kept secure – no was his answer.  With an EDMS he could do that and he could keep the financial details at his office and not at several sites where anyone could see them. He would know if his managers reviewed the checklists or not.  The information would help him better run his company.
Our suppliers invoices are scanned into our EDMS and sent electronically to the person or persons who have to approve them with a date for the approval or rejection to be provided.  The invoice is then returned to the accounts payable department so that we can take advantage of any discounts and to ensure that we pay on time to avoid interest costs.  The result of using the EDMS is a more streamlined structure and cuts down on physical paper being passed around our offices.
I told him about being able to use my smartphone to access documents when I am out of the office. He said that when he visits sites, he has to take a copy of the contract and checklist with him.  I said that the mobility feature in our EDMS allowed me to change my meeting schedule and still have access to the relevant information.  Al
An EDMS provides:
Document lookup and tracking
Integration with current infrastructure
Security
Workflow Control
Mobile access
To learn even more about such solutions go to www.filehold.com.